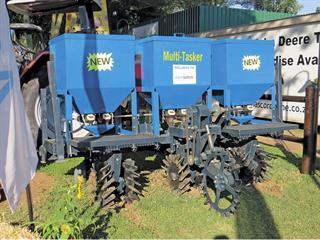 This week, we look at a number of products manufactured or supplied by Pietermaritzburg- and district-based businesses on display at the Royal Show.
Great for cane
The Agriserve Multi-Tasker fertiliser applicator is a highly versatile implement, particularly for sugarcane. It can create the furrow and place fertiliser in it, or apply fertiliser after the cane is planted. It can also be used to apply side-dressing for the growing cane. The fertiliser metering units are the same as those used on Monosem planters.
Irish immigrant
Imported from Ireland by Agriserve KZN, the Major Swift MJ70-240 is a rigid deck finishing mower that combines the simplicity of a rotary with the professional finish delivered by a cylinder mower. It attaches easily to the tractor, and the mowing height can be adjusted from 10mm to 150mm. Features include a gear-driven drive line and full-width rollers for following ground contours. Cutting width is 2,4m.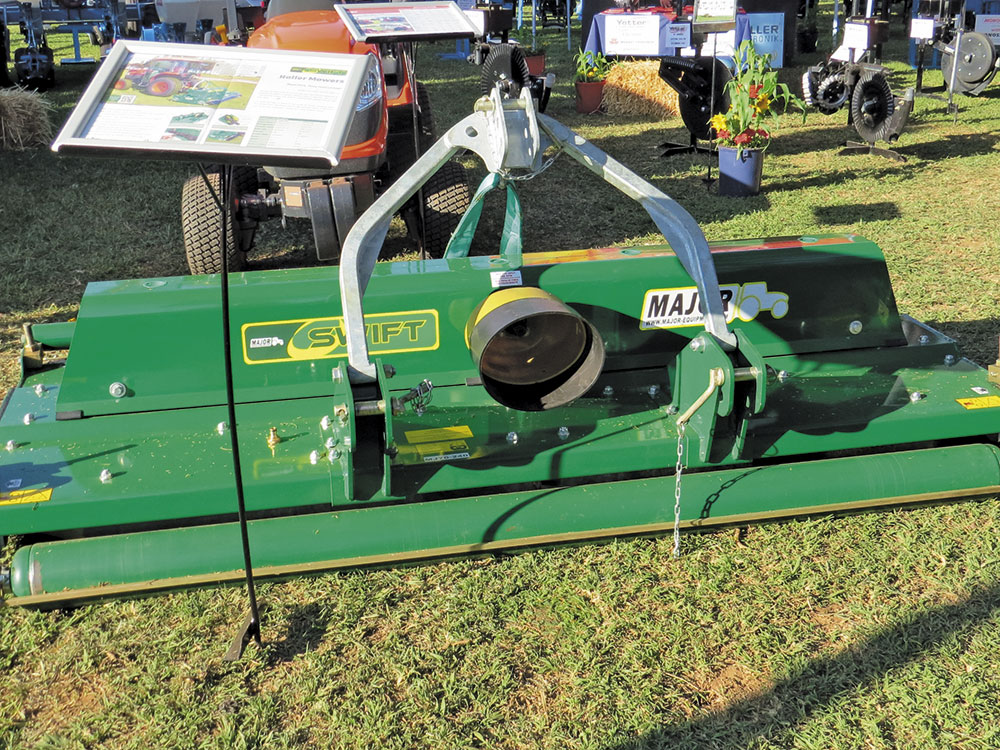 Precision vegetables
More than 230 Monosem MS vegetable planters have been sold since Carrotech began marketing them in 2000. Designed for the toughest conditions, the pneumatic planters are assembled according to the customer's specifications.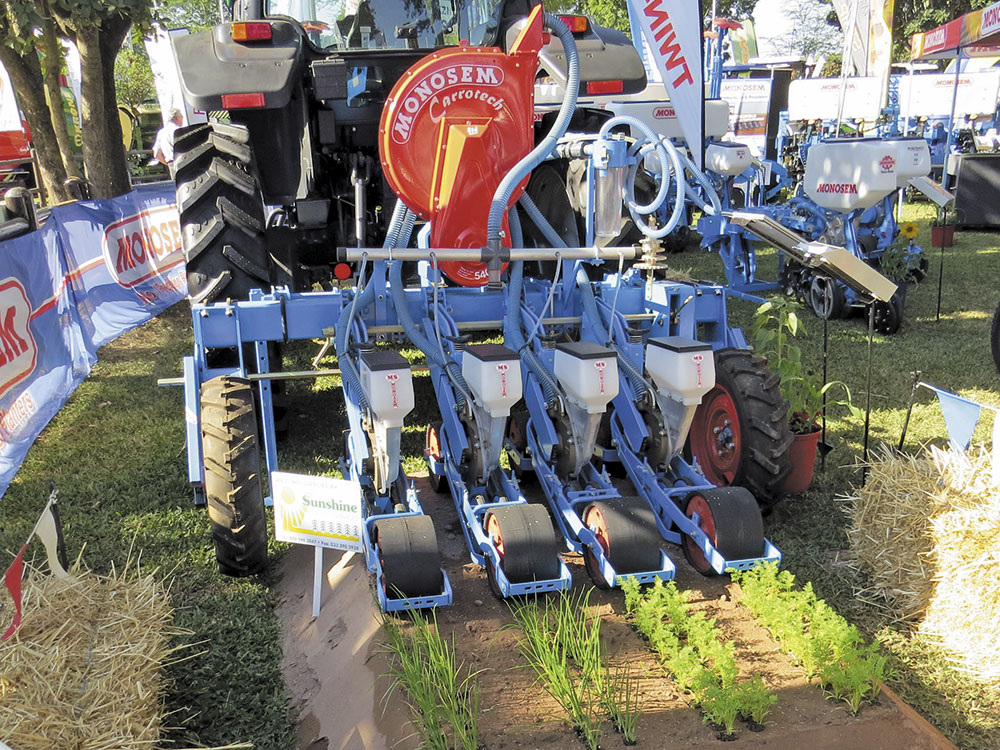 An old favourite returns
The 'new' MF35 attracted plenty of attention at the stand of Massey Ferguson dealer FMS, and it will be interesting to see if the MF35 strikes a chord with its target market: small-scale farmers keen to mechanise their operations. "It's not an exaggeration to say that no other tractor design in history has contributed more to the feeding of the world," says Michael Thorne in his book about the original MF35.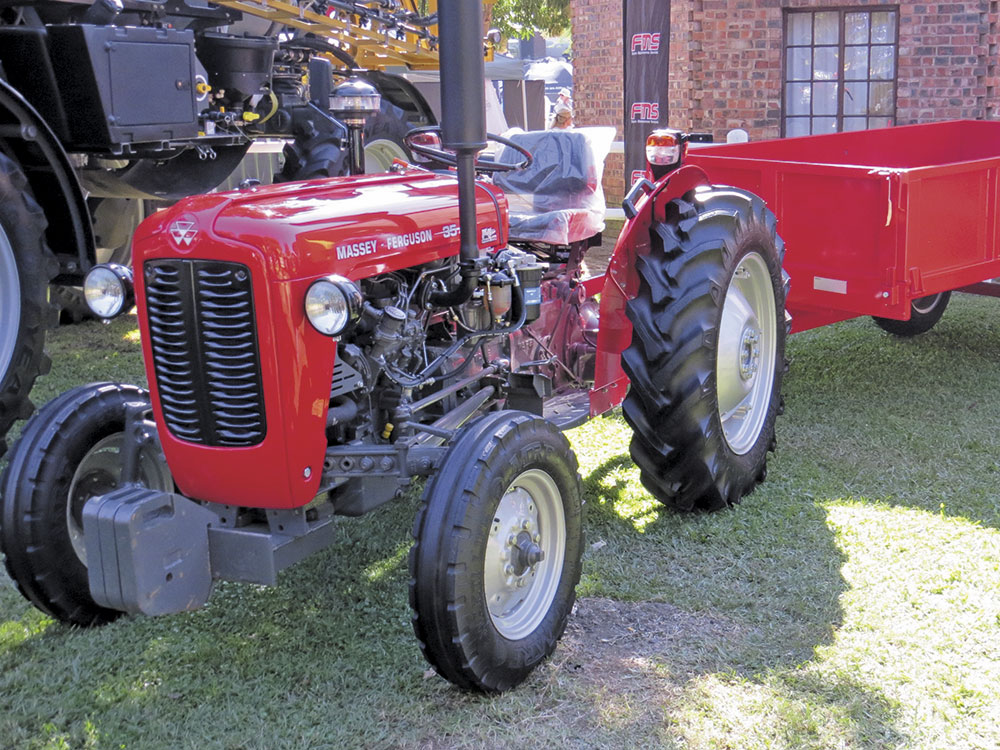 Locally manufactured flail cutter
The falling rand and growing interest in flail cutters for pasture topping both indicate that the time is ripe to introduce locally manufactured units. The Falcon F150 flail cutter (seen here set up for orchard cutting) is based on years of experience with imported models combined with knowledge of South Africa's unique conditions.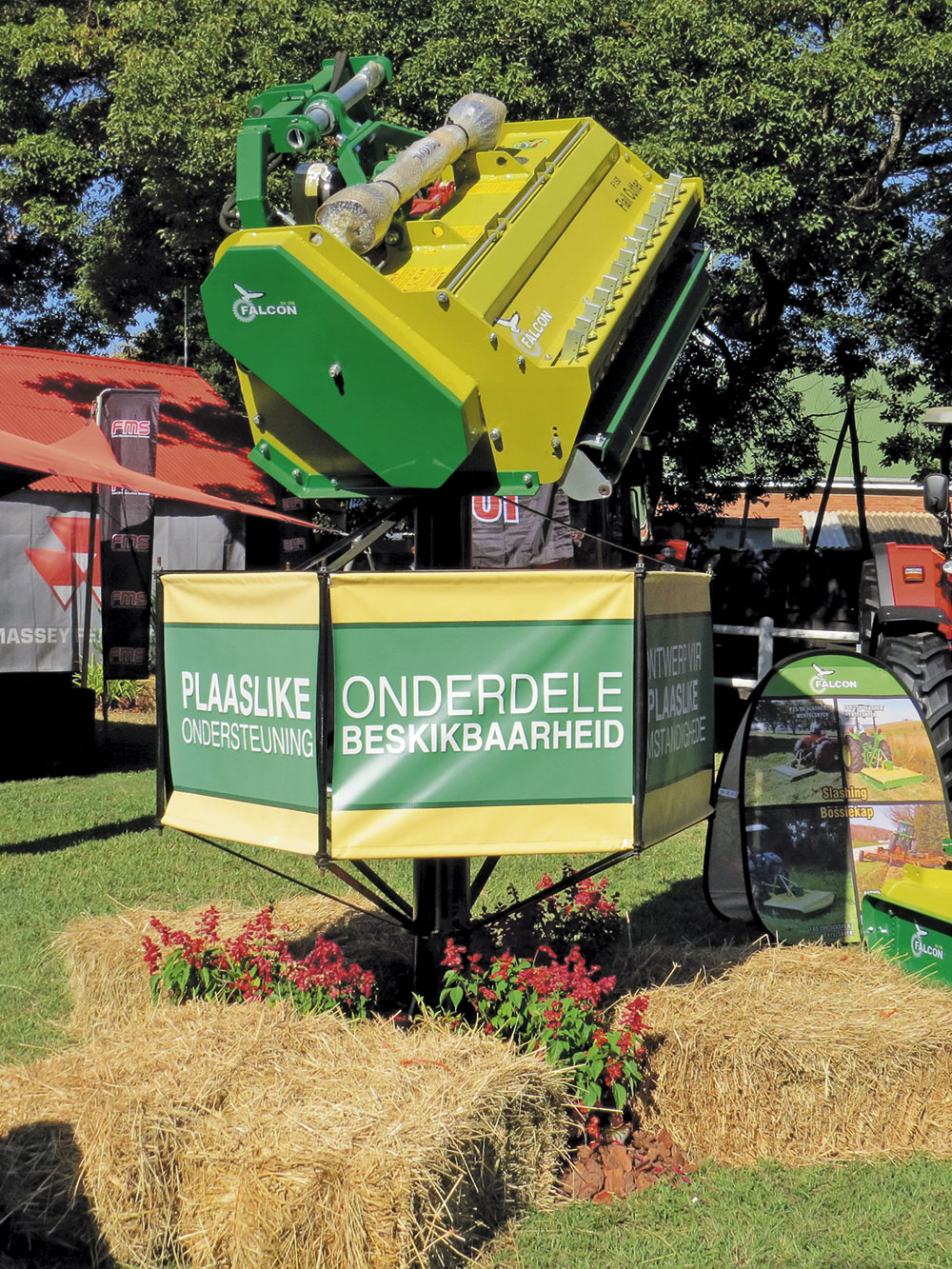 Simple, yet effective
The Ngwenya rock crusher reduces crushed rocks and old concrete into a highly uniform aggregate suitable for the manufacture of building blocks. A massive flywheel, driven by an electric motor, provides the impetus for the crushing plate.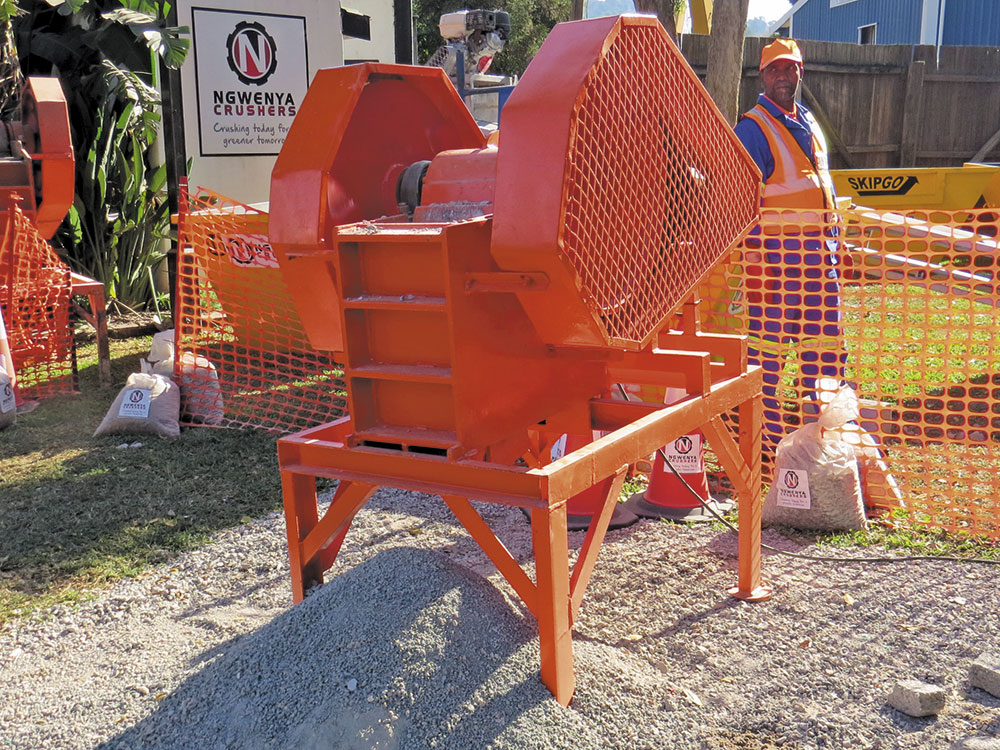 On or off the farm
The road-legal Big Boy D-460 utility vehicle is proving popular with farmers, says Anél Pelser from Extreme Machines in Pietermaritzburg. It is powered by a single cylinder 456cc air-cooled four-stroke diesel engine claimed to have a consumption of 20km/l to 25km/l. Maximum power is 8,2kW at 3 600r/min with torque of 23Nm at 2 600r/min. The manually tipped bin measures 2 000mm x 1 280mm x 320mm and has a 350kg load capacity.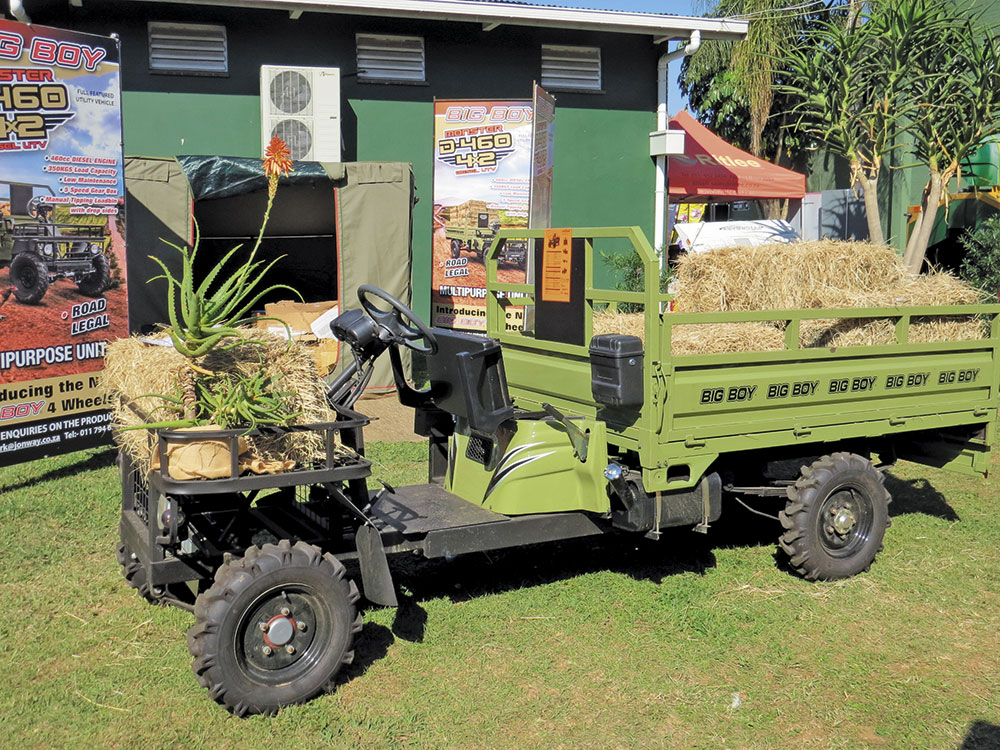 Rake's progress
The centre swath Pöttinger TOP 612C dual rake is uniquely manoeuvrable and protects both the land and the forage. It has a working width of 5,9m and a transport width of 2,55m. The rotor transmission is extremely rugged, with the gears submerged in oil and completely sealed. The large-diameter gear wheel guarantees smooth running and a long service life.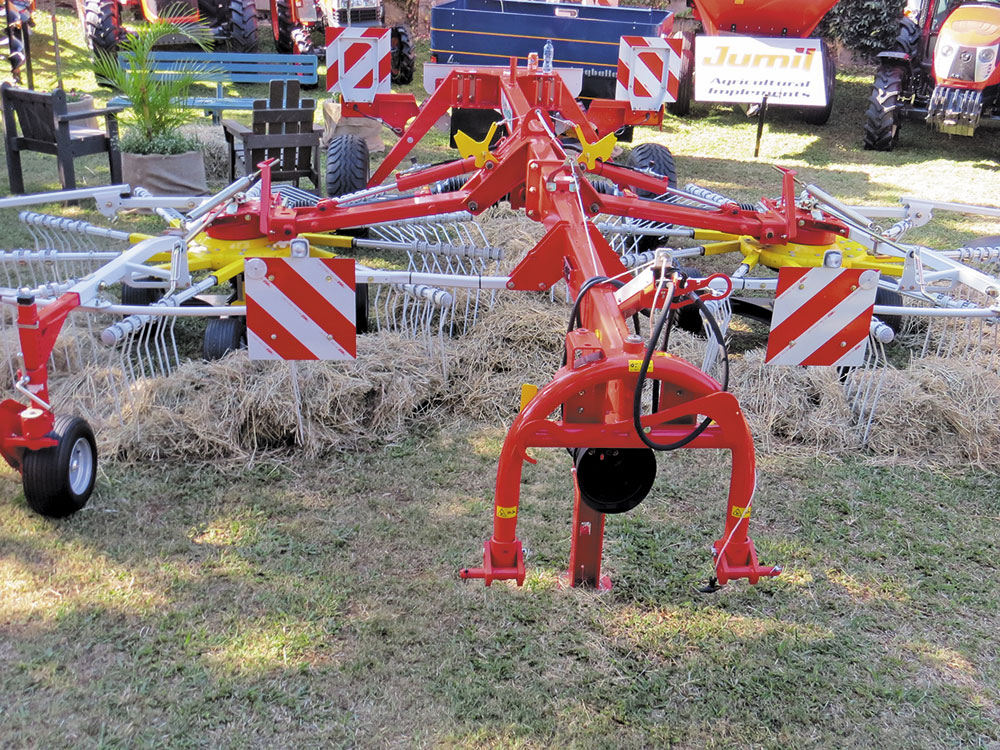 Operation is extremely convenient – the rotors are raised with a single-acting hydraulic connection, while working width adjustment is powered by a double-acting connection with a working width indicator.
Joe Spencer is the mechanisation editor of Farmer's Weekly.