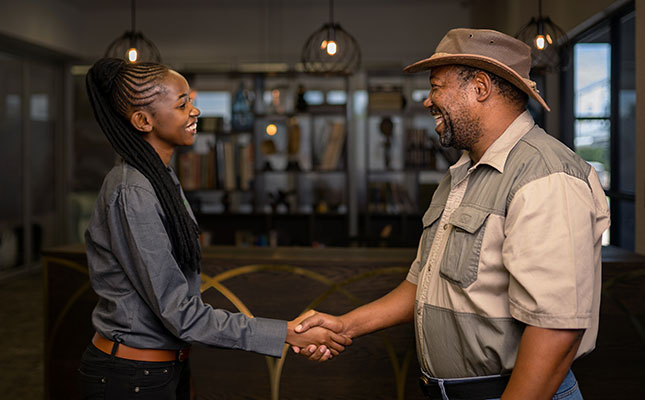 Agriculture is currently one of the most dynamic business sectors in sub-Saharan Africa. The region's expected economic growth rate, coupled with the rise of the middle class in sub-Saharan Africa, and the continent's untapped agricultural potential, present role players in the sector with enormous economic opportunities.
At the same time, access to credit is a source of concern to many modern agribusinesses.
John Deere Financial is standing by to help farmers overcome this obstacle, and therefore supports its clients with quick and easy credit processes for the financing of any new John Deere equipment.
John Deere Financial's agricultural asset finance packages are structured according to farmers' specific circumstances and mechanisation requirements. A unique finance option is
available for any new farming equipment, subject to purchase at an authorised John Deere dealer.
Key benefits to the farmer
Some key benefits include:
Convenient and flexible repayment structures: John Deere Financial is familiar with the cyclical nature of agriculture, and knows that cash flow is the lifeblood of a business. Its finance packages are structured to support a healthy cash flow to promote the growth of an agricultural operation.
Customised solutions for farmers: John Deere prides itself on not merely selling products, but offering customised solutions to help farmers achieve the highest possible level of efficiency. When John Deere Financial structures a finance package, they go further than looking at a farmer's balance sheet; they consider the production value of the farm as a whole.
Access to a dedicated relationship banker: Few business owners have the time to queue
in a bank, or be sent from pillar to post. With John Deere Financial's finance packages,
every farmer is assigned to a dedicated relationship banker who focuses on his or her specific banking needs. This allows farmers to direct their attention, energy and time to what they do best: producing food!
Flexible lending periods: Flexibility in terms of the lending period translates into affordability. A relationship manager can supply detailed information on the most advantageous structuring of instalments.
Competitive interest rates on all new John Deere equipment: John Deere Financial aspires to offer its customers highly competitive interest rates on asset finance.
Product support: Because John Deere is committed to the highest levels of support to farmers, it provides ongoing training to its technicians through its dealer network to ensure continued aftersales support to our customers.
Contact your nearest John Deere financial marketer or dealer for more information on John Deere Financial' s custom-made financial packages, and gain a reliable and committed progress partner.
Visit deere.com/sub-saharan, or email [email protected]. Phone 0800 983 821.