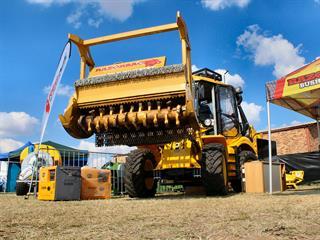 Nampo Harvest Day has become the first-choice venue in Southern Africa for the launch of new machines and implements. This year was no exception.
TLB mulcher
Razorback Bush Clearing from Pretoria showed a variety of implements for cutting, mulching and clearing bush and trees.
One was the Razorback TLB mulcher seen here. This versatile 4WD machine comes with a loading bucket, mulcher and backhoe.
It is powered by a 94kW Perkins 1104D engine and has hydrostatic, clutchless transmission with instant reverse. The working speed is up to 8km/h. The mulcher has a variable hydraulic drive motor and 2 000mm cutting width, and can mulch wood up to 200mm in diameter.
Soilmaster two-row planter
Soilmaster has a fine reputation for reliable, locally manufactured implements and its latest planter lives up to this.
The market for basic two-row planters seems to be growing.
The Soilmaster two-row planter has a chain-and-shaft drive mechanism with easy calibration by means of different-sized chain sprockets. Row width is adjustable, and the implement can be configured with more rows if required. Plates for various seeds such as maize, beans, sunflower and sorghum, are available.
Radium FX 318 flex-wing rotary cutter
The Radium FX 318 is designed to cut a variety of materials, such as grass and wheat straw, and can cope with difficult terrain. The wings flex from 25° down to 30° up, the cutting height can be adjusted from 44mm to 425mm, and cut material is spread evenly over the cutter's 5,5m working width. Transport width is 2,2m.
Trailed Falcon slasher for smaller tractors
In response to many requests from farmers, Falcon has produced a trailed version of its popular 3m-wide F60/300 heavy-duty slasher. Fully locally manufactured, it can be handled by a smaller tractor than needed for the semi-mounted version, while still producing the same high work-rate.
Exclusive Falcon features include the leaf spring suspension of the wheel assemblies and automatic self-levelling by means of a linkage between the rear wheels and the drawbar. This changes the front and rear height to the same level when the cutting height is adjusted by the external tractor hydraulics.
Monosem Quad-Max planter
Monosem's new-generation metering unit on its Quad-Max planter is claimed to be accurate and durable. The aluminium seed pot with brass scraper can be set to plant single seeds without skips or doubles.
The Fertisystem augers ensure an even application of granular fertiliser and can handle low-quality fertiliser in high quantities without clogging. For higher speed planting, the Monoshox planter unit with a large, gas-filled shock absorber is a popular option.
The Quad-Max is available with a wide choice of fertiliser coulters. However, Monosem's 'coulter and trip-tine combination' is likely to remain popular. The small tooth has an aggressive angle that penetrates severely compacted soil, breaking up the soil for better root development. The tine can be swapped for a double disc that creates less soil disturbance.
The Rotor Speedy for stump grinding
The Rotor Speedy 130/160 stump grinder offers a novel solution for stump clearing. An auger drills into the stump, followed by two blades that shave off slices of wood as they rotate, leaving residue that looks like the shavings of a giant pencil sharpener. The 130/160 model seen here requires from 95kW to 120kW to operate the auger and a 850mm diameter blade assembly to a maximum depth of 950mm.
The Razorshear double- action tree shear
Also from Razorback, the Razorshear double action tree shear is an excellent tool for clearing heavy brush and small to medium trees up to 150mm in diameter. It fits all popular makes of skid-steer loader without the need for extra hydraulics. The blade is manufactured from 12mm alloy steel plate and driven by the skid-steer's auxiliary hydraulics.
Razorchopper firewood machine
Razorback's Razorchopper, seen here with the conveyor removed to show the blades, is a sturdy tractor-mounted wood chopper that makes light work of turning trees into firewood. Its six knives can cut branches up to 100mm in diameter into firewood billets from 60mm to 170mm long.
The Razorchopper is supplied with a belt conveyor for loading and packaging.
Joe Spencer is the mechanisation editor of Farmer's Weekly.