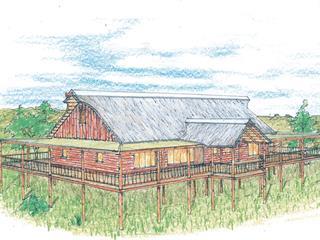 Dear John
Your article in Farmer's Weekly of 19 June 2015 refers. We intend building a house in Zambia shortly, and need your assistance with the plans. Here are the details:
The double garage must be converted into an en suite bedroom;
The entire structure has to be built on a wooden deck 3m above the ground, with a wrap-around veranda;
The house must be built from logs and poles, and have a thatched roof;
The windows cannot contain glass or have steel frames;
The plans do not have to be submitted to any authorities.
Regards
André
Dear André
After our chat this morning, I drew a conceptual sketch for your future home. I have modified the layout here and there, to make it more user-friendly.
The width of the house is increased by a metre and I have shown the windows as regular wooden types, but you'll have to improvise with different types of screening.
I've indicated mopane poles for the structure and a framework can be built in between them. A wood cladding can then be affixed to these frames. I'm attaching a picture of a 'louvre-lap' wood plank covering that is very easy to apply.
Many types of roof coverings are available, but I suggest using IBR sheeting with a wood plank overlay, or a plaster cement topping. I have a 'recipe' for a special mixture that makes the latter thermal-friendly.
Regards
Jonno