This year's Agri Cape Week, hosted by the Agricultural Research Council at its deciduous fruit research facility, Bien Donne, near Franschhoek, marked the amalgamation of the Bien Donne Agri Cape Week and the Agri Cape Week Expo. The event attracted a large number of exhibitors with a wide range of agricultural products on display, from indestructible dustbins and grey water treatment systems, to machinery and general equipment, such as piping, fencing and security systems.
A robust range of quality German and Finnish hammer mills and splitters of phosphated powder-coated steel were typical examples of European ingenuity and work quality on show.  Reversible hammers in the shredders are easily removed allowing them to be used twice. Surface hardened bolts reduce wear and the risk of cracking.

Atasa Tower Sprayer
The Atasa Tower sprayer, developed by Rovic & Leers and the University of Stellenbosch, has undergone extensive testing in the Grabouw area. The sprayer's core design is unchanged but air flow direction and the positioning of spray nozzles is more efficient with spray specifically directed in a narrowed plume. Rovic's Kosie Human claims coverage is eight times better, fuel consumption has improved and up to 40% less power is needed to drive the unit.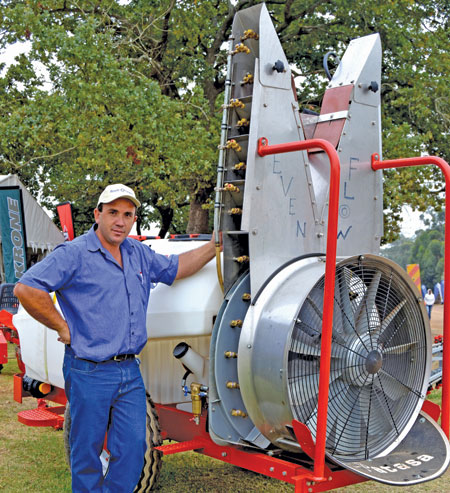 About those logs…
With increasing rural demand for wood as a fuel source, ways of converting alien and plantation offcuts into a usable, marketable product have never been needed more. Staalmeester's Christie Louw says that log chippers and sizing and splitting machinery, from small units suitable for domestic use to the industrial BigX47, are now among the company's best sellers.
Logs can be sized up to 60cm, while the professional and industrial range has an adjustable splitting pressure of between 3,5t and 13t. The smaller domestic machines can split logs in two, four or six segments (up to 12 with the BigX47), simultaneously selecting length. Using these machines, a small plantation can be converted to conveniently sized and split firewood fairly quickly.
All professional machines use an integral chainsaw for sizing and can be powered from a PTO or are supplied with a suitable electric motor, ranging from 4kW to 15kW. The Working for Water Project estimates an income of more than R25 million a year can be earned nationally through conversion of alien vegetation into saleable products such as firewood, furniture and charcoal. The economic potential for charcoal making has not been fully explored.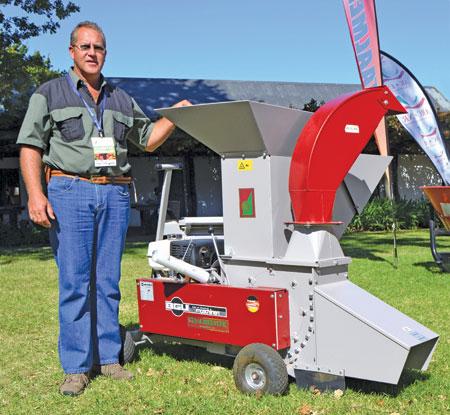 The Ero Grape Liner 6000
The 2012 Ero Grape Liner 6000 range has a wider harvester chamber, a revised computer system and an improved beater system. The tried and trusted Deutz engine remains in place, but with a new power control unit to self regulate engine speed. The range will be available later in the year.