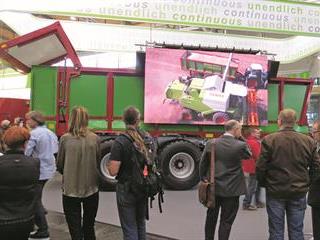 The Strautmann Aperion conveyor belt trailer can be used for almost all agricultural materials, including chopped silage, grain and even wood chips. It's also ideal for root crops and large bags or pallets. The conveyor empties the cargo space in next
to no time.
The strong rubber belt is 2 100mm wide and 10mm thick, while there are more than 30 carrying and supporting rollers. The belt is moved by a hydraulically-powered rubber-coated roller at the rear and automatically tensioned by the front return roller.
There is no moving front panel and the rear gate can be fully raised when discharging. The sides of the trailer consist of plastic panels reinforced with glass fibre and robust stanchions on the outside. This allows for a smooth interior surface which ensures that no residue is left behind during discharge.
The manure spreader body.
The smooth, thermally insulated inside surface also enables sensitive crops such as potatoes to be transported without damage, while very small seeds, such as oilseed rape, can be carried without risk of leakage. When transporting bulk materials with a low specific gravity, the operator can increase the volume by means of 700mm side extensions.
The body can also be equipped with rear beaters, turning the Aperion into a forage wagon. Two mechanically powered beaters discharge the forage evenly onto the clamp. The trailer is available in two sizes. The 2401 has a tandem axle, a total loaded mass of 24t and a capacity of 28m³, which can be increased to 42m³ with the extensions.
The larger 3401 has a tridem axle with electro-hydraulic steering. It has a loaded mass of 34t and a capacity of 35m³, which can be increased to 52m³. The conveyor belt wagon body can be 'swapped' for a manure spreader body on the same chassis.
Strautmann equipment is marketed in South Africa by Inttrac Trading, based in Meyerton, Gauteng.
Renowned for its mixer wagons
Strautmann manufactures a wide range of feed mixers including self-propelled models. At Agritechnica, side plates of the Verti-Mix 2401 were replaced by transparent panels, making it easy to see the mixing augers.
The Verti-Mix double, with two vertical Vario mixing augers, is claimed to have exceptionally high mixing capacity for a machine with such compact dimensions.Strautmann mixers are known for their rapid yet gentle mixing action.