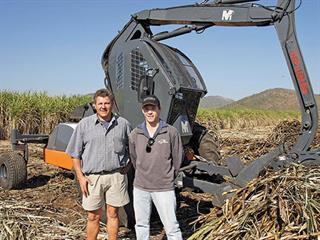 Hennie Davel has grown sugar on his farm Rietplaatz, near Malelane in Mpumalanga, since 2006. Recently, the installation of an irrigation system has meant a change in the use of machinery on the land. "We run our sub-surface irrigation piping on a ridge in the land with a row of cane planted on either side of the pipes. So we've had to rethink the mechanical traffic we allow in-field when loading cut cane," he explains.
This is where the new Matriarch Ulteco 5 distributed by Bell Equipment, comes into its own. Being a slew loader, it maintains the integrity of the sub-surface irrigation system. At the same time, Hennie has "quite frankly been blown away by its performance".
"Even with our two operators still cutting their teeth on the operation of the machine, we can comfortably load a 30t truck in around 45 minutes," he says. "Also, running costs are easily 50% less than that of our larger tracked loader."
Asked why he thought the Ulteco 5 Slew Loader works so well in this application, Matriarch Equipment's Ashley Bell said: "In the Mpumalanga region, where controlled traffic in sugarcane farming has been an area of focus for a good few years, the 12t tracked excavator has traditionally been the loading tool of choice. "But Hennie Davel's operation is testament to the fact that the Ulteco 5 Loader can handle the job in the same conditions."
As a slew loader, the Ulteco offers "improved mobility and lower running costs versus a tracked loading tool", notes Ashley.
Hennie says that Matriarch Equipment were happy to make a few minor modifications for him: changing the grab to better suit their application, and repositioning of the cab and the track to fit their row width.
"After this, the machine slotted right into our production cycle and even improved it. Daily maintenance is simple, thanks to easy access to grease points and hydraulic pipes," he says.