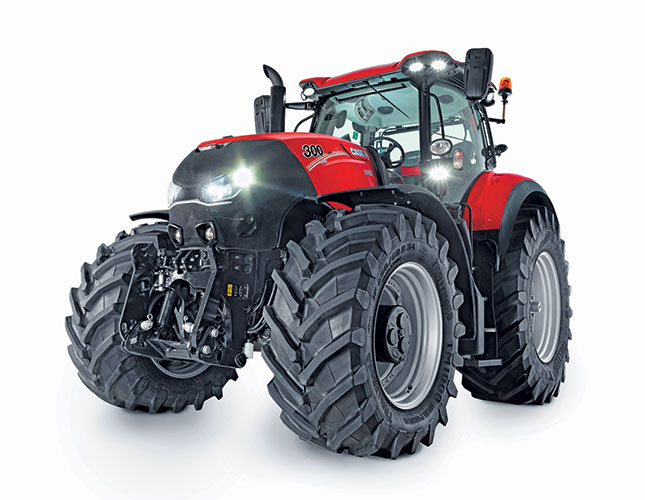 At the International Exposition of Machinery for Agriculture (EIMA) in Bologna, Italy, in November last year, a panel of judges from some of Europe's leading agricultural journals named Case IH's Optum 300 CVX their Tractor of the Year for 2017.
In doing so, they acknowledged the growing need for a tractor with a high power-to-weight ratio in a compact, highly manoeuvrable format.
"Following the Machine of the Year 2016 award won by the Optum, this Tractor of the Year title shows the recognition by Europe's agricultural press that the design and features of the Optum represent a significant advancement in tractor technology," said Case IH's Dan Stuart at the EIMA awards ceremony.
The Optum is positioned between the Magnum, built in the US, and the Puma range from St Valentin, Austria, in the company's extensive range of tractors.
Noteworthy Features
Also built at St Valentin, the Optum is an entirely new, strong but lighter unit featuring a newly designed and particularly tough front axle, and a structural engine oil sump. The Optum 300 is powered by a 6,7-litre Fiat Powertrain Technologies six-cylinder engine rated at 225kW, which is built around the structural sump. This drives through the continuously variable Case IH CVX transmission.
The tractor's unladen weight is 11 000kg, but the design allows for a maximum gross weight of 16 000kg, enabling the tractor to be ballasted for specific tasks.
In turn, this could mean a significant reduction in fuel consumption when performing tasks where maximum traction weight is not required.
Another fuel-saving feature is the 'idle speed management' system, which automatically cuts the idle speed from 850r/ min to 650r/min if the tractor does not move for two minutes. The facility to match the ballasted weight to suit specific tasks makes the Optum well suited to tasks where high power is essential, but weight not critical, such as working with large mower combinations, where it is important not to have too much weight compacting the grass sward.
Where traction and grip are the critical factors, such as in heavy cultivation, the Optum CVX can be ballasted to make it competitive with any tractor in this power range.
Case IH maintains that the Optum series tractors (the 270 CVX is rated at 202kW) fit well with specific operations, including:
Haulage. This is thanks to the tractor's reactive steering, suspended axle, suspended cab and power.
Tillage. The tractor has enough power to pull large, ground-engaging implements.
Planting. The tractor has the hydraulic capacity needed to run modern planters.
Hay/forage. Optum tractors are ideal for big farming operations and contractors running triple mower combinations and large square balers.
Joe Spencer is the mechanisation editor of Farmer's Weekly.