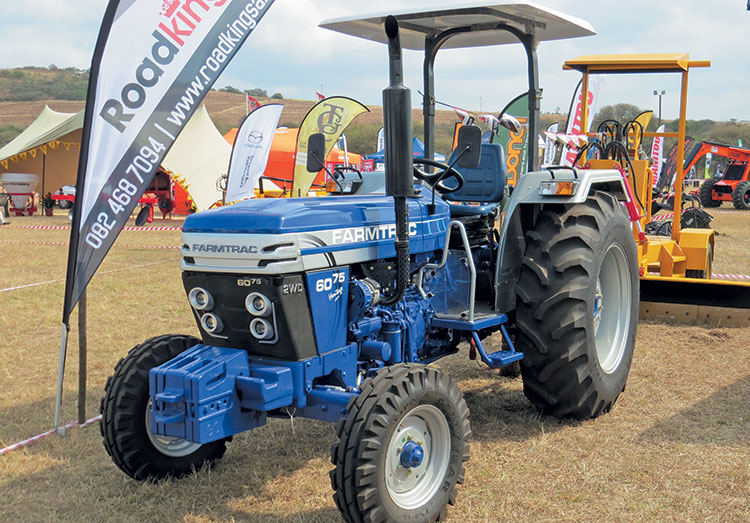 New from Farmtrac
Farmtrac's range of budget-priced tractors was recently relaunched. On display was the 56kW model. It features an eight forward and two reverse transmissions and is also available with 4WD.
Jumbo fertiliser applicator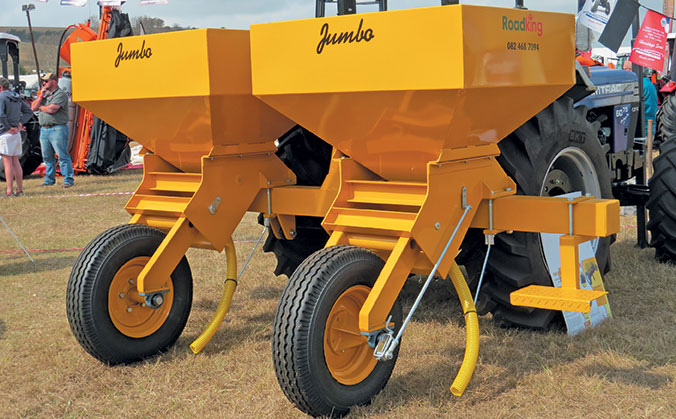 The latest version of the Jumbo fertiliser applicator features several improvements. However, the basic adjustable push-rod metering system, proven to be highly accurate and easy to calibrate, has been retained. Each bin holds 500kg of fertiliser.
Imported sprayer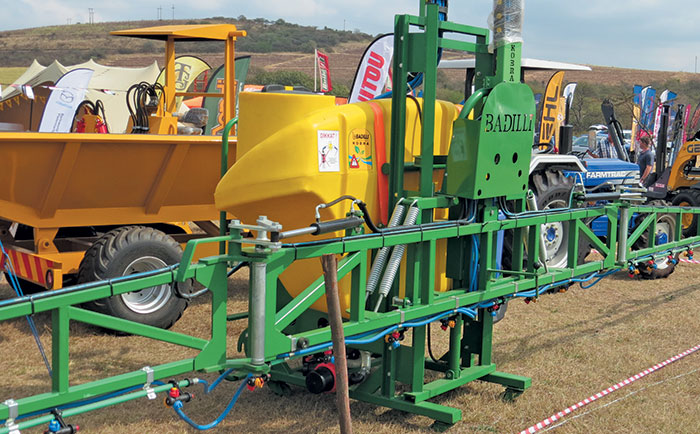 The Italian-built Badilli Ultra PLUS 1000 mounted sprayer has a capacity of 1 000ℓ. The pump supplies between 85ℓ/ min and 105ℓ/ min, and boom width is 18m. The boom can be raised and lowered hydraulically, and electronic controls are optional.
Crane included for easy loading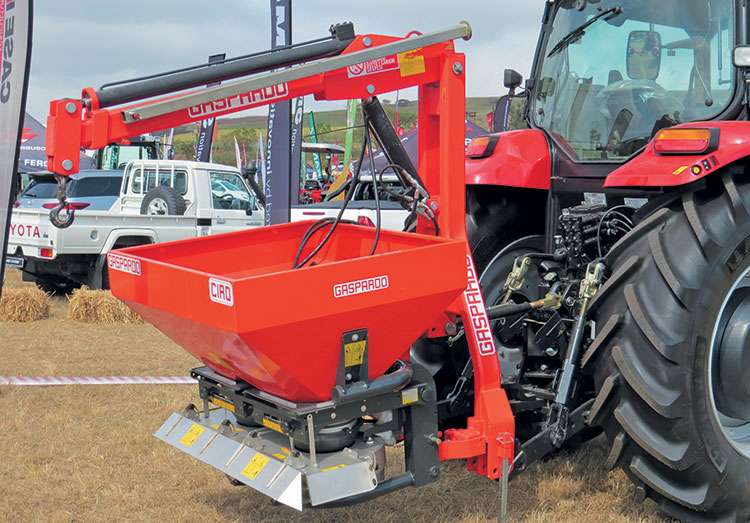 The Gaspardo Ciro 600 spreader has a built-in crane that provides a simple solution to the problem of refilling the fertiliser spreader bin. With a lifting capacity of 1 200kg, it can handle the largest bulk fertiliser bags with ease. The bin size is 600ℓ, and the Ciro can spread accurately up to a width of 18m.
Hin-Tech logger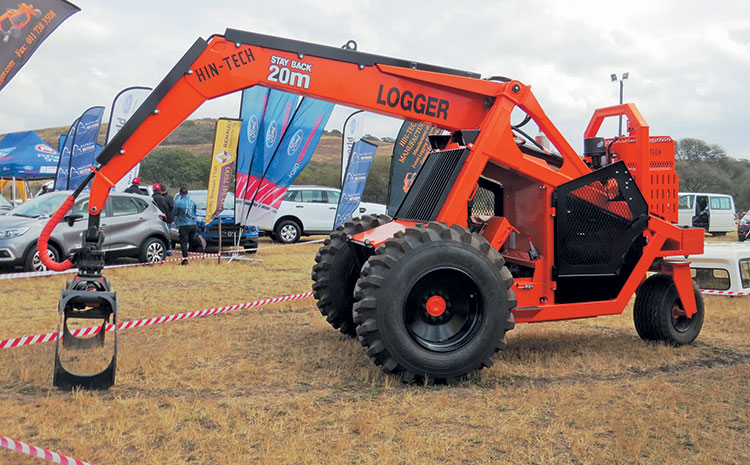 Used for extracting, loading and stacking timber, the Hin- Tech logger is powered by a 57kW Deutz engine with an Eaton Hydraulic servo-control transmission and Poclain wheel motors. Maximum lifting height is 5m. The operator's cabin is integrated with a safety frame and the driver is secured with a four-point safety harness.
Livestock carrier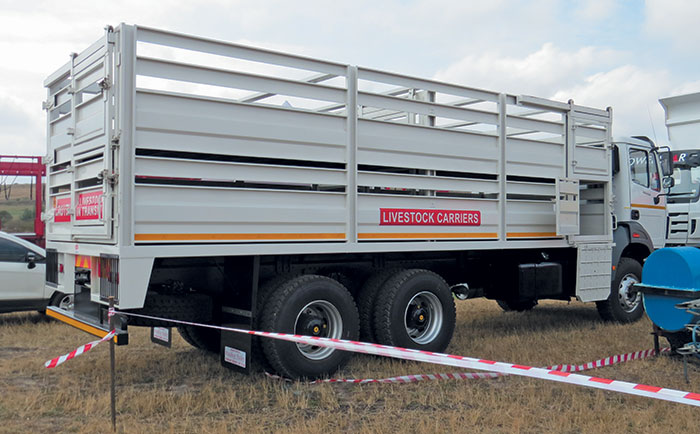 Shown here is a Roadhog livestock body mounted on a Powerstar VX 3335 LWB chassis. The 7m-long body is constructed from corrosion-resistant corten steel. Intermediate non-slip decks make it suitable for either cattle or sheep.
Water tanks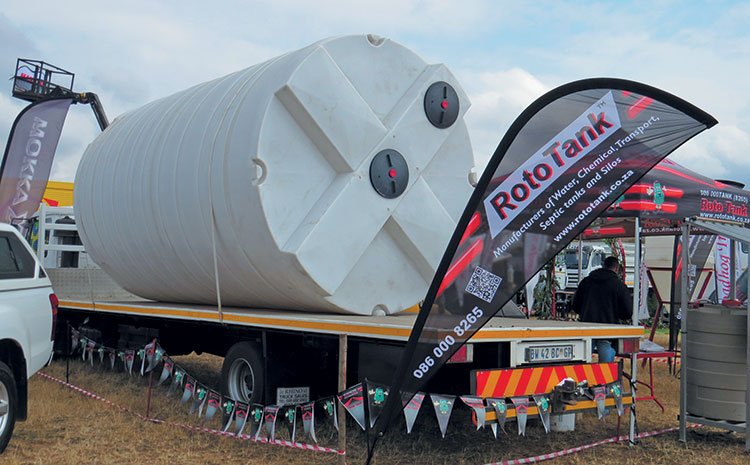 RotoTank, based in Marburg on the KwaZulu-Natal South Coast, manufactures high-quality, durable above-ground water storage tanks from 500ℓ to 40 000ℓ in size. A black liner inhibits algae growth and RotoTank claims that its tanks can withstand UV rays for at least eight years.  The 27 000ℓ tank shown here is 4 800mm high and has a diameter of 2 750mm. It is fitted with two 450mm-diameter child-safe lids.
Priced right
Sophisticated ploughs have never been in great demand in South Africa. Despite this, the Lemken Opel 090 reversible is making a name for itself as a budget-priced implement that does an excellent job in local conditions. It draws three 300mm furrows and is a good match for a medium-sized tractor.
Valtra T234
A major selling point of Valtra tractors is that they can be built exactly to a customer's specifications from a long list of options, including engines, transmissions and even colour.
This striking, all-white T234 model has everything but the kitchen sink, although it does have a fridge on board! It is also equipped with Quicksteer, Autoguide and two safety cameras to monitor the operation of the implements.
The six-cylinder, 7,4-litre AGCO Power engine produces 162kW, which can be boosted to 184kW for PTO or transport operations.
Joe Spencer is the mechanisation editor of Farmer's Weekly.