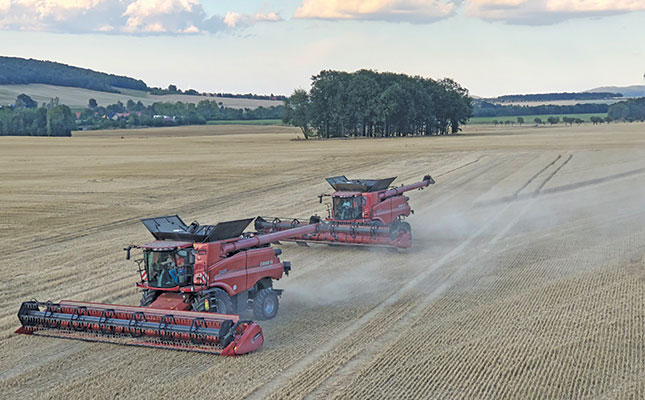 A state-of-the-art combine harvester can never achieve its full potential if a farmer's in-field logistics support is unable to keep up with production flow.
With this in mind, AgriCAD, an innovative local implement manufacturer, has designed the MB mother bin series to ensure optimal harvester utilisation. The mother bin is a large trailer used as portable grain storage in the land.
It could be argued that if you have an idle harvester in the harvesting window, you should probably have invested in a lower-capacity harvester.
A standing harvester means that you are extending your harvesting window and therefore a lower-capacity machine might have been a better fit.
On average, the difference between classes can be as much as R500 000, which is just below 10% of the value of an average harvester, excluding the difference in header value. Investing unnecessarily means not only paying interest on a loan, but is also an opportunity cost.
Integrating a mother bin into your existing mechanisation package may mean that you can sell off a redundant machine. It will also ensure that your harvester does not stand idle and you are optimising your capital investment.
Flexibility
Having an AgriCAD mother bin on your farm means that you can now manage farm loading with a transport contractor.
This gives you some flexibility in your grain market channel and could mean that you realise a better price for a portion of your crop and still maintain harvesting efficiency.
The mother bin comes with optional load cells and a printer that gives you in-field control
over your harvest. Control over what was loaded prevents losses from theft and ensures traceability.
Loading time is considerably reduced; contractors' trucks need not spend time waiting at the headland.
The loading time on a 34t truck, from pulling in until leaving with its printed load details, is about 10 minutes.
Equipped for road transport
AgriCAD's mother bin is easily transported and has a narrow turning circle. Transporting only when empty ensures that you do not have to dedicate a large tractor operating with the haulage team to move the mother bin between lands.
AgriCAD's mother bin is also equipped with LED floodlighting for night work, and can be transported on public roads with its roadworthy lights and chevron package.
Specifications
The AgriCAD MB mother bin series offers a number of significant advantages:
The high-discharge capacity enables a 34t truck to be loaded in approximately 10 minutes.
The 50m³ MB500 and 70m³ MB700 capacities create 40t and 58t surge tanks respectively.
The standard discharge height is 4,2m.
The modular design enables the welded components to be replaced without difficulty.
The mother bin can be containerised in semi-knockdown form, reducing shipping cost.
It comes equipped with a standard light box with chevron.
A flood light on the discharge head enables night loading to be undertaken with ease.
A tarpaulin is provided for protection against the elements.
An optional weighing system with printer is available.

Stehan Cloete, a mechanical engineer, is the director of AgTech Africa. Email him at [email protected].