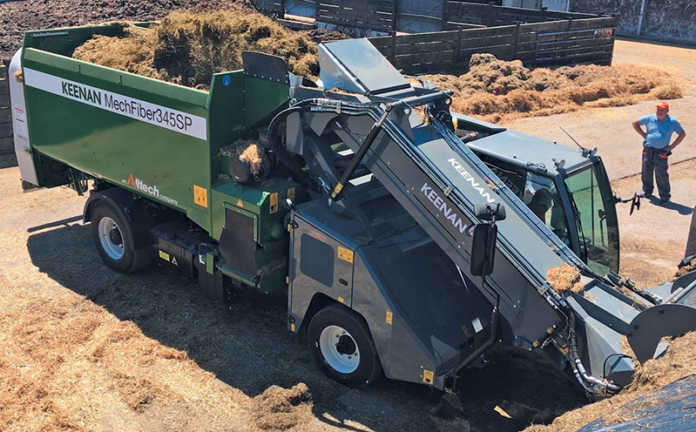 Keenan, an Ireland-based manufacturer of mixer wagons, was acquired by global biotechnology company, Alltech, in April last year. A mere 15 months later, the company rolled out its first self-propelled mixer, the MechFiber 345 SP.
In September, the machine went on to win the prestigious Innovation Arena Award at the National Ploughing Championships in Ireland.
The award was testament to the company's "knowledge and experience in identifying a market opportunity and bringing it to fruition", says Keenan CEO, Robbie Walker.
Keenan is renowned for producing feed with excellent nutritional value and improving animal performance by optimising rumen health. To fast-track development of the mixer, it researched the leading chopping and loading mechanisms on the market.
Keenan's insistence on retaining forage structure to deliver its high-quality mix meant that it had to identify exactly the right solution.
This was ultimately provided by Italian company, Storti, which had a system that retained the all-important fibre structure.
Storti collaborated in engineering the optimal loading mechanism for the Keenan MechFiber 345 SP.
The tungsten-coated blades are fitted in a unique crossed arrangement that enables them to cut cleanly without damaging the structure of the fibre, even when the silage is compact.
A high-speed loading belt reduces mixing and preparation time.
models of the MechFiber SP paddle mixer with capacities of 16m³ and 20m³ respectively, and with left or right front discharge via an adjustable conveyor for homogenous distribution of total mixed rations.
The operating system has been designed for ease of maintenance and features a mechanical drive to the six-paddle reel. This comprises a specially designed gearbox and PTO shaft that transfers all engine power to the mixing system, resulting in economical fuel consumption.
The normal unit has a road speed of 25km/h; a high-speed 'Plus' model, with a top speed of 40km/h, is also available.
Advice on feed
The MechFiber SP range is fitted with the Keenan InTouch controller, connected to the InTouch service, as standard.
This provides real-time feed advice and ration formulation from a team of nutritionists.
The system has proven that it can deliver consistency in both feed and mixing, ensuring improved milk yields, milk solids and better herd health, as well as monitoring and controlling feed costs.
Joe Spencer is the mechanisation editor of Farmer's Weekly.