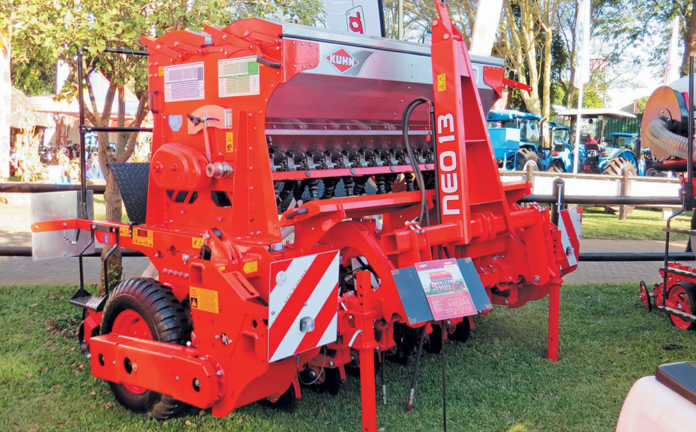 If the display of top-quality cattle and sheep at the Royal Show in Pietermaritzburg has no equal, the machinery section is no less remarkable. The show receives strong support from many leading manufacturers and distributors of farm machinery.
No-till planter
The Kuhn NEO planter from Rovic Leers is a mechanical no-till seed drill with precise seed and fertiliser distribution.
The model seen above has 13 rows at 170mm spacing and the seeding elements are parallelogram-mounted for exact placement.
The two-part stainless steel bin can hold 665ℓ of seed and 760ℓ of fertiliser. It requires a tractor of at least 57kW, and working speed is between 6km/h and 10km/h.
Offset disc harrow
Brandon du Preez of GC Tillage (far left) discusses the merits of the heavy duty Civemasa offset disc harrow with a group of farmers. With twelve 762mm discs, each 7,5mm thick, a total weight of 2 780kg (231kg per disc) and a working width of 1 980mm, this heavy duty implement is ideal for stubble work behind a 90kW 4WD tractor.
A tractor for a limited budget
Long-time Massey Ferguson enthusiast, Gus Henderson (left), discusses the features of the MF 275 with potential customer Joseph Mkize from Bulwer.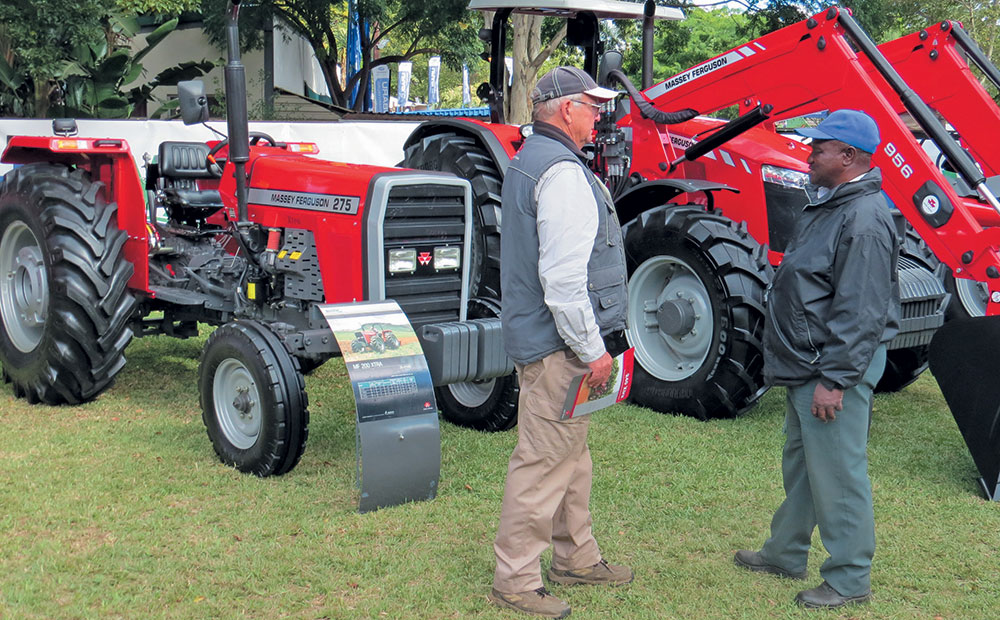 This is an up-to-date budget-priced version of an old favourite. Rated at 55kW, it is also available in four-wheel-drive.
Dozer blade
Rogue Agriculture's tractor-mounted six-way dozer blade is highly versatile. In addition to its hydraulically operated up/down function, it can be angled vertically through 15° in either direction and slewed 30° left or right. These adjustments can be made manually or controlled hydraulically, if required.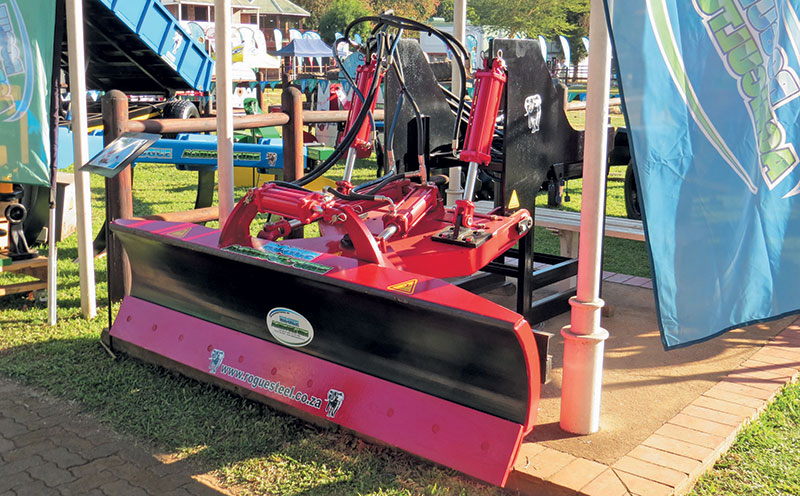 The blade is 10mm thick, 550mm high and 2 200mm wide. Rogue uses a CNC (computer numerical control) system to cut the blade carriage from a 16mm plate according to the profile of the specific tractor's bolster and engine block mounting points, then custom fits it.
The ultimate recycle
On a lighter note, this Harley Bitzer motorbike was one of many artworks on the All-Hand-Done stand. Also on display were a sports car, tractors and highly realistic animals, all made from recycled scrap metal.
Joe Spencer is the mechanisation editor of Farmer's Weekly.