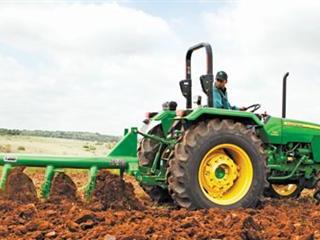 The GreenSystem range, as seen at Nampo, is designed and built by third party suppliers to complement John Deere products and fill gaps in the company's range, thereby enabling dealers to offer a complete equipment line with all the necessary financing and servicing facilities. It's also an initiative to improve the efficiency and productivity of small-scale farmers in Africa.
The GreenSystem DP1003 disc plough, for example, is ideal for reclaiming previously non-productive soil, as it can cope with rocks and roots that would wreck traditional mouldboard ploughs. The large 660mm x 6mm discs ensure a deeper, wider cut and better trash coverage, and the plough is fitted with heavy-duty scrapers. Working depth varies from 150mm to 300mm, depending on conditions such as soil moisture. The three-furrow plough needs a tractor in the 40kW to 56kW range.
The SC12 heavy-duty spring tine harrow, meanwhile, prepares an excellent seedbed. The heavy-duty mainframe is designed to cope with soil conditions anywhere in sub-Saharan Africa and the heavy coil springs protect the HD-forged tines against sudden impact. The tines have reversible shovel points and the harrows are suitable for secondary tillage applications.