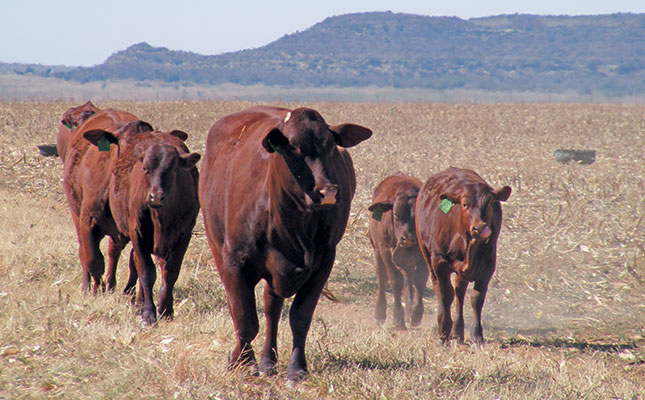 The recent drought has depleted grazing in the southern Free State, but Desmond Robertson's Santa Gertrudis stud, Santarific Santas, is in surprisingly good condition. Desmond, who farms on Tweedewaag near Brandfort, believes this is proof of the breed's adaptability and hardiness.
"One of the most common misconceptions about the breed is that it was bred exclusively for the feedlot, and doesn't do well under extensive veld conditions," he says.
"However, through careful selective breeding, it has developed into a strong contender in the commercial beef production, crossbreeding and feedlot industries. It has proven its efficiency and performance on the veld over and over again.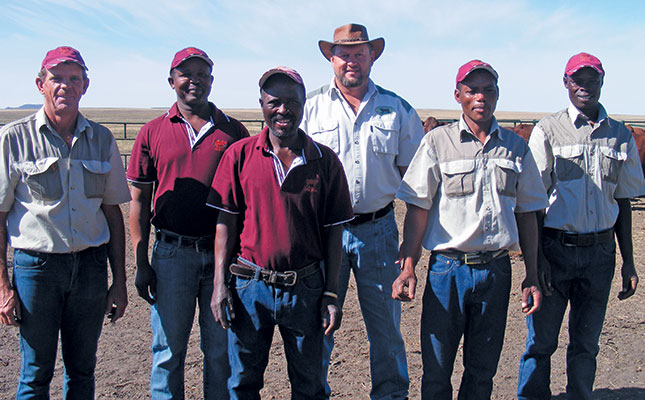 Desmond adds that the Santa was the ideal choice for his farming conditions.
"Modern Santas are medium- framed and compact, with exceptional muscling. They're also fast growers and non-selective grazers with strong walking ability and excellent feed conversion. "What's more, their fertility, milk production and mothering abilities are first-class."
According to statistics supplied by the Santa Gertrudis Breeders' Society of South Africa, the breed's average feed conversion rate (FCR) is 5,54 with an average daily gain (ADG) of 1 752g. The South African Santa is thus ideally suited for extensive conditions.
Grazing and pasture
Desmond's herd is run on typical Free State sweetveld with red grass (Themeda triandra) being the most prolific. Temperatures range from below freezing in winter to more than 30°C in summer. Average annual rainfall is 640mm, but over the past four years, Desmond has received an average of only 340mm/year.
"We have access to sufficient maize stover to carry the 200-strong breeding cow herd and 40 replacement heifers
over the winter," he explains.
"I lease 1 000ha grazing land from my neighbour. If the rainfall allows him to plant maize, I have the option to lease the harvested lands with maize stover for grazing. This has been a godsend during the drought."
Desmond plants 60ha of his 1 600ha farm to dryland maize, which is used as feed for his cattle, and 50ha to dryland oats, which is grazed by cows and their calves for three months after calving.
Water is sourced from six boreholes and stored in three catchment dams. Camps, each with its own watering point, range from 20ha to 100ha in size.
The cattle are rotated according to veld condition, and receive lucerne twice a week, as well as a phosphate lick in summer and a Voermol Premix 450 lick in winter.
Awards and breeding
The Santarific stud was founded on genetics obtained from leading South African Santa Gertrudis breeders, including Pip Hobson, Amy Williams, Willie de Jager and Namibian breeder, Boetie Jooste.
The average birth weight is between 35kg and 38kg. The average seven-month weaning weight for bull calves is between 240kg and 280kg, while heifer calves achieve an average weaning weight of 230kg.
In 2015, the Santarific stud received the Peter Savage award for the best inter-calving period (ICP) of 401 days for a herd of more than 150 cows. For the past three years it has also represented the breed at the Agricultural Research Council's (ARC) Beef Star Performance Awards at the Jacaranda Agricultural Show in Pretoria.
In 2014, the stud received yet another accolade: the Armando Balocco Award. This was based on the fact that three of its bulls, sired by Santarific Alpha SS 08 008, achieved the best results for the breed in the Phase C test 2014 at the ARC Glen Testing Centre.
As function follows form, Desmond selects for the latter, and considers structural soundness vital to the success of the breed.
His ideal Santa Gertrudis bull is naturally polled and very masculine, with outstanding hindquarters, a good topline and width, and a well-developed scrotum and sheath. Desmond's ideal cow is feminine and wedge-shaped with a well-developed udder.
Veld-adapted
Desmond believes that the Santa Gertrudis is a top contender amongst veld-adapted beef breeds.
"It's an economically efficient breed for optimal beef production under extensive conditions with minimal input. We select for length and depth. The economic reality makes optimal production per hectare crucial for long-term profitability."
READ The way forward with grass-fed beef
Bulls and cows that are phenotypically well-suited are mated in a six-month, single-sire breeding system. Ten stud bulls are currently used: the first five with the breeding herds from January to June, and the rest from July to December.
Heifers mated for the first time are kept in a single group with one of the young bulls. Desmond uses one bull for every 30 to 40 cows, as this provides a steady supply of weaners that can be marketed all year round, as well as improving cow ICPs. Fertility is non-negotiable; cows that fail to conceive after the second cycle are culled.
Desmond also participates in Santa Gertrudis SA's beef genomics project.
"Its objective is to increase economic returns for livestock farmers through adding genomic information to conventional breeding programmes. I use two bulls selected by Santa Gertrudis SA and paternity is then determined through DNA testing," he explains.
The Santarific inoculation programme, which starts in August, includes vaccinating against lumpy skin disease, anaplasmosis and botulism. Heifers are inoculated against brucellosis at weaning, while breeding bulls are sheath- washed and inoculated against trichomoniasis annually.
Heifers are inoculated against brucellosis at weaning, while breeding bulls are sheath- washed and inoculated against trichomoniasis annually.
Desmond markets his cattle at the annual X-clusive Santa auction in Excelsior in the Free State. Most of his bulls are sold off-farm, and many have been exported to Botswana and Namibia over the years. To further market his stud, Desmond also competes in shows.
To further market his stud, Desmond also competes in shows.
"The next Santa Gertrudis National Championship and the Santa Gertrudis World Congress will be held in Bloemfontein in 2017. I'm already preparing animals to participate. Eight countries are expected to participate in the congress."
Performance testing
Desmond attributes his stud's success to the encouragement of former Santa Gertrudis SA breed director, Martin Seyfferdt, as well as his brother, Stanley.
"They motivated me to value the Santa, and inspired me to become a stud breeder," he recalls. "They taught me the importance of animal recording, and that to measure is to know. Performance-testing is the foundation of my operation.
"The modern Santa is tailor-made for SA conditions. This is a hardy and versatile breed, and it contributes to long-term sustainability and profitability."
Email Desmond Robertson at [email protected] or phone him on 082 494 7032.