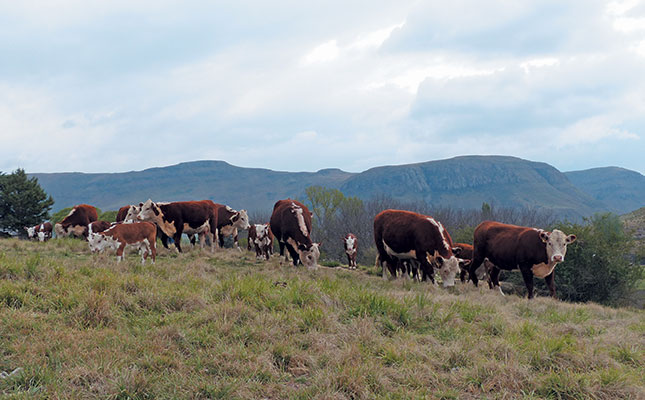 Gerhard and Verna Botha of Nagenoeg Polled Hereford Stud maintain that their greatest farming achievement to date has been breeding the bull, Hero BN 12 26, which the SA Hereford Cattle Society chose to represent the breed in the 2015 Vleissentraal SA Studbook Interbreed Bull Growth Test Class.
In the same year, Hero BN 12 26 went on to be crowned Junior and Grand Champion Hereford Bull at the Bloemfontein Show.
These are remarkable achievements, but it is the stud's overall fertility, as expressed through consistent average sub-370 herd inter-calving periods (ICPs), that truly reflects the productive successes achieved by the Bothas with their Nagenoeg stud.
Re-registering the stud
Interestingly, today's Nagenoeg Polled Hereford Stud is a reincarnation of the Bothas' first stud, which was started by Gerhard and his father, Manie, on their family farm Moorcourt near Barkly East in 1975.
This stud lasted about 15 years, after which Gerhard and his wife Verna farmed only commercial Herefords, in conjunction with commercial and stud Merino flocks on the farms Moorcourt, Mollydale and Sutherlandsrest (collectively 1 200ha).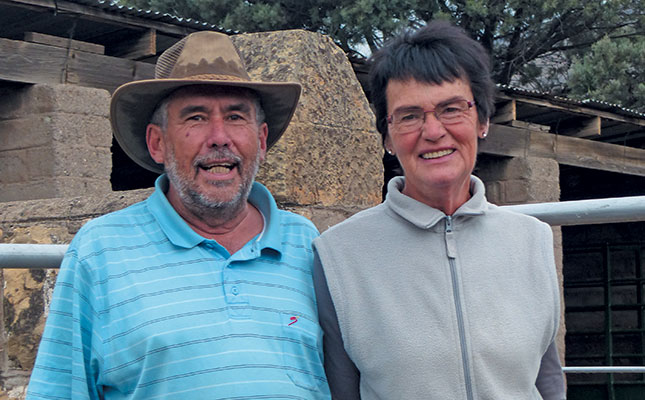 In the mid-1990s, Verna, who had grown up on a small dairy farm near Barkly East, began the process of re-registering the Hereford stud, rebuilding it from genetics sourced from Jimmy Basson's Why Not Herefords, Ladybrand; Dave Warroll's Mooi River Victory Hereford Stud; Russell Clark's KRM Hereford Stud, Dordrecht; and Kevin Miles's Kevlynn Hereford Stud, also near Dordrecht. The stud was officially re-registered in 1997, and has recently been boosted to 100 females.
Selection for fertility, temperament and pigmentation are key to the Bothas' breeding programme. To source the finest genetics in the country, they purchased two proven herd sires from well-known studs. The bull VIP 547, bred by Johan Scholtz (VIP Herefords, Clocolan), was sourced from Russell Clark in 2012 at the age of seven years, and its first and only calves arrived in 2013.
Another herd sire, Lincolin ZK 02 29, from Dr Carl Scholtz's Zuikerkop Hereford Stud in Clocolan was bought in 2009, also at the age of seven years. Its first calves arrived in 2010. This bull, from the Lincoln bloodline, has had a major influence on the stud herd due to its excellent calves and the fact that it has been used in the herd for four years.
AI programme
Another strategy to improve the Nagenoeg herd has been an artificial insemination (AI) programme to introduce top local and international genetics. The Bothas have used semen from the bull, Markwatt Locheim WDW 06 88, owned by Philip de Waal of Locheim Hereford Stud in the Western Cape, and from the sire, TH 5N 3L Rock Solid 4R, sourced from the Canadian genetics company, Semex. The latter produced a Nagenoeg herd sire, Rock Solid 2 09 19.
Ease of management
Verna says that over the years she has been amazed by the performance of the Nagenoeg Herefords, especially in terms of their adaptability to a region almost 2 000m above sea level. They produce effortlessly from the mixed veld while being supported solely with a protein lick in winter and a phosphate lick in summer. Gerhard adds that the docile temperament of the animals, as well as the fact that they are polled, makes them a joy to manage.
Breeding and fertility
According to Verna, calving problems simply do not exist in the herd, with females weaning four- to five-month-old weaners with average weights of 200kg (heifers) and 220kg (bulls).
In the past three years, the Nagenoeg herd has boasted the best ICPs in South Africa for the breed in the category for herds of 31 to 60 cows (363 in 2014 and 2015, and 369 in 2016).
Heifers are mated at two years, while during selected years Nagenoeg females are subjected to AI programmes. In 2016, for example, 20 heifers were artificially inseminated. Heifers calve in September and cows in November.
In 2015, one of the driest years that the Bothas have ever experienced, the herd achieved a calving rate of 94%. The herd has never achieved a calving rate of less than 90% and all cows that skip a calving are immediately culled. Cows also exhibit admirable longevity; the oldest productive cow in the herd at present was born in 2003.
Although the current size of the herd does not make for significant genetic diversity, the Bothas plan to increase the numbers. They recently leased out their 500 Merino ewes, freeing up more grazing and 30ha cultivated lands predominantly under lucerne (15ha under irrigation).
Performance testing
Phase C and D performance testing remains a priority for the Nagenoeg stud. "Performance testing is important to ensure that only tested and quality bulls are marketed to clients,'' Verna says.
Every second year, 12 bulls are selected for Phase D performance testing on the farm, while every alternate year, six are sent for Phase C testing under feedlot conditions at Glen Agricultural College near Bloemfontein.
Bull calves in the Phase D performance test are first selected at three to four months, kept on the veld with a lick and weighed every two weeks. At 12 months, they undergo another selection process based on the data collected.
A key difference between Phase D and C testing is that the latter calculate feed conversion reflected in the FCR. Three bulls had an average FCR of 4,95 in 2012 and a second set of three had an average FCR of 4,65 in 2015.
Verna says that the Hereford's popularity in crossbreeding programmes ensures a solid demand for bulls.
"As one of the oldest breeds, the Hereford gives you excellent hybrid vigour,'' she explains.
Marketing and selling bulls
In 2016, the Bothas marketed six performance-tested bulls at the Barkly East Bull Sale and sold a handful off-farm. Most bulls are sold to farmers in the Barkly East/Rhodes areas which are redwater- and gallsickness-free areas, but bulls are also sold further afield.
According to Verna, it is critical for them to market only performance-tested animals that they would not hesitate to use in the Nagenoeg herd.
"We select our bulls in such a way that we'd be willing to use them in our own herd,'' she says.
Phone Gerhard or Verna Botha on 045 931 2291.