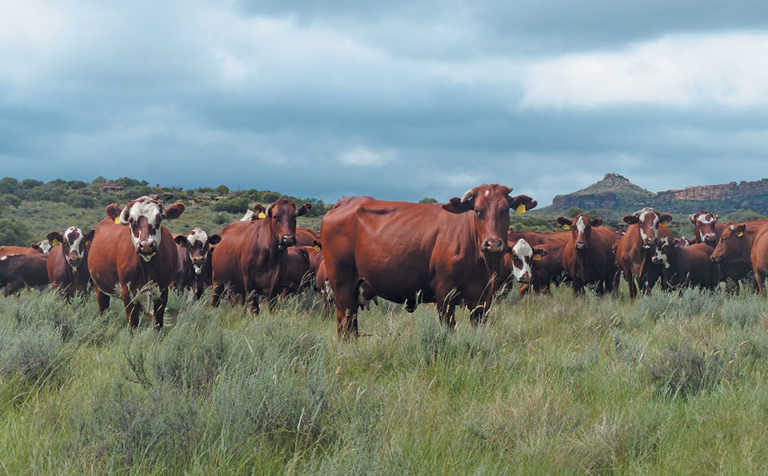 The core of Van Aardt Greyling's farming operation has always been his Mutton Merinos, which today amount to 2 500 females, including 600 stud ewes.
Nevertheless, his 350-strong Braford cow herd, which consists of 130 stud animals, is responsible for a third of the income generated from the 8 000ha (mostly hired) he farms across the Lady Grey and Dordrecht districts.
The cows' ability to produce weaners weighing between 47% and 48% of their own weight makes them an integral component of Van Aardt's business.
His fertile 11,5-year-old cow, which won the Agricultural Research Council's National Best Elite Braford Cow Award, boasts an ICP of 368 days over nine calves.
The Greylings have farmed in the Lady Grey district for generations, and Van Aardt's son, Faan, who has recently returned to Ricksuhill, is the sixth generation. Like Faan, Van Aardt was groomed to take charge of the family farming operation by completing a BSc in agriculture, as well as an honours degree, at the University of the Free State.
He returned home in 1992 to farm with his dad, Faantjie. "The idea was always to come back and farm," he says. "I think if it's in one's blood, it's in one's blood."
He says the privilege of actively farming with his father until 2004 allowed him to apply his theoretical knowledge on the farm responsibly and in support of his dad's vast experience as a stockman.
"Thanks to my dad, my theoretical background could be effectively combined with the practical demands of the farming operation," he recalls. Van Aardt was, nevertheless, able to convince his dad to fundamentally restructure the Greyling beef initiative.
By the late 1980s, Faantjie had entrenched an ox production system on Ricksuhill that focused on purchasing weaners and growing them out (on the more rugged parts of the farm) to two to three years before marketing them.
It was a system that relied on the beef genetics of others, and Van Aardt was keen to take control of the breeding and selection process himself.
In 2000, therefore, the family switched to a weaner production system with the purchase of 65 Bonsmara and Hereford females that were used in experimental crossbreeding programmes.
Establishing the stud
Experimentation with crossbreeding stopped as soon as Van Aardt's Herefords produced calves from a Brahman bull.
Despite the obvious weight advantages associated with hybrid vigour, these particular Hereford x Brahman calves were simply superior to any other crossbred or purebred calves he had ever produced.
Van Aardt began purchasing Braford bulls to upgrade his crossbred animals, and by 2008 he was able to register the Beefpower Braford Stud. Over the last decade, genetics have been purchased from top studs (including a significant amount of females) such as the Meaker and Z4T studs in KwaZulu-Natal, and the Heelbo Stud in the Free State.
Beefpower Braford weaners are sought after by feedlots.
"I never battle to sell my weaners. In fact, I often get a premium for them," he says.
"There is always this discussion about how many kilograms of beef per hectare you can produce, but it is no use producing thousands of kilograms if you don't have a market for it; at the end of the day you need a marketable product."
Van Aardt wants to increase his Braford herd to 600 breeding females, of which 250 will be registered. By 2019 he hopes to start an artificial insemination programme to more effectively introduce genetics of local and international Braford sires to his herd.
Running the herd
Beefpower Brafords are predominantly farmed on mixed veld at a rate of 1LSU/7ha, despite the area's carrying capacity being recognised as 1LSU/6ha.
In summer, cattle are grazed in the higher-lying sour areas, while in winter they are brought down to the sweeter, more sheltered valleys and flats.
Although the genetic make-up of the composite Braford can range from two-thirds Brahman and one-third Hereford, to two-thirds Hereford and one-third Brahman, Van Aardt prefers the latter composition as it is able to better handle the cold winters of the region (-10°C is not unusual).
During winter, cows, which on average weigh 480kg, receive a urea-based lick that is replaced with a production lick in late winter/spring when cows are heavily in calf.
Cattle are also supported with teff and barley bales (produced on 20ha of dryland) when necessary, and are subjected to a standard inoculation and dosing programme. Although the region is not a redwater, heartwater or gallsickness area, dipping is done three to four times a year to control the Karoo paralysis tick (Ixodes rubicundus).
Braford bulls are put to cows in single-sire herds from the beginning of December to the end of February. In exceptionally dry years, bulls are left with females for an extra two weeks. The stud herd has an average intercalving period of 390 days and achieves a calving rate of 80% to 90%, depending on the season.
Calves are weaned between six and seven months at an average weight of 220kg to 240kg.
Van Aardt has experimented with calving his heifers at two years, but he says the demands of the region make it difficult for some of them to reconceive.
He has therefore reverted back to the first-time calving age of 36 months. A heifer replacement rate of 50% is adhered to as he is attempting to expand the herd.
He sells about 15 bulls and 30 heifers, which include stud and top commercial heifers ready to be upgraded into a stud, every year. Animals are normally sold from the farm or at local production sales.
Contact Van Aardt Greyling on 087 550 1043, 082 782 7674 or [email protected].