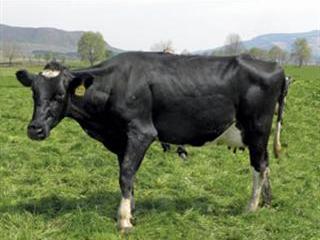 After being a runner-up three times and a top eight finalist for eight years, Charlie MacGillivray won both the KwaZulu-Natal Master Dairyman of the Year and the National Master Dairyman awards in 2011. Then, in October this year, he was again awarded KZN Master Dairyman of the Year. Entry to the competition is limited to dairy farmers who participate in the National Milk Recording Scheme.
"Many worthy dairymen are not selected for entry as they do not participate in the scheme. Even so, I was proud that, as a pasture farmer, I managed to tick all the boxes and come up successfully against the TMR (total mixed ration) herds," comments Charlie. Charlie has been on Gartmore Farm in the Karkloof in the KZN Midlands for 38 years. He currently runs a herd of 460 registered Holstein cows in milk and 334 followers.
An advocate of maintaining the genetic integrity of dairy breeds, he uses the BLUP (Best Linear Unbiased Production) analysis from the milk recording scheme to guide his breeding decisions.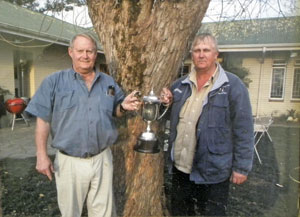 Charlie and farm manager Rob Hill with their National Master Dairyman trophy.
"The BLUP figures provide a snapshot of the herd and make participating in the scheme worthwhile. Our breeding principle has led to whatever accolades we have received. After 38 years on the farm, my breeding criteria, and those of my father before me, have not really deviated. The herd has been performance tested from inception. My father registered 50 cows in the early 1960s in the Friesland Cattle Breeders Association of SA's Appendix Scheme." The herd, registered under the name MacNeil, now comprises 757 registered females.

Trait selection
Genetic trends from 2005 confirm that Charlie selects strongly for milk production. His herd averages 4 million litres of milk a year on pasture with concentrate fed in the milking parlour.
"We are not the highest producing herd in KZN but we must be one of the highest producing pasture herds," he says.
Charlie places an emphasis on cow families. "Breeding is all about stacking genetic traits. We favour a medium- to large-framed cow with a well-attached, long-lasting udder, correct rump and good feet and legs. We have bred from bulls with daughters that tend to have low somatic cell counts (SCCs). Our objective is hard-working and functionally enduring animals."
Milk with a high protein content is another selection priority. When the milk records showed that the herd's butterfat content was deviating below the breed average, Charlie chose genetic lines with a higher butterfat content. Most of the semen comes from proven sires but frozen semen from Gartmore's four-year-old bull, MacNiel 711, is also used selectively.
"We have to protect against inbreeding from Blackstar genetics: this bull's semen has been very widely used. "Semen from genetically inferior bulls degrades a herd far quicker than good semen improves it. I have always regarded myself primarily as a dairyman and not a breeder, but as a dairyman I am passionate about breeding good cows."

Diligence
Farm manager Robin Hill played an important role in helping Gartmore make the leap from runner-up to winner by paying great attention to detail. "Robin has introduced systems to make sure things happen the way they should," comments Charlie.
"Our staff have limited education and there is a lack of dairy training available. We do in-service training with the Milk Producers' Organisation to improve worker skills.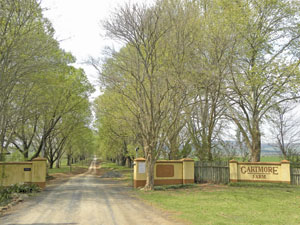 Gartmore Farm is in the picturesque Karkloof.
"For the past three years we have used labour consultant Walter Blore, to provide additional training, instruction and coaching. He compiled a performance and reward system for all levels, from milkers to tractor drivers and irrigators."
Gartmore earns a premium for its low average SCC of 200 000. Milkers are rewarded for low SCCs, compliance
with procedure and maintainance of a quiet milking environment.
"Poor milking routine and practices in the parlour contribute significantly to the incidence of mastitis. Equally important, the milking machine must work flawlessly," Charlie stresses. Dr Vincent Turner provides an udder health service to Gartmore, checking official milk recording results every five weeks. He updates the SCCs of every cow on his database, red flags those with persistently high SCCs and identifies the pathogens involved. "There is some effort involved but it is worth it," Charlie comments.
Pastures
Gartmore's forage base is 214ha pasture, of which 62ha is irrigated perennial ryegrass, 18ha is irrigated annual ryegrass and the balance is dryland kikuyu, Nile grass and limited areas of fescue. During the past autumn, Gartmore added nearly 100 cows to the herd to push the stocking rate up to 1 730kg/ha. Charlie recently bought a no-till seed drill that enables him to oversow and rejuvenate perennial pastures.
"This means that I don't have to replant every two to three years. It saves seed, fuel and re-establishment costs," he says.
Robin monitors leaf emergence rates to determine optimum grazing intervals, which vary from 18 to 21 days in summer to 45 days in winter. Managing according to leaf stage increases pasture yield and cow performance on pasture while extending the productive life of the grass.
"This is a mature operation that has kept pace with the evolution of techniques. Dairy farming and breeding is a continuous work in progress. We take it one step at a time and stack pedigrees with the desirable traits successively. Having reliable EBVs helps to get it right," Charlie concludes.
For more information email [email protected]a