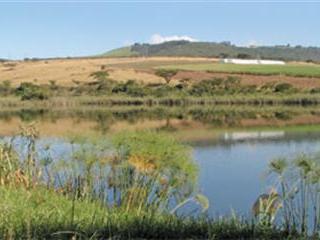 Eldana (Eldana saccharina) is the most harmful insect pest of sugar cane in South Africa. A stem-borer endemic to sub-Saharan Africa and found in wetland sedges, it was first identified in sugar cane in South Africa in the 1940s and is a growing threat to sugar cane production.
"There is an urgent need to manage eldana to avoid sucrose yield reduction as well as to reduce the spread of the pest into areas where populations are currently low," says Jessica Cockburn, an MSc student from North-West University. "It's crucial to implement effective, sustainable control measures as we still don't have satisfactory control over it." Neither insecticides nor parasitoids have proved effective, as the larvae bore into the stalk.
Cockburn is part of a team of researchers at the South African Sugar Cane Research Institute (SASRI) under entomologist Des Conlong who are encouraging farmers to grow 'push-pull' plants in an integrated pest management (IPM) approach to eldana control. "Push-pull works by managing the behaviour of female eldana moths so they lay fewer eggs in cane,"
explains Cockburn.
"Push plants give off volatile chemicals that discourage the moth from laying her eggs in the cane, and which also attract natural enemies into the crop lands. At the same time, indigenous pull plants are planted in wetlands – the original habitat of the insect – and in field contours to entice the female to lay her eggs there instead. "When lured back to its indigenous host plants in wetlands, the pest is more accessible to its natural enemies, and populations can be controlled naturally."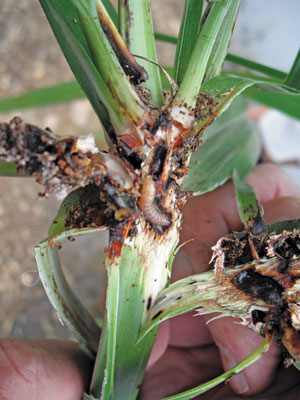 An eldana larva in giant watergrass (Cyperus dives), a useful pull plant.
Pull plants include sedges such as papyrus (Cyperus papyrus) and giant watergrass (Cyperus dives), as well as Bt maize, a genetically engineered maize cultivar whose bacterial toxin, Bacillus thuringiensis, kills moth caterpillars. The sedges are planted in wetlands to augment naturally growing populations.
An ideal push plant for repelling female moths from the cane is the indigenous molasses grass (Melinis minutiflora). Cockburn is running trials and farmers' days for small-scale and commercial growers in the Wartburg area, in an effort to encourage them to establish these plants. "You don't need to sacrifice any sugar cane land to plant push-pull plants," she stresses. "They are planted in contours, waterways, watercourses and wetlands. But they do require some adjustments to management practices."
Committed farmers
Wartburg farmer Roland Rencken has introduced push-pull as a preventative measure. Although eldana numbers are negligible on his farm, the pest does occur in the area, and he appreciates the danger of an infestation. "If eldana gets out of hand, it can cause huge financial losses. It's important for me to have practical experience with push-pull and to evaluate those areas I should concentrate on to get the process going," he says.
A first step is to rehabilitate eldana's indigenous host plants in wetlands to increase the insect's natural habitat. This should be followed by systematic plantings of molasses grass as a 'push' plant and Bt maize as a 'pull' plant in crop contours. "Apart from deterring eldana, molasses grass has many other advantages," says Rencken. "It attracts other insects, fills up the bare soil in our contours, and is useful as cattle feed. It also doesn't need mowing. And there's no danger that it will become a problem weed because it's shaded out by sugar cane."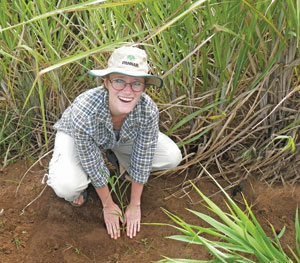 MSc student Jessica Cockburn is a member of a SASRI team helping farmers to adopt the 'push-pull' technique.
Anthony Edmonds, who farms citrus and cane in the Table Mountain area near Pietermaritzburg, believes strongly in conservation and biodiversity, and took to the push-pull concept immediately. "We're familiar with integrated pest management in citrus. We agree with the concept of trying to create habitats for pests. I certainly wouldn't like to see chemicals being used as a remedy for eldana," he says.
Over the years, Edmonds has removed sugar cane from the wetlands and main drainage areas to allow natural vegetation to regrow. About 2ha of cane has been taken out of production, and about 3km of molasses grass planted as a push grass in these areas. "We have healthy wetlands," he enthuses. "Half the job is done simply by re-establishing them. By default they have plenty of pull plants, and we've found quite high numbers of eldana in them. We're not too sure why, but the pest hasn't found its way into the cane in great numbers. Predators seem to keep populations in check."
Edmonds admits that push-pull plants do require extra effort. "They must be treated as another crop," he explains. "Staff should be made aware of push-pull plants, otherwise they might accidentally hoe, burn or spray them with chemicals. Molasses grass doesn't easily survive fire – you have to wet it before you or your neighbours burn the cane. Also, maize and molasses grass seedlings don't do well if they are exposed to herbicides, so care should be taken when spraying for weeds.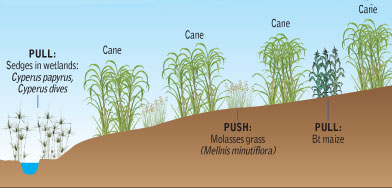 SASRI recommends the use of push-pull plants as part of an integrated approach to eldana control. Courtesy of SASRI
"And wild pigs, which eat the maize, can sometimes be a problem." Despite these management demands, Edmonds is highly enthusiastic about the push-pull concept. "We're going ahead and expanding push-pull plantings. I think it makes a heck of a lot of sense. I'm amazed that more farmers on the North Coast haven't adopted it – they have a far more serious eldana problem than us inland growers."
If eldana does establish itself in the inland areas, it could put farmers out of production. Inland farmers cut sugar cane at 18 to 24 months while farmers on the coast harvest at 12 months. Since eldana prefers older sugar cane, inland farmers are at grave risk.

Integrated approach
Cockburn stresses that push-pull has to be part of an IPM approach that includes sound crop management. "We can't expect push and pull plants to be heroes on their own," she says. "Farmers must manage the age and nutrition of their cane appropriately, and they must also plant varieties of push-pull plants that are resistant to eldana and can handle moisture stress."
Cockburn suggests several other important management practices:
Reduce moisture stress by not planting cane in marginal areas.
Use clean and healthy seed cane. This results in less disease and therefore less stress.
Address silicon soil deficiencies – silicon reduces eldana damage.
Manage nitrogen applications, as high eldana infestations are linked with high nitrogen levels.
Avoid carry-over or pre-trash carry-over cane to prevent the spread of infestations.
Practice stringent field hygiene, with regular monitoring of pest numbers.
Farmers are sometimes reluctant to adopt push-pull because they believe it will require significantly more work.
"Yes, it does require more effort than a simple mowed grass contour that is managed with herbicides," admits Jessica. "But once a farmer has incorporated it into his farm management, it doesn't take up too much time or money – and it's certainly well worth the effort."
Planting pull plants: Bt maize and sedges
Species of sedges used as pull plants include Cyperus dives and Cyperus papyrus. These should be planted in wetlands or water courses bordering the cane fields, and can be transplanted from local wetlands. They have the added advantage of purifying water and keeping wetlands healthy. Bt maize should be planted along every fourth contour going up a slope or along the outer borders of the cane field. If there is no watercourse, plant two to three rows of Bt maize as a border on the lower edge of the field. Bt maize can also be planted in blocks or used as a green manure.
Maize seed should be treated with a suitable insecticide prior to planting to reduce the threat of aphids and mosaic. Plant the seed 15cm apart, either by hand or maize-planter. Eldana moth numbers peak twice a year: in March/April and in October/November. Bt maize should be planted two to three months before the March/April peak. Bt maize can be used for human consumption or as cattle feed. The sedges, if managed well, can be harvested and used for weaving and basketry.
Source: Jessica Cockburn
Contact Des Conlong on 031 508 7477 or email [email protected]
Contact Jessica Cockburn on 072 102 2875 or email [email protected]