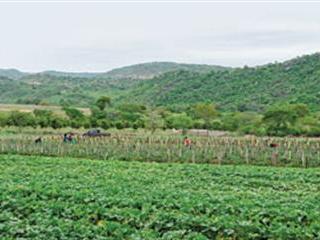 Kepa Mashego, a smallholder from Hazyview, Mpumalanga, eked out an existence farming tomatoes on a half hectare plot. Two years later, thanks to the Mineworkers' Investment Company's (MIC) empowerment farming programme, Kepa is a registered Freshmark supplier. He now farms butternuts, chillies, cabbage and tomatoes on 4ha and macadamia nuts on 2ha. "I never thought that through farming I would be able to support my own family and 10 others," says Kepa.
"Perhaps next year a few of the other farmers in the programme will also be Freshmark growers," says Oren Fuchs, MIC's financial investment manager. In 2007 MIC, a 100% BEE company, established by the Mineworkers' Investment Trust, started the farming programme, as part of its corporate social investment, to benefit communities in which the company's mining, construction and energy production workers were rooted.
"We chose Mpumalanga because of the trust's long-standing presence in the province," says Oren, who manages the programme. "Because many workers are from these communities, when they retire or are retrenched they go back to these areas. In most cases they farm because land is their only asset."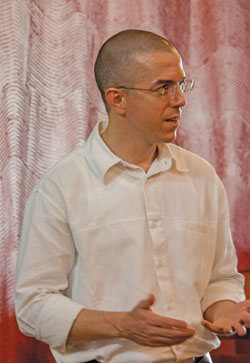 Financial investment manager for MIC Oren Fuchs manages the project.
Initially, the programme focused on communal operations. The MIC wanted to benefit groups, rather than individuals. "We soon learned that the challenge with groups is a lack of accountability," says Oren. The project failed in its first year and they changed their approach.
Strategic change
Raymond Sibuyi, also of Hazyview, was the first beneficiary, in 2009, when the company began to focus on individual farmers. "We looked for farmers who had invested in their operations, whether in sweat or cash equity, who were struggling with infrastructure, funding and skills," says Oren. As basic requirements, they had to have access to land and clean water.
Raymond grew vegetables on a 7ha plot. "I had very little infrastructure and limited access to markets," he says. He used furrow irrigation and lacked technical knowledge. As MIC recovered equipment from the initial failed project it was used to start up Raymond's business. Isaac Isaac, an agriculturist and an ex-farmer, provided mentoring and training.
Joint effort
"At a cost of about R300 000 we installed a pump, filters and drip irrigation pipelines and supplied seedlings, fertiliser and pesticides," says Oren. "The infrastructure has the capacity for 8ha but we started with 2ha to allow for training and experience. The 2ha block is divided into four blocks which will be planted fortnightly with planting increasing as skills are acquired. Because vegetables have a three-month turnaround time, cash flow is ensured.
After Raymond's project proved successful, MIC brought in more farmers. "There is a limited budget of between R1,5 million and R2 million a year," says Oren. To increase this budget, he persuaded other companies to join the venture. Tracker, a vehicle tracking company, was the first on board. In 2010 with four participating farmers, Tracker donated two tractors, ploughs, discs, rotorvators and boom sprayers.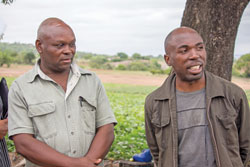 Raymond Sibuyi (left), Kepa Mashego (right), and two other farmers share equipment provided by the project.
Setpoint Technologies, an equipment supplier specialising in pump system design and manufacture, sponsored three farmers by providing infrastructure including pumps, fertigation systems and pipelines. "We explain that it makes sense to share equipment," says Oren. "Initially we managed the use of the equipment, but now the farmers are quite organised and are doing it themselves."
Raymond keeps a roster and records use, mileage and diesel consumption. "Between them they have a good working arrangement of how the machines rotate," says Oren.
Why vegetables
The MIC is financially involved for just two years. But mentorship, training and advice continue until farmers are confident about working alone. "With some farmers like Raymond, we reached a point of self-sustainability in 18 months," explains Oren. "The model is very simple because it starts generating cash in three to four months. This is why we only do vegetables."
Harvesting starts three to four months after planting. After several harvests, because of the quick income generation, farmers are able to finance some of their own inputs. Oren says some are beginning to finance equipment while expanding their operations.
Market access
According to Oren, several development programmes focus on production, neglecting access to markets. "One of the biggest challenges for black smallholder farmers is access to markets. Fortunately, we had a relationship with Pick n Pay and Freshmark, Shoprite's fruit and vegetable procurement and distribution arm, through Techno Agriculture Innovation for Poverty Alleviation (TIPA)."
MIC secured off-take agreements with Freshmark. "Access to markets has always been problematic," says Raymond, who sold to local retailers and the public. "Sometimes a retailer would order 100 cabbages and only re-order when those were sold." He says that once cabbages are taken off the lands, the threat of pests increases. "We can't spray because that would make the remaining cabbages unfit for human consumption. It means we suffer losses."
Marketing to Freshmark, Raymond staggers his plantings two weeks apart, planting 9 000 cabbage seedlings at a time. Freshmark buys 800 cabbages a day and the remainder of the crop is sold to the public and other retailers. "This project has
helped us a lot," says Kepa. He sells 2 000kg of tomatoes, 1 000kg of green beans and 5 000kg of butternuts every week. "I manage to pay my workers a fair wage and support my family."
MIC now wants to purchase a truck for the farmers and plans to build packhouses and storage facilities. "This would be for vegetables with a longer storage life. They can store certain crops, such as onions, when the market is down and sell when prices improve," explains Oren.
Expanding the programme
Discussions have been held with the Department of Rural Development and Land Reform, which is keen to partner with MIC and duplicate the model in other places. "We viewed sites in Giyani, Limpopo with the department where we've identified two farmers for a pilot project," says Oren. If all goes well, the department will contribute the start-up capital for equipment while MIC will bring in irrigation infrastructure, training and mentorship. "If that is successful, it could be replicated in other parts of the country, because the department has access to resources which companies don't," he adds.
Contact MIC on 011 088 1800 or email [email protected]