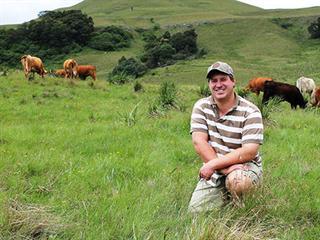 Faced with increasing production costs, the father-and-son team of Brian and Clint Armour, owners of the 1 700ha, 600-breeding-cow commercial beef operation Redcliffe Farming in the Kamberg Valley in KwaZulu-Natal, turned to holistic farming practices to improve production efficiency in a sustainable manner.
When Shayne Mountain was appointed manager of the Redcliffe beef operation in 2011, he was duly sent on a Resource Consulting Services South Africa (RCSSA) 'Grazing for Profit' course, which promotes holistic farming.
Through RCSSA, Redcliffe discovered that a key factor undermining their beef enterprise's profitability was the ineffective use of the farm's extensive sourveld grazing resource.
Previously, the response to declining profitability had been to increase the stocking rate and use expensive hay and grazing supplements to support the larger herd. But this proved to be economically and environmentally unsustainable. "The solution lay in changing our grazing practices to get more out of summer grazing at a higher stocking density but lower variable input cost," explains Shayne.
The objective is to optimise animal condition in summer through rotational grazing and optimise veld utilisation in winter by strategic rumen management rather than supplying supplements.
"There's enough energy in the veld if it's properly managed and utilised," continues Shayne. "The veld must supply more than 90% of an animal's nutrition because profitability will be affected if it doesn't. Unfortunately, many cattlemen avoid developing additional grazing camps and drinking water infrastructure because of the cost, or simply because they don't believe it to be necessary. These perceptions limit their flexibility and management options."
Up till 2011, Redcliffe ran four breeding cow herds in fewer than 50 grazing camps, ranging from 8ha to 140ha in size. With traditional management principles, which included the use of fire, the camps were selectively grazed.
Now, however, the four cow herds have been amalgamated into two larger herds, and the number of camps is being gradually increased towards an eventual target of 300, with permanent and temporary fencing, significantly reducing individual camp sizes.
He adds that holistic grazing management is not suited to "stoep farmers" as it requires intensive monitoring and management. "It also requires major fencing and drinking water infrastructure development to take full advantage of this concept."
Profitable production
Shayne says that the key to profitable animal production is to work effectively with what's available on the veld and under the soil, and to add as little substitute energy as possible.
For Brian, Clint and Shayne, holistic grazing management is the answer to Redcliffe's beef enterprise problems. The team aims to double the farm's stocking density within the next five years and then to continue growing the herd strategically.
Phone Shayne Mountain on 033 267 7143 or email [email protected]. Contact RCSSA at 058 622 1499 or [email protected]. Visit www.rcssa.co.za.
This is an abbreviated version of an article that appeared in Farmer's Weekly 17 January.