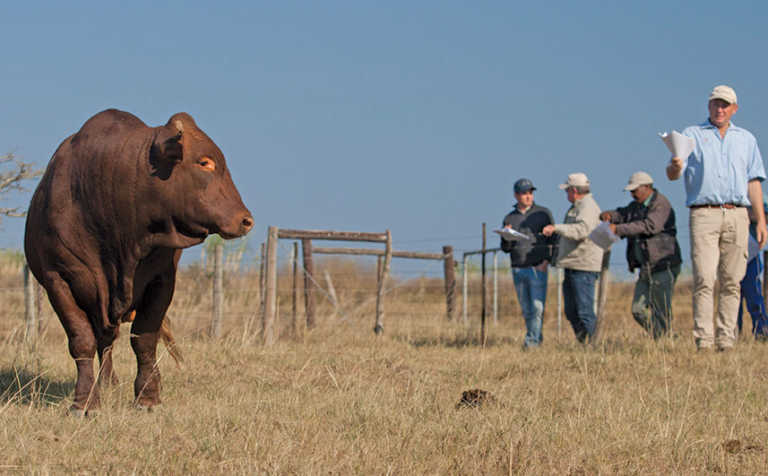 The young bull is fresh off the veld but its coat shimmers in the sunlight. Smaller-framed but ticking all the right boxes in terms of performance potential, it puts on a show for the spectators.
As the bull and the crowd size each other up, its breeder, Justin Stirk, shares his insights about the animal to potential buyers.
READ Bonsmaras bring success for small-scale farming couple
The bull, DAJ 16 0129, is strutting its stuff during Frontier Bonsmaras' pre-sale tour a few weeks ahead of the group's group sale due to take place at the Grahamstown Auction Yard on 15 August. It will later be one of two bulls to fetch sale-topping prices of R80 000, with the average for the 58 bulls being more than R47 000.
This is the 12th successive year of this annual event at which every Frontier bull on offer has been sold.
Pushing Frontiers
Frontier Bonsmaras was founded in 2006 by five cattle breeders in and around Grahamstown, Bathurst, Port Alfred and Alexandria.
Their idea was to add value to their respective operations by combining resources to host a single sale every year, with the emphasis on quality-approved bulls. They partnered with local agent Paul Hobson of Hobson & Co and the agency continues to play an integral role today.
The original Frontier group included Glynn Handley and Peter Knott, who were then among the oldest breeders in South Africa. Handley has since died, but his son, Craig, is now a pillar of the group.
His bull, GCD 16 0122, tied for the top price of R80 000 at this year's sale.
The Frontier Bonsmara group comprises four studs: Stirk's Goodwoods Bonsmaras (DAJ), Brent McNamara's Winter Castle Bonsmaras (WCB), Andrew van Kerken's Van Kerken Bonsmaras (AVK), and the Handley operation, GL Handley and Son (GCD).
Award winners in a competitive field
Adding value to a Bonsmara stud operation is not easy. Even if you do everything by the book, you are in a large pool of top-quality fellow breeders across the country.
Notwithstanding this, McNamara was the recipient of the Agricultural Research Council's 2015 Award for Most Improved Herd of the Year.
And recently, Stirk netted the 2018 South African Stud Book Elite Award for Beef Cattle Herd of the Year.
Frontier Bonsmaras has built a solid reputation for quality animals, and one of its broader goals is to see the cattle bred by its members go on to improve the quality of herds in the region and further afield.
Stirk stresses that their aim is to ensure that every buyer walks away with a bull that he or she is highly satisfied with, or at least a bull that can be put to good use.
"The last thing we want is people going away with a bull they didn't want that's not going to do them well."
An ideal opportunity to evaluate the bulls
The pre-sale tour, which stops off at each of the five breeders' farms, is one way the members are trying to add value to their respective enterprises.
By hosting the tour, they give prospective buyers an opportunity to get a feel for the livestock on offer, the area in which they were bred, and their performance to date. There is also the chance, of course, to see the bulls in their element at home.
The sellers in turn can gauge the requirements of commercial beef farmers. They also use the occasion to share more information about the animals and advise prospective buyers on how the bull can best be utilised in a herd, such as being put to heifers rather than cows.
Hardy cattle
One of Frontier Bonsmaras' key selling points is the hardiness of its stock. Because the area is tick-infested, the cattle are exposed to heartwater, Asiatic and African redwater, and gallsickness (anaplasmosis).
This gives rise to strong, resistant livestock that can be relocated virtually anywhere else in the country and still thrive.
These elements, combined with the non-negotiable approach to quality, are part of the formula that has helped the Frontier breeders maintain their 100% sale record for more than a decade.
All five breeders are registered with SA Stud Book and conform to breeding and performance recording requirements. Every bull is screened ahead of the sale to provide guarantees in terms of health status, and will also have been approved by qualified breed selectors.
Stirk says they are strict on the quality of animals marketed under the brand. "One of our golden rules is that if the quality is no good, it doesn't go on sale."
They also do not allow sales directly off the farm. The only exception is if there are government contracts and tenders in the offing, in which case surplus bulls are sold through Hobson & Co.
Apart from observing this quality prerequisite and a few other mutually agreed-upon rules, each breeder in the group is free to pursue his own breeding goals. There are no restrictions in terms of type, allowing each to stay true to his own style.
The members do not share bulls; the only exception to this is when a specific bull can add value to an individual breeding objective.
This approach helps increase the diversity of the approximately 60 bulls on offer each year.
"It's a huge genetic pool," says Stirk.
The breeders nevertheless collaborate to achieve a shared goal or pool their collective knowledge. They also call on each other regularly for advice.
By joining forces, the four stud breeders have been able to ensure consistently good
prices for their animals while creating a trusted brand to ensure long-term sustainability of their businesses.
Supporting commercial and emerging farmers
Frontier Bonsmaras has invested in improving cattle in the region by providing good-quality genetics, both male and female, to commercial farmers. In addition, former customers are occasionally allowed to offer approved cattle as guest sellers.
Frontier Bonsmaras also reaches out to new or emerging cattle farmers through an award-winning development project, for which Stirk was earlier this year named the SA Stud Book Farmer's Weekly Mentor Breeder of the Year.
Stirk says that too many farmers listen to the divisive rhetoric spewed out by politicians but do not play their part in upliftment.
"We decided that we have to be at the coalface of this thing if we're going to turn it around."
Frontier Bonsmaras started by providing formal training to a group of about 40 participants last year. The training consists of modules on selection criteria, herd health, herd management, grazing and nutrition, finance and marketing.
According to Stirk, their ultimate goal is to obtain enough funding to appoint a full-time facilitator who will not only seek out suitable participants, but serve as a type of extension officer.
"What we actually need is funding of R1 million a year to employ someone who can go out in between these courses to visit these guys on their farms to see if they're implementing what they learn," he says.
He adds that the group is also keen to start exploring some of the development initiatives pioneered by Bonsmara industry heavyweight Nick Serfontein of the Sernick Group.
This could include, for example, buying calves from new farmers involved in the training, swopping calves for a bull, or helping a group of farmers put together enough calves for them to send a truckload to a large feedlot.
He says that up to 60% of the cattle in the province are owned by new or emerging farmers in the former homeland areas.
Many of the animals are traded on informal markets, where farmers who are inexperienced or simply desperate for cash often get taken advantage of.
Stirk is hopeful that their teaching and mentoring will help new entrants to the beef industry become more successful, thereby helping to address transformation and ultimately benefitting the industry as a whole.
Phone Justin Stirk on 082 662 5901.