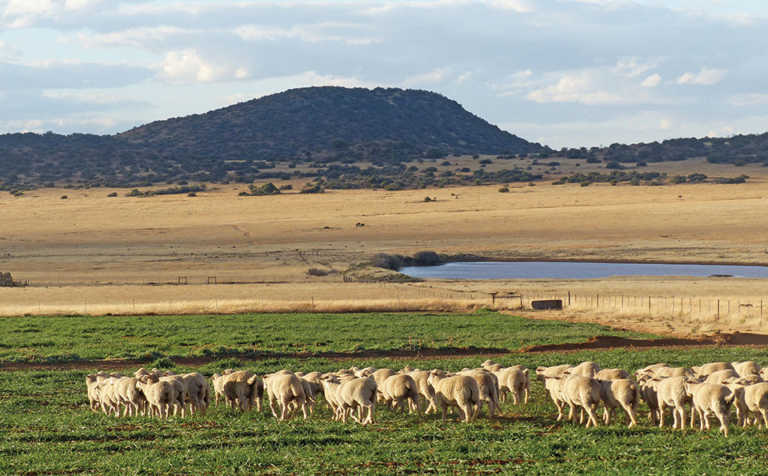 "I love the Afrino," says Hendré Calitz, who manages 3 500 Afrino ewes (300 of which are stud animals) on 5 000ha for Piet and Theo Delport of Wesselsbron. "And I'm very proud of the progress of the Koppiesfontein Stud."
The value of the Afrino, a composite breed (25% indigenous Ronderib Afrikaner, 25% Merino and 50% SA Mutton Merino) is its ability to produce meat and wool under extensive conditions with low inputs.
"If you're farming extensively, there isn't a better breed than the Afrino," claims Calitz. "You don't need to pamper them with feed and they'll still give you a lamb and quality wool."
First impressions
The Delports first saw the Afrino at Nampo Harvest Day in the early 1990s. They then visited breeder Koot Pienaar between Philippolis and the Gariep Dam and were deeply impressed by the performance of his Afrinos.
"The sheep were in good condition despite not receiving any lick," recalls Calitz. "They were running on hard steekgras veld in the mountains."
It didn't take the Delports long to put Afrino rams to their SA Mutton Merino ewes to breed a hardy, fertile sheep with exceptional mothering abilities, and by 2001, their Koppiesfontein Afrino Stud was registered and being managed by Hansie Swanepoel, who today runs the Delports' Merino operation.
The late Gerald van Heerden also played a central role in selection.
Born and schooled in Bethulie, Calitz always wanted to be involved in agriculture. After school, he studied at the Potchefstroom College of Agriculture, where he completed a diploma in 2005.
He then left for England and Scotland to work on various farms, and after his return in 2007 took up a management position on the Delport farms near Wesselsbron.
In 2010 his mother, Heléne, died, and the Delports offered him a position at Koppiesfontein near Smithfield to be closer to his late father, Herman, who was alone in Bethulie. Since then, Calitz has embraced the Afrino operation and also runs some of his own on leased land.
Hardiness
Calitz says the Afrino's hardiness and adaptability are illustrated by their performance during the dry years that have dominated his time at Koppiesfontein.
Although a number of ewes were sold to decrease the burden on the farms during the drought of 2013 to 2016, the remaining Afrinos generally took the dry cycle in their stride.
"I gave them no extra feed; not a bale of anything. I only helped them with lick, that's it," he says.
It's not surprising, he adds, that demand for Afrino ewes over the past five years has increased dramatically.
"When it's dry, you're very happy you're farming Afrinos," he says. "Some farmers gave their sheep a lot of feed, but the Afrinos just went on."
According to Calitz, one of the most exceptional qualities of the Afrino is its ability to utilise grazing on rugged terrain. Ewes with an average weight of 60kg graze areas where farmers would traditionally have kept wethers.
"The ewes don't lie around at a water source but always move around," he says. "It's a sheep that's high in the leg, so it can really climb."
Calitz ensures that this trait is maintained at Koppiesfontein.
"We guard against breeding a dumpy sheep, because you take away that walking ability. In my opinion it's a mistake some other mutton breeds have made."
All sheep at Koppiesfontein receive a production lick in winter and rock salt in summer.
The animals are dipped once a month for Karoo paralysis tick (Ixodes rubicundus) between April and August. Standard inoculations and dosing programmes focus on pasteurella, pulpy kidney, bluetongue and internal parasites.
Mutton and wool
Up to three years ago, Calitz made extensive use of rams from other Afrino breeders, including Martiens le Roux of Bethulie and Bertus Visagie of Calvinia.
Since then, he has used only self-bred rams in both the commercial and stud flocks. Rams are put to ewes at a ratio of 50 ewes to one ram for 34 days in order to lamb in August on the veld.
Calitz says that the longevity of the Afrino ewes has been impressive, with the flock still containing ewes born in 2008 and 2009.
Nevertheless, about 80 replacement ewes are introduced to the stud flock every year, and these lamb for the first time at two-tooth stage.
During the eight years that Calitz has been on the farm, 38% of the stud ewes have produced twins and 58% have had single lambs.
A mere 4% remained dry and were culled.
Because the Afrino produces an exceptional volume of milk on the veld, ewes with single lambs are left to raise their offspring on the veld.
"I don't pamper them," says Calitz. "If they lamb in pens or sheds, there's a risk of taking away those mothering abilities."
However, he supports ewes with twins on 110ha of green feed (oats and rye) to ensure they can raise two lambs effectively.
The weaning rate of 110% would have been higher if losses to predation had not occurred.
Stud and commercial ram lambs weigh an average of 29,2kg and ewe lambs 27,4kg at 100 days.
About 80% of commercial and culled stud lambs are marketed from their mothers when they reach 32kg at about four months, while the other 20% are rounded off on green feed until they too reach a weight of 32kg.
Although the Afrino is first and foremost a mutton breed (80% of income is generated from mutton and 20% from wool), wool is increasing its contribution.
"The first Afrinos had poor wool covering under their bellies. I've selected to give them more wool without sacrificing meat qualities," says Calitz.
Currently, the average fibre diameter for the Koppiesfontein clip (shearing takes place in May) is 20,9 microns. Mature ewes produce an average of 3,2kg of wool from a year's growth, and two-tooth ewes produce 2,8kg.
Veld rams
A central focus of Afrino breeders is to produce rams that undergo stringent performance testing on the veld to ensure that only the best-adapted animals are marketed to buyers.
The veld ram programme was launched by the Afrino Sheep Breeders' Association of South Africa in 1998 and has been managed by Martiens le Roux for the past 18 years. "It's a very tough test," says Calitz.
"The rams walk on the veld for seven months."
At the end of February, selected ram lambs aged between five and seven months and weighing between 28kg and 40kg are divided into light and heavy groups that cater for differences in regional climatic conditions and related lambing seasons.
They are shorn and taken to the veld without any supplementation, where they are weighed monthly and given a condition score.
The first selection takes place at the end of August when the rams are shorn again and their wool analysed with an emphasis on micron, length and nett return.
They are then given a final condition score, with a particular focus on fat distribution, while the average daily weight gain is calculated and a selection index is formulated.
Once all figures have been analysed, rams are selected according to various criteria and breed standards.
Those that don't qualify are culled, while the rest undergo a second selection in the last two weeks of January to ensure their readiness for the annual National Afrino and Merino Veld Ram Sale in Bethulie in January/February.
Fifteen Koppiesfontein Afrino rams are marketed at the sale annually. The highest-priced ram so far fetched R34 000.
Phone Hendré Calitz on 079 893 3769.