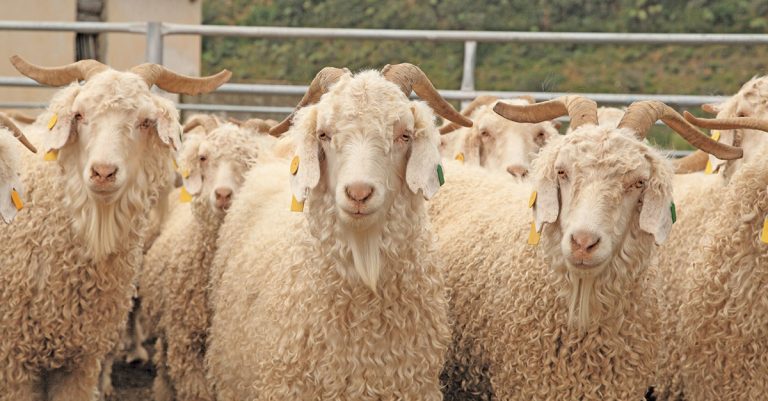 One day, after quitting his studies in 1997 and moving back home, Sindile Lloyd James asked his mother for money to buy a pair of shoes. Her response served as a wake-up call for James that life wasn't going to be as easy as he thought.
"She basically told me that I was old enough to fend for myself," he recalls.
James pulled himself together and got a job at a shop in his home town of Pearston in the Eastern Cape, where he earned "a measly R70 [about R258] a week". Fortunately, the shop owner spotted that he was a quick learner and good with people, so promoted him to a client services position after only a few months on the job.
But James wanted more out of life than a nine-to-five job. He had always loved reading, especially the Sunday newspapers, and in this way he learnt about becoming an entrepreneur.
His father owned a fencing business, so the two started tendering together for fencing jobs. Eventually, after gaining some experience, James began securing his own jobs and, in 2007, while erecting a 150km fence at the Ibamba Private Game Reserve in Jansenville, he struck up a friendship with the reserve's neighbouring farmer, Philip Gxotiwe. When asked if he was interested in farming, James admitted to Gxotiwe that he had always dreamt of having his own farm.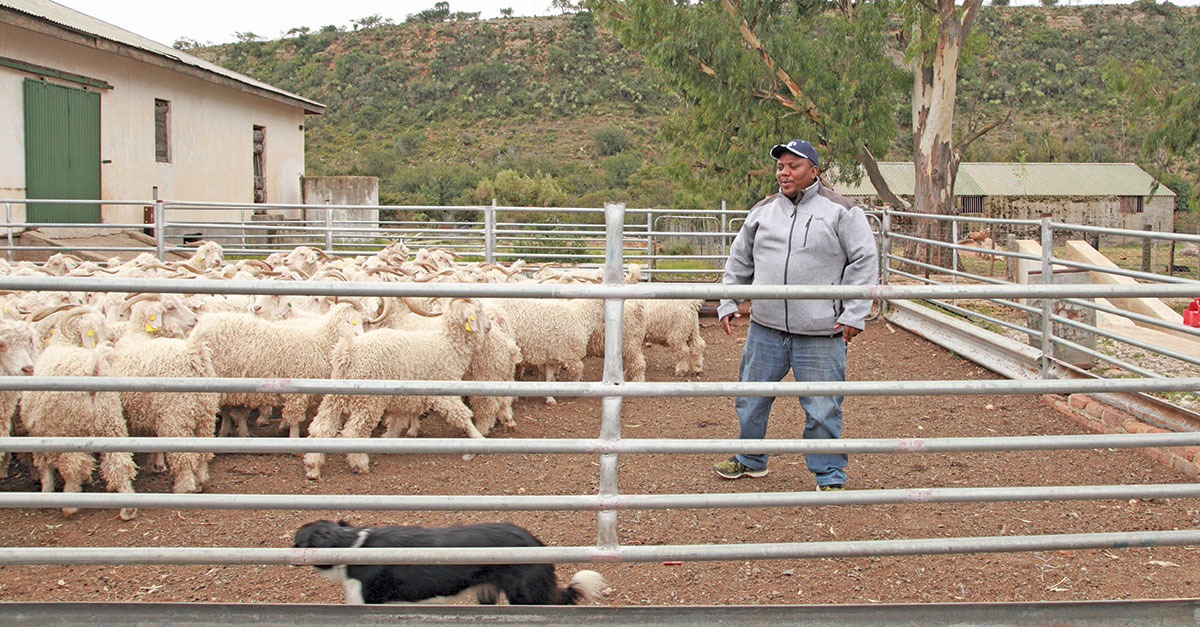 On communal land in Pearston, his parents used to keep goats and pigs, which they slaughtered and sold to the community.
"It was highly lucrative, yet hard work, as my mother had to walk almost 11km to sell the meat. She did this for a few years until we finally had enough money to buy our first car, a white Nissan Pulsar. She's one of my biggest inspirations, a great example of what you can achieve if you work hard and give of your best," he says.
He had also dabbled in farming on the communal land, acquiring 50 Van Rooy sheep
from another farm, erecting fencing, and over time building his herd up to 240 head. Soon after, however, all but 40 of his sheep were stolen.
He believed things would be easier and that he would probably make a decent living from farming if only he had his own land. Buying land was out of the question, though, because of the exorbitant prices, so he applied for land from government for five years without success, until he met Gxotiwe.
Gxotiwe informed him that the 1 980ha farm Driefontein, near Somerset East, was on the market, and helped him get his paperwork in order to acquire it. In 2011, government granted James a five-year lease for Driefontein, which was later extended to a 30-year contract with the option to buy the farm once the contract expired.
Early days
When Driefontein was handed over to James, Zodwa Mashologu, the late chief director of what was then the Department of Rural Development and Land Reform, advised him to form a strategic partnership with a commercial farmer to help him grow.
"She told me there was no way I could farm sustainably with only 40 sheep, which I knew was true," he recalls.
He spoke to Dale Cunningham, Driefontein's previous owner, who agreed to leave 100 Beefmaster cattle on the farm on condition that the offspring would be divided equally between the two of them. James then struck a similar deal with another farmer, Lood Lötter of Pearston, who supplied him with 300 Angora goats.
Cunningham also helped James develop a business plan to qualify for recapitalisation funding, which government intended for infrastructure development. Funding of
R4,5 million was used to put up fencing for camps, three sheds that could hold 100 Angora goats each, a livestock-handling facility, and three boreholes to improve water security on Driefontein.
"The infrastructure was a prerequisite for future growth. The fences have almost
doubled the number of camps on the farm to 19, helping me to better manage grazing, while the sheds sheltered the goats from the cold in winter and after they'd been shorn. However, none of this mattered, as I was still struggling to get the basics right," says James.
From 2013 to 2015, he was losing many more kids and calves to disease and predation than he was producing, and that was when he realised he needed to do things differently.
"I became totally disillusioned. With communal farming, you merely leave your livestock on the land and hope for the best. With commercial farming, you have to be there to tend to your animals, or you'll feel it in your pocket. It's a totally different ball game," says James.
The Switch
In an attempt to address the gaps in his knowledge, he started doing short courses and attending as many information days as possible.
His first farmers' meeting was with the Nguni Cattle Breeders' Society in Graaff-Reinet, after which he managed to obtain 30 Nguni cattle via the then Eastern Cape Department of Agriculture's Nguni project. The deal is that he will refund the project in calves, once he has the means to do so.
"Nguni cattle are a great breed to farm, as they're hardy and low-maintenance. The market, however, prefers bigger animals. A neighbour's Angus bull once jumped my fence and serviced some of my cows, resulting in large offspring.
"My plan is to use an Angus bull on my cows, once I can afford one," says James.
He has also replaced his Beefmasters with 40 Bonsmara cattle. "I can't explain why I switched, but it seems as if the Bonsmara produce larger calves under my production conditions. I use a bull that I bought from a neighbouring stud breeder to service the cows."
In 2016, he began attending Mohair Empowerment Trust meetings, and these proved to be a watershed in his farming career.
"I was producing something like 150 kids from 300 ewes at the time, but this number has increased significantly since then, thanks to the input from and support of the Mohair Empowerment Trust."
The secret to goat farming
In January 2020, the trust provided James with 619 wethers and, because of his excellent results with these animals, he received 200 ewes in March this year. He was also presented with two rams, donated to the trust by the Wienand family, who farm near Cookhouse in the Eastern Cape.
Apart from the improved genetics provided by the trust, James achieved some of his biggest farming breakthroughs thanks to South African Mohair Growers' Association's Angora Goat Management Plan, which stipulates what farmers should do in terms of the animals' health, welfare, feeding and management at different stages of production.
"The [Angora management plan], amongst other things, tells you when to crutch, vaccinate, dip and dose, which in turn has increased our weaning percentage by improving goat health and reproduction," he says.
To increase his weaning rate even more, he now moves ewes to smaller camps for daily observation just before they kid.
He has also bought pallets from which he intends making kidding pens to further reduce losses this coming season.
In line with the management plan, James supplies ewes and rams with flush feed in March to ensure they will be in good condition for mating season, which starts in April.
"To prevent poor conception, abortions and birth complications, and ensure they have enough milk to raise their kids, the [ewes] should have a body condition score of at least 3 to 3,5 before they're placed with the rams," he explains.
The kidding season runs from September, so that there will be sufficient veld for ewes to get back into condition once the kids are weaned.
"Our rainy season usually starts from October/November, but it's difficult to say, as it has begun in January over the past couple of years."
Veld management is governed by the quality of veld. "Farming is not just about keeping livestock. To farm sustainably, one needs to understand the animals' requirements and their impact on the environment," says James.
He started supplying his livestock with supplementary feed to address nutritional deficiencies in the veld after reading a feature on this subject in Farmer's Weekly. He has since gone to many information days covering the topic, and has realised that supplementary feeding is far more complicated than he initially thought.
"It's not enough to just throw supplements to animals and hope for the best. You actually need to know what you're doing," he admits.
The manager of the local OVK branch has helped make things easier for James by supplying him with pre-formulated supplement recipes based on the time of year and production stages of the animals.
"The recipes are also adapted to account for my own ingredients, for example if I want to add my own lucerne or other feed crops," says James.
Golden Fleece
James shears his goats twice a year, when the fleece is between 120mm and 150mm long. The fleece has an average fineness of 28 microns. He scored his best prices ever this season, achieving R530/kg for a 30-micron bale, and an average sale value of R334,52/kg.
The Mohair Empowerment Trust has empowered James through the provision of goats, training in successful Angora goat farming, and subsidised funding in order to meet the requirements of the Responsible Mohair Standard (RMS), which is essential to enter certain markets. He passed the RMS audit with flying colours on his first attempt.
"I've actually never seen a real farmer mistreat his animals. But going through the RMS audit process taught me to improve my animal welfare, veld management, staff monitoring, and record-keeping practices," he says.
James's plans for the future are to increase his Angora herd to 1 500 head and, in due course, venture into Angora stud farming. As the farm's dams have dried up due to below-average rainfall over the past few years, he is also in the process of sinking another borehole to provide irrigation water for 5ha of pasture.
"Angora goats are pretty hard work in comparison with other kinds of livestock, but I've learnt that they'll 'look after you' if you look after them. It also pays to get the best goats you can afford when starting out, as this makes a big difference to income potential," he concludes.
Email Sindile Lloyd James at [email protected], and Beauty Mokgwamme at [email protected].