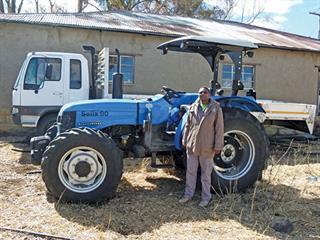 A business approach to farming has stood Lawrence Maduna, a developing sheep and wool farmer from Lady Grey in the Eastern Cape, in good stead during his seven years as a farmer. "When I came into farming I looked at it like a business and this farm sustains itself. To be sustainable, you must farm within your means and have all your costs covered by what you produce," he says.
Having made R105 000 from wool alone last year, his sheep farming not only covers his operating costs, but allows him to consistently make all the farm's bond payments. Lawrence's flock consists of 443 pregnant ewes, 230 lambs and 30 rams, and he has been selected as one of three developing black commercial farmers to begin breeding rams to supply the Department of Rural Development and Agrarian Reform's (DRDAR) genetic improvement programme.
Entrepreneurship pedigree
Lawrence began a career as a businessman in 1980 with a small business involved in giving extra lessons to schoolchildren using audio and visual aids. The business did very well until a proliferation of competitors threatened its viability six years later. He made the difficult decision to close the business and became a cobbler for a time, before joining the Transkei Appropriate Technology Unit in 1987. He managed the Herschel branch and assisted with road, clinic and school development until 1990, when he opened an auto spares business in Queenstown.
Enthusiastic start to farming
In 2007, Lawrence began a Development Studies course at the University of Transkei and it was while here that he became interested in farming. He bought the 771ha Elsieskraal with funding secured through the Land Redistribution for Agricultural Development (LRAD) programme and Absa. With only a basic knowledge of farming when starting out, Lawrence admits to being overzealous in his initial approach.
"I came in here with no knowledge of farming as a business and knew nothing about carrying capacities and veld management," he says.
He started off with a mixed bag of 50 cows and bought another 30, as well as 160 Dohne Merino sheep and 26 goats.
"I just wanted to flood this place with animals," he recalls.
The goats quickly became a nuisance, constantly getting onto neighbouring farms in search of better grazing, and his other stock struggled to maintain condition. He did some research, and discovered the importance of veld management and adhering to carrying capacities. Today, while still running a few cattle, he concentrates on sheep farming. "The goats were useless, and when I realised the added earning potential wool could provide, I chose to focus on sheep," he says.
Situated just south of the Orange River near Lady Grey in the Eastern Cape, Elsieskraal currently supports a flock of more than 600 sheep in extremely dry conditions.
"It's very hard work, but it can be lucrative and made better business sense than trying to farm everything."
Lawrence's business acumen also helped him to see Elsieskraal's potential rather than its ruined infrastructure. Despite a dilapidated farm house, seven damaged dams and a shed with a collapsed roof and side wall, Lawrence maintains that by reinvesting profits the infrastructure can be repaired over time, avoiding the need to develop the farm from scratch. He set about prioritising the infrastructure that was most important to the business, and has embarked on a long-term programme to rebuild these as he can afford to.
The farm's location near a communal farming settlement initially also presented difficulties."My farm borders the former Transkei and there was a problem with people coming across to use my grazing," he says. "I impounded the cattle when I found them and took a stand by consulting stock owners when they came to fetch them, telling them this was private property. They've since stopped using my grazing."
Although fortunate enough not to have experienced any stock theft, Lawrence highlights predators as a problem. "I've lost 12 sheep in total to predators since 2007. Jackal are a big problem here and stray dogs are even worses," he explains. He adds that many of the surrounding villages' residents keep packs of dogs that are used for hunting, but these animals frequently escape and wreak havoc on sheep flocks. While the issue has been raised in community forums and a bylaw proposed which will restrict people to owning only one dog, he laments that without enforcement, the problem will persist.
The ongoing drought
The greatest challenge, however, is the incredibly dry conditions which the Joe Gqabi district has experienced in recent times. The region has never really recovered from the drought in 2011/2012, which saw it receiving R25,7 million in disaster relief two years ago. The dam supplying Lady Grey also ran dry in September last year, and water had to be trucked in to supply surrounding rural villages.
During this time, Lawrence lost close to 200 sheep and 150 lambs and he immediately began preparing to avoid a similar disaster this year. "I was hit hard last year with stock losses but at least this year I managed to prepare," he says. "Even though I couldn't yet irrigate the lands, I planted oats for the sheep to feed on."
According to the Department of Agriculture, Forestry and Fisheries' national agro-meteorological committee's spring/summer advisory report, the region is experiencing less than 25% of its normal rainfall in June and July this year. As a result, Lawrence's crops died off by the end of July, two months earlier than planned. Fortunately, his preparations have stood him in good stead and he has lost no animals to the drought so far this year.
Farmers' organisations
Lawrence's involvement in community and industry organisations has had significant benefits for his farming practices. It has also allowed him to share the knowledge he has acquired so far – a matter he feels strongly about. When he moved onto Elsieskraal, Lawrence formed a co-operative, named Imbumba, which means unity, with other developing farmers in the area.
The organisation has since been identified as a suitable mentor group by the DRDAR, and Lawrence already mentors seven other emerging black farmers.

Involving youngsters
Lawrence is particularly concerned about the lack of interest shown in farming by the youth."Unfortunately, it's older men that I'm mentoring, but there's a drive to encourage our children to get involved in farming," he says. "We talk about it at commodity groupings and NWGA meetings and encourage our youth to attend seminars." Through his wool sales, Lawrence was also introduced to NWGA, and after becoming a member, was elected chairperson of the Maliswali district in 2008 and eventually chairperson of the Joe Gqabi district in 2010.
His involvement in the NWGA and the knowledge received from fellow NWGA members has provided Lawrence with a greater understanding of wool production and sparked a real interest in sheep farming. "That's when my eyes were opened and I became really passionate about my farming," he says.This passion is something he tries to instil in those he mentors and emphasises that emerging farmers need to take a hands-on approach to farming.
"Another thing I think has helped a lot, is that I decided to come and actually live here and look after my livestock directly, instead of living in town like many other emerging farmers," he says. "It's my investment and I wanted to keep a close eye on things, so I know what's happening all the time."
Sharing knowledge
Lawrence believes it is crucial for developing farmers to be willing to persevere in the face of tough conditions and put the needs of the business before personal comfort. He says that they have to be proactive and make plans to cope with low market prices or poor farming conditions. He is a firm believer in good veld management and growing crops as fodder for flocks during dry seasons, and has built a new shed in which to store feed for his own future use.
Above all else, he advises developing farmers to learn as much as possible from each other, whether within their own community or through industry structures such as the NWGA. "You can get excellent information from industry organisations and make very good contacts with other farmers with plenty of experience," he says.
Phone Lawrence Maduna on 082 494 8322.