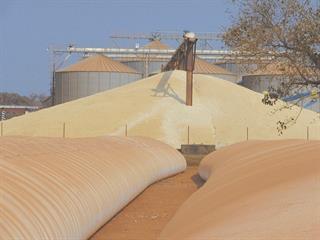 What exactly do you do?
I help about 80 companies, clients like the World Bank, consulting engineers and investment and equity fund managers to grow their African portfolios. They're all interested in investing in Sub-Sahara African projects and I give them an "unfair" advantage with early alerts on projects in the region. It's a constant challenge to investigate public-private partnerships (PPPs) in the pipeline, because no one
wants to talk until the deal is sealed. It's like being a "project spotter", or an economic spy.
Are there many new agribusiness projects in Africa?
Project flows are at an unprecedented level. There is a commodity boom but I estimate only 7% of development finance institutions (DFIs) portfolio investment is in agriculture. Agriculture needs greater priority than that. DFIs play an important catalytic role in commercial projects. If they take a share in a project, they inject confidence into it. They conduct strong due diligence investigations.
That's why their involvement is so important, and so underestimated.
Why aren't their agricultural portfolios stronger?
Agricultural projects are inherently risky. There are all sorts of issues like the weather, landownership issues, infrastructure requirements and the technical ability of the project staff.
Tell us about some projects in Africa.
There are some very interesting national projects. Kenya has identified a huge opportunity to supply the Gulf areas with agricultural produce. The Gulf is a desert and Kenya is ideally located to create a free trade port. Kenya is doing just that and has launched a campaign to "bring Dubai to Kenya".
There is also the Malawian Green Belt initiative (where authorities want to help small farmers and attract commercial farmers to grow crops under irrigation). They've identified all the arable land within a 20km radius of a water source and have pre-identified crops and the needs of farmers. They've made it as investor-friendly as possible, which makes it far easier to attract private investment.
Tell us about the "rifle" approach to projects.
Instead of taking a shotgun approach, investors take a 'one region, one product' approach. In Tanzania, for example, they have ear-marked semi-sweet wine for a particular region. The KwaZulu-Natal agriculture department also has a "one village, one product" agricultural model.
This type of tactical approach is important as the department is strategising and assisting investment. The rifle approach resonates far better with the private sector. There is only so much money in the pot and a lot of competition to win investment. You have to make your product "sexy" and go that extra mile.
How important is offtake agreements between a producer and a buyer?
It's crucial. Investors will start by looking at the offtake agreement. If you can't get the product to market, what's the point? The Maputo Development Corridor is a success because the smelter had an offtake agreement with the Japanese. You first need an anchor tenant and an offtake agreement, then the roads and ports follow. It requires a lot of strategising and there has been a great improvement here.

Is the South African government thinking strategically?
The South African government has a lot to learn from the rest of Africa where I see far more innovation coming out of. I like the attitude of some government officials, like the KZN agriculture MEC Lydia Johnson and the KZN Premier Zweli Mkhize. But some provinces are in a terrible state. They must listen more and talk less.

What are the problems of doing business in African countries?
Corruption is a major issue. You need to know who the decision makers are. In Angola, the provincial governor is very strong and you have to get his approval for projects. Nigeria is a federal state and has a strong say. So if you need a water licence for irrigation, you have to meet with the water commissioner.
You need to understand the nuances in every country.
Will the complexities of doing business in Africa deter investors?
Despite all the prejudice against Africa, there will be a capital shift to sub-Saharan Africa. We have what they want – the resources and the commodities. But we must be clever and keep control of our products, especially if they are exporting raw materials or beneficiating them locally. We want to get maximum local beneficiation and value-adding. Otherwise they are just stripping us and that's been Africa's problem for a long time.
What about import replacements.
Some very clever initiatives would be to look at import replacements. Cadbury's in Ghana has developed a cocoa-growers programme to replace imports. Nestle in South Africa
is displacing some chicory imports from India with locally grown chicory. It is a win-win for farmers and for the company concerned.

What is your message to farmers?
Farmers shouldn't think of themselves as living in a box. They are interconnected with other industries and should feed off them. In Zambia, for example, a huge copper mine outside the traditional copper mining area has created a market for crops to feed the miners. The mine employs agrispecialists to grow food. That's why mining and agriculture are linked.
Paul Runge is author of Potholes & Profits, Business (& Other) Conversations & Experiences from Africa, which provides insights into more than 30 African markets. Contact Paul on 011 4656770 or e-mail [email protected] to purchase a copy. |fw