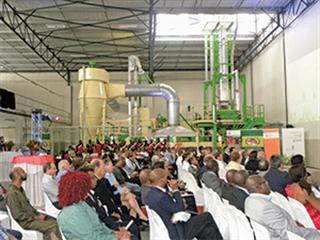 Tell us briefly about Kuvusa Mills and African Micro Mills (AMM).
Kuvusa Mills aims to revive the basic food production sector by placing smaller capacity, high technology milling plants in rural areas. It is hoped that high food costs, food insecurity and unemployment, as well as lack of skills training, opportunities and ownership, can be successfully targeted through these mills. African Micro Mills, a dominant shareholder in Kuvusa, imports our high-spec milling plants from Agrex Italy, the world leader in small mill design and manufacture.
Last year Kuvusa Mills commissioned a maize micro mill in Riverhorse Valley, Durban. What is the mill's capacity and has it started production yet?
The Riverhorse Valley site is Kuvusa's first small-scale mill and has a milling capacity of 2t/hour to 3t/ hour. We have completed some test runs and are on track to start up at the end of February. We expect to mill approximately 1 000t per month of high quality super white maize meal and speciality maize meal products for the domestic market, including house brands and our own brand of super, namely Supreme.
Where is maize sourced from? Is the mill not far from rural production areas?
The KZN domestic market consumes approximately 1 million tons of maize per year with less than 7% of that volume milled in the province. One way or another, be it maize or meal, it has to be shipped in. South Africa also imports 1 million tons to 1,2 million tons of wheat through Durban port so maize to Durban can be cost-effectively 'back loaded' from southern production areas that are currently penalised by the Safex differential system. In the longer term, it will make economic sense to encourage more localised producers, particularly in the growing of more speciality maize such as non-GMO and/or organic maize.

Sé Higgins
How does the Riverhorse Mill fit into Kuvusa's big picture?
The Riverhorse Mill is the first in a series of mills which we expect to roll out in 2013. We are looking at rolling out two or three micro mills this year, with possible sites being Harrismith, Kokstad and Jozini. In the longer term, we would love to see a national chain of these small mills. There is certainly business logic to this because of reduced logistics costs.
The mill was opened by Department of Trade and Industry (DTI) minister Dr Rob Davies. What is the DTI's interest in the mill and has it made any financial contribution towards its construction?
The mill fits in with the DTI's Industrial Policy Action Plan (IPAP) Small-Scale Maize Milling Initiative, which aims to encourage smaller, more localised mills and improve food security by reducing the cost of food. The DTI has approved a grant to the plant as it qualifies under the New Business Manufacturing Scheme. This grant is payable over two years post start-up and is based on 20% to 25% of the total capital cost of the project.
How many micro mills are operating in SA and what foothold does AMM have in this market?
There are an estimated 180 small mills operating throughout South Africa producing various quality meals, ranging from a basic sifted, to special, to super. This is compared to an estimated 1 500 to 2 000 smaller mills that were operating at the turn of the last century and prior to regulation of the industry in the 1930s. AMM (trading as Agrex Milling SA) imported the first Agrex fully automated hi-tech micro mill plant in 2004 and has sold over 12 plants to independent entrepreneurs. These are located at various sites including Johannesburg, Durban and other urban centres.
Prices of maize goods produced by micro mills are expected to be about 20% cheaper than products currently on the market. How is this achieved?
In rural areas, a 5kg bag of meal is about R6 more expensive than urban prices. If micro or small-scale maize mills are close to maize growing areas, and output distributed within that localised area, transport costs can be reduced. Up to 37% of the consumer price of maize meal produced by the big millers is made up of logistics costs. This arises from the idiosyncratic location and highly concentrated nature of SA's maize milling capacity.
Maize is grown in rural areas and transported to just three main centres for milling, namely Tiger Foods in Randfontein, Sasko in Krugersdorp and Premier Foods in Kroonstad, before being transported back hundreds of kilometres to the same rural consumers.
How will micro mills compete with the 'big three' millers?
A total of 60% of maize meal produced in SA is milled by those three companies. Micro mills cannot directly compete with them, but can create an alternative track to bring some balance to the industry. We are bringing in new technology to ensure we do not produce sub-standard products. These mills are local job creation and rural development at its best.
What are your plans to optimise community involvement?
The small mills are geared at eventually partnering local communities. Nothing is signed yet but we are close to finalising a deal with a community trust in Kokstad. We create a closed loop in that the community partner cultivates 5 000ha maize and sells it to the mill, which then feeds maize meal products back into the community at a cheaper rate. Kuvusa would own 51% of the mill, African Mill Mentors would hold 19% and the community trust would own 30%.
What is African Mill Mentors?
Kuvusa has created a mentoring company, African Mill Mentors, directed by seven industry mentors who give clients access to skills and milling know-how. A lack of skilled staff is a problem in the milling industry. We need a school of milling to pump out people who are trained to be shift millers, head millers, etc. This is critical to the survival of a new entrepreneurial and localised roll-out of mills.
Contact Sé Higgins on 031 584 6250 or at [email protected]