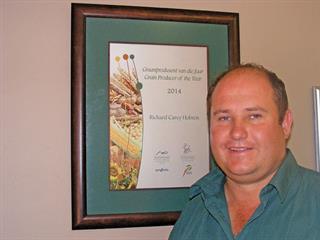 Botselo Holdings, the Hobson family's maize milling operation, consists of four businesses: Botselo Mills, Botselo Farming, Botselo Grain and Botselo Carriers. The operation is made up of Richard Hobson, who this year won Grain SA's Producer of the Year award, his brother Garth, his uncle Adrian, and his father Carey.
Richard manages farming operations, Garth is in charge of grain trading, milling and transport, and Adrian is responsible for marketing at Botselo Mills. Carey is Botselo Holding's CEO. In Setswana, botselo means 'life'.
"That's exactly what our business is all about," says Richard, who began farming in 2001. "Our main objective is to give life to people through our products. Our mission is to produce, manufacture and market safe, quality food, supported by service excellence."
Richard (33) is the third generation to farm on Hobson land. The farming division that he manages, Botselo Farming, spans
10 450ha and is collectively known as Nonen Ranch. It consists of white and yellow maize production, commercial Bonsmara and Simbra cattle, a cattle feedlot and a hunting concern. The maize is processed through Botselo Mills.
Up the value chain
The Hobsons oversee their product from the soil all the way to the consumer – literally. A variety of products is manufactured at the Botselo Mill in Delareyville in North West, including white maize meal (150 000t/ year) and yellow maize meal (70 000t/ year). Hominy chop and yellow grits are produced for the flaking grits industry and Simba's Nik Nak corn snacks. A portion of the hominy chop is used in the company's beef cattle division.
"Products include sorghum malt and beer, and we also supply Kellogg's and Bokomo with various products," Richard says. "Our Batho Botlhe Super White maize meal is our flagship product. About two million people in South Africa use our meal on a daily basis."
The mill's primary clients are concentrated in the western parts of South Africa, and products are doing well in, amongst others, Rustenburg, Zeerust, Mafikeng, Vryburg and Kuruman.
Currently, says Richard, their client base is being expanded to Klerksdorp and Thaba 'Nchu in the Free State. Maize meal is exported to Botswana, and the mill produces super-fine maize meal for exportation to Angola, where it is used in feeding schemes. Botselo Carriers transports Botselo Mills' products to the respective outlets, and also provides for the transportation needs of the farming division.
Value-adding
Through its participation in the value chain, the Hobsons' farming division has survived low maize prices. Richard advises producers to become involved in their product's value chain in order to retain control over product prices and remove the risk of hedging.
"I call on grain producers to earnestly pursue avenues to become price-makers, not price-takers. It's not that we're smarter or better than other South African grain producers. Rather, we've actively sought alternative markets for our grain, which allows us increased control over prices."
For example, the company produces its own hominy chop, which has a marked impact on input costs. "We also compost the manure from the cattle feeding lot. This means we have 5 000t of compost available for the less productive soils," he explains.
The compost is broadcast at between 2t/ha to 8t/ha, and ripped in immediately afterwards, he explains. "Value-adding, coupled with precision farming and mechanisation, has revolutionised our farming business."
Precision farming
Botselo Farming produces rainfed maize on 8 500ha of land, where soil type and yield potential differ vastly. Richard must manage an array of soil types; including Clovelly, Avalon, Hutton and even Bainsvlei. Soil depth differs from 1,5m to 3m. Precision farming is the only option to successfully manage these differing soil types. The first one hectare-grid mapping of the land was completed in 2004, enabling detailed planning according to soil type and yield potential to be carried out. Precision farming methods began being implemented in 2006.
"It took us till 2010 to get the soil balances right, but we realised an excellent return on the investment over the years," Richard reports. During the past 14 years, Richard has succeeded in tripling his maize yield/mm of rain. Between 2001 and 2005, Botselo produced 3,72kg of maize for every millimetre of rain. Between 2006 and 2012/2013, it increased this to 10,4kg/ mm rain, and in 2013/2014 raised it again to 11,8kg/ mm of rain.
By determining the kilograms of maize/ mm of rain, Richard tabled the cost of mechanisation and precision farming in order to ensure that these methods did not exceed farming income. "Mechanisation is an expensive and complex exercise," he says. "It took me nearly a year to finalise a mechanisation blueprint for our business.
"It takes a drastic mind shift to move from conventional maize production to full-scale mechanisation and minimum-till. That mind shift is a prerequisite for precision farming, and in our case it has paid off." Richard maintains that the economic realities of grain production, especially maize production, are such that grain producers cannot afford not to implement precision farming practices. Optimum yield must be attained from every square inch of the land.
"Maize producers can no longer afford high input costs and mediocre yield, given the current low maize prices," he stresses.
In 2010, Richard won Terratek's Techno Farmer of the Year award. As part of this award, he visited Australia and the USA, where he was afforded the opportunity to become acquainted with the latest and best mechanisation technology. The trip also gave him the information necessary to make informed decisions on the specific mechanisation needs of the Botselo farming business.
In the past, 24 small tractors did the work of what is now done using three 412kW John Deere 9560 tract tractors and three Horsch planters. (Photo courtesy of Richard Dobson)
The operation's mechanisation fleet currently consists of, among others, three 412kW John Deere 9560 tract tractors, two 37m Amazone fertiliser spreaders and three 9,1m Radium lime spreaders. It also includes three Horsch planters and two 30m self-propelled John Deere sprayers. In the past, 24 smaller tractors did the work of what is now done by the three John Deere tractors and Horsch planters.According to Richard, it makes economic sense to rig three big tractors out with precision farming equipment, rather than utilising 24 smaller machines.
"It's also important to standardise mechanisation equipment and ensure that all the implements are compatible, otherwise mechanisation will become ineffective and expensive," he says. Richard encourages young farmers to implement precision farming without delay. The average young grain producer usually starts farming around the age of 30, he says. That means that he has about 40 planting seasons until reaching retirement age at around 70. Every year that passes without precision farming is a year without realising the land's full potential, and this will affect the long-term sustainability and profitability of any grain production business.
A network of experts
One of the most important lessons Richard has learned since the advent of his farming career was to develop a support network of experts. Producers, he says, must realise that they cannot be experts in all aspects of farming. Botselo Holdings is fortunate in that Garth specialises in grain trading, something that Richard is not confident about. "I'm also not a mechanisation specialist, nor am I one in terms of fertilisation, chemicals and so on," he says.
"Grain production has evolved into a highly technical industry over the years, and farmers who do not surround themselves with a team of professionals will find it hard to continue in the long run." The company's success, he explains, is due to the fact that it makes use of professional, highly skilled people in the agricultural value chain.
Workers' welfare
Botselo Holdings employs approximately 650 people. They are important assets to the company and integral to its success, Richard stresses, and the Hobsons strive to add value to their lives. In 2000, workers were given the choice of either continuing to live on the farm or moving to their homes in the surrounding villages. All chose to live at home in the villages. Ever since then, the company has transported its workers to and from their homes daily.
"We're also committed to the education of our workers and offer regular training opportunities for tractor drivers, millers, forklift operators and electricians, amongst others," explains Richard. Health and safety are high on the company's list of priorities. "Our business includes a dedicated HR department that's responsible for all aspects of personnel management and our staff's wellbeing," he says.
A family in it together
Richard ascribes his success to the support of his wife Paula and the rest of his family. Paula, an accountant, is in charge of the farming division's day-to-day administration and finances.Richard says that the most important requirement for a family business such as Botselo Holdings is each person's role as a team player.
"The biggest challenge for me is to work as hard and as smart as I can for the benefit of our business. I'm not working for myself. I'm working for the greater good of our enterprise."
Phone Richard Hobson on 082 944 6160 or email him at [email protected].