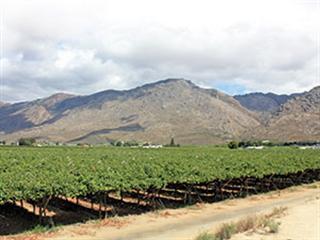 "I learned everything I know about table grape farming from my dad and through experience," says Hannes du Toit, who followed in his father's footsteps and started farming in the scenic Hex River Valley in 1994. The lessons he learnt proved sufficient to earn him the title of this year's winner of the Hex Valley Table Grape Association's Block Competition. The competition has been running since 1977 and farmers who compete are judged on the quality of viticulture practices such as planting density, trellising and pruning as well as the appearance of grapes in the block entered.
Hannes joined WK Beukes Boerdery, which produces 150ha of table grapes a year, in 2011 as a manager on the farm De Modderdrift near De Doorns. "We farm with 14 different grape varieties on about 50ha of land and all the grapes produced are intended for the export market. Only fruit that does not satisfy the strict grading criteria for export quality grapes is marketed locally," says Hannes.

Hannes du Toit of WK Beukes Boerdery, De Modderdrift, winner of the Hex Valley Table Grape Association's Block Competition 2013.
Sugrasixteen
Hannes took first place in the competition for a block of the black seedless grape variety Sugrasixteen – a relatively new cultivar that is also known as Sable Seedless. The Sugrasixteen grape variety has an unusual, exotic taste and as a result, is sought after in the export market with supermarkets eager to stock it. However, consumers in China prefer grapes with a large berry size and most Sugrasixteen berries usually only grow to a diameter of 16mm to 18mm.
"This year, I managed to increase our average berry size from 18mm to 22mm, so we were able to market Sugrasixteen successfully in the Chinese market." The winning block was planted in 2006. It has sandy loam soil and is about 1,2ha in size, but only 0,8ha of the block was entered into the competition because a portion was damaged during recent flooding.
The vines are planted on Ramsey rootstock at a density of 3,5m inter-row spacing with 1,5m between plants in a row.
Irrigation
"We use a micro-irrigation system with nozzles placed 1,8m apart and irrigation scheduling technology," says Hannes.
Each block of grapes is fitted with a DFM probe to measure plant available water in the soil. This enables them to manage a good air and water balance to promote root development and nutrient uptake and reduce unwanted plant stress and soil compaction.
"The probe measures plant water use in the root zone and is not dependant on any external data like climate or crop factors. The probe readings incorporate all the factors influencing water use, like plant size and evaporation, soil water potential and salt content, drainage and run-off." "This makes it easy to use because it does not require any tweaking or tuning." The DFM probes assists in using water very effectively, eliminating over-and under-watering. "We irrigate from late August until late April or early May and during these months, do two irrigations per week for about two hours at a time, applying roughly 60m3 of water/ha/hour."
Fertilisation and spraying
Hannes follows a fixed fertilisation programme that begins during budding and continues until after harvest. After bud break, he applies 10l of Enhance Plus per hectare to promote increased activity of soil micro-organisms. He also applies 50kg/ ha of magnesium sulphate (MgSO4) fertiliser which provids 5kg/ha magnesium and 13kg/ ha sulphur to the vines. "We also apply 200kg/ha of Calcinit, a water soluble nitrogen and calcium fertiliser, in two 100kg/ ha applications, spread two weeks apart, between bud break and fruit set. Each 100kg of Calcinit supplies the plant with 15,5kg of nitrogen and 19kg calcium per hectare."
After set, Hannes applies another 100kg/ha of Calcinit, as well as another 50kg/ha of magnesium sulphate (MgSO4) fertiliser. He then applies 100kg/ ha of potassium sulphate (K2SO4) which supplies 43kg/ha of potassium. After harvest, 150kg/ ha of Turbo 27 fertiliser is applied, which supplies the vines with 36kg/ ha of nitrogen and 4,5kg/ ha of phosphorus.
A standard, preventative spraying programme is followed to keep disease pressure under control. This includes spraying for fungi, most notably downy mildew for which they spray every two weeks. Hannes does not spray for pests, rather relying on vineyard monitoring.
Bigger berries
In Hannes's experience, Sugrasixteen is one of the most difficult grape varieties to produce successfully. "It is a highly productive variety but sets very compact bunches, so you have to follow careful pruning and other production management practices that will promote berry shattering at set. The aim is to decrease the harvest load on the vines as early as possible.
"Some of practices that can encourage bigger berry size include heavy pruning, cluster thinning, cluster pruning and girdling."
Hannes suggests spraying gibberellic acid (GA) at different stages, first to boost bunch thinning and later to encourage bigger berry size. During bloom, GA can be applied to cause elongation and thinning of the bunches and when berries are pea-sized (6mm to 8mm), a second application will enhance normal berry size. This treatment also directly affects the eventual size and shape of the berry.
When the berries are about pea-sized, Hannes further recommends girdling the trunks of the vines to also encourage bigger size. Hannes follows normal pruning practices aimed at promoting bunch thinning. "It is important to prune away inferior bunches as soon as possible so that when the plant goes into flowering, you already have a lighter load on the shoots," he says. Hannes aims to end up with about 32 to 36 bunches per vine. The average bunch size is between 400g to 600g, but this year Hannes managed to produce bunches of up to 1,5kg.
"A good, average pack is about 6 000 cases (of 4,5kg each) per hectare. This year we packed 8 000 cases from a hectare."
Grape varieties for the future
Hannes says despite the difficulty of growing the Sugrasixteen variety, there seems to be a place for it in the market because of its unique taste. But it will always be important to follow production management practices that will encourage a bigger size. "When planting new vineyards, we look for new varieties that are in high demand, but that would also be suited to the growing conditions in De Doorns. "We want cultivars that are productive and less labour intensive, which means we look for grapes that require less manipulation in order to achieve high yields, bigger grape bunches and big berries," Hannes concludes.
Contact Hannes du Toit on 082 898 1658 or email [email protected].