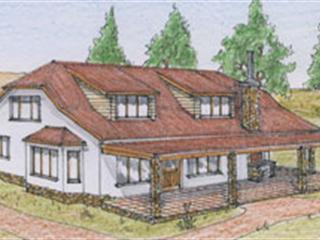 Hi Jonno
Please would you help me design a double storey cottage? I live on a farm and my son is moving into the main house and I need a cottage to live in. I would like the cottage not to be too small – just cosy. I live in Molteno, where the temperature can reach -15°C, so the main consideration is as much sunlight as possible to warm the house. I'd also like solar heating for water. Would double glazing be very expensive?
I would like an open-plan kitchen in the south-east corner, opening onto a dining-room and then a lounge towards the north. The lounge should have east-, north- and west-facing windows, each a little bigger than a bay window for maximum warmth. I would like this to be open-plan so that I could fit about 20 guests comfortably.
I would like fold-up, wooden stack-doors with glass panes to separate the kitchen from the dining room, and another set to separate the dining room from the lounge. This would make it easier to warm up each section. A wood-burning stove or fire somewhere in this area would be lovely. Perhaps this could back onto a bedroom so the fire could warm this room too.
To the west, I envisage a bedroom, a bathroom and the staircase, but I leave this to your discretion. Off the kitchen to the west, I'd like a scullery/laundry to accommodate a dishwasher, tumble dryer and washing machine. The upstairs should comprise a main bedroom (north-, west- and east-facing windows), a bathroom and a small double-bed spare room. The garage – with electronic doors for security – needs to be attached so I can enter the house from it.
I look forward to seeing what you suggest.
Regards, Pippa
Good day Pippa
Based on your description of what your requirements are, I've created this layout and styling. With there being only two rooms and a bathroom, the upstairs covers about a third of the floor area below. So I've located the upstairs in the roof area. This would allow for maximum thermal containment, both for rooms in the attic and below. Allowing passive solar heat in is essential to warming up the interior by way of windows.
Remember, though, that almost 40% of heat in the house is lost back through the windows of a standard home design. Double glazing comes partially to the rescue. I'll incorporate all the modern materials that will temper thermal transmission out of the home.
Best regards, Jonno
Author John Smith, better known as Jonno, can be contacted at Hillbilly Homes, PO Box 255, Estcourt 3310, tel 036 352 3178, fax 088 036 352 3178, cell 082 412 4459 or email [email protected]. Please provide details of the proposed development and any building material you have access to.