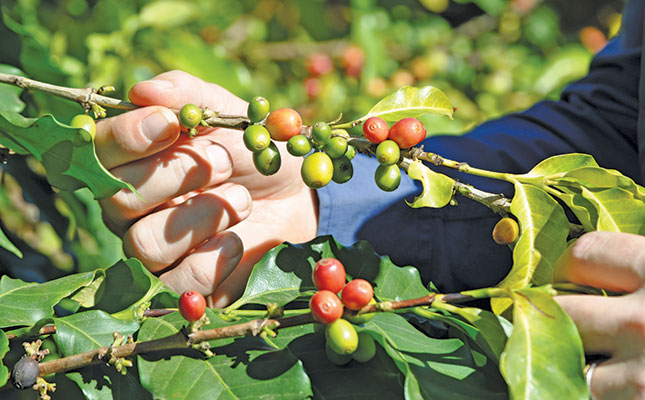 The Ernst family, owners of Allesbeste Boerdery in Tzaneen, Limpopo, have distinguished themselves as leaders in South Africa's avocado industry. The business is managed jointly by Dr André Ernst, his wife Liezel, and their sons Zander and Edrean.
In 2016, in keeping with the family's pioneering spirit, Zander Ernst decided to diversify their operation by adding coffee production. A coffee lover himself, he had long been interested in the crop.
"As farmers, we need to identify new opportunities to help us remain competitive and mitigate risk," he says.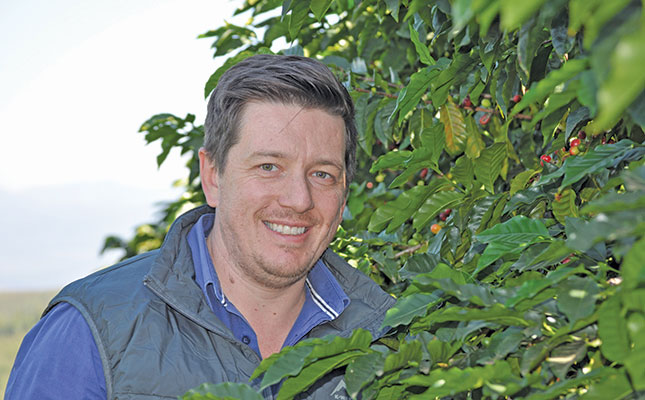 After much research, he decided to establish small coffee plantations in the Modjadjiskloof and Magoebaskloof areas.
He admits that they were cautious at first, being uncertain about the feasibility of coffee production.
"We didn't have precise figures to determine production costs in our area and couldn't properly calculate the expected income, as this would depend not only on the yield, but also and most importantly on the quality of the beans."
The family decided to plant coffee only in places where it would not compete with avocados, Allesbeste's main crop, and where they were unable to establish other subtropical fruit crops.
"Now, after a couple of years and having gathered more information, I realise that I didn't think big enough. There's a high demand for quality, locally produced coffee beans, and there's huge potential to extract more value through coffee.
"[Up until quite recently], coffee production in South Africa was more of a boutique industry limited to a handful of growers on minimal land.
"However, as the coffee culture [in South Africa] started to expand, the demand for locally grown, premium coffee beans began to grow exponentially. At this stage, I can't meet the demand," says Ernst.
Globally, coffee is a major commodity and hugely important to many country's economies. According to a 2019 Insight Survey, the South African coffee market has increased at an annual growth rate of 13,3% from 556 000 sixty-kilogram bags in 2014/15 to more than 800 000 sixty-kilogram bags in 2017/18.
South Africa produces about 120t, which is equivalent to 2 000 sixty-kilogram bags of coffee per annum, which constitutes a mere 0,4% of consumption in the country.
A 2019 article in Coffee Magazine revealed that coffee was first introduced to South Africa in 1854 at a missionary station in KwaZulu-Natal. By the 1870s, almost 2 000ha were planted to the crop.
However, due to a lack of knowledge, minimal use of insecticides and fungicides, and the rise of the tea and sugar industries, coffee soon became an almost forgotten industry in South Africa.
In the 1950s, coffee was reintroduced near Silkaatsnek, north of the Magaliesberg. At the same time, the Skead family planted the first coffee trees in Magoebaskloof, and in 1963, coffee was planted commercially on the Grenshoek Tea Estate near Tzaneen.
Choosing the right variety 
Ernst is keen to increase the contribution that coffee makes to Allesbeste's production basket to 10%. "Compared with other fruit, it's not expensive to cultivate new coffee plants, and we have the capability to expand. Coffee trees are also quite hardy and easy to establish."
Coffea spp are flowering plants in the family Rubiaceae. Three main species are grown commercially, namely C. arabica, C. robusta and C. liberica (referred to as Arabica, Robusta and Liberica), with Arabica accounting for nearly three-quarters of the coffee produced worldwide.
"We're very [picky] when it comes to the variety we plant. Coffee is a high-risk crop, and operational costs must be managed carefully," says Ernst.
All 800 of Allesbeste's coffee trees are of the F6 variety from the Arabica family. F6 is grown as a semi-dwarf plant, which makes it easier to harvest, and it shows resistance to rust.
Although Arabica is the most common variety, it produces low yields. It also has a lower caffeine content, which is one of the reasons it is the most delicate of the main varieties. As caffeine is toxic to most pests, it plays a major role in the coffee plant's survival by acting as a natural pesticide. The lower caffeine content of Arabica therefore means that it is better suited to grow at higher altitudes where there are fewer pests.
Interestingly, the caffeine in the flowers attracts pollinators such as honeybees.
Ernst was able to gain access to 12 new lines with different characteristics, and these are set to be planted this August in a small trial. The family hopes to gather enough useful data within the next two years to enable them to make selection decisions.
Production management
Although coffee can grow well in almost any frost-free area with well-drained soil, most coffee is produced within the so-called Coffee Bean Belt, which circles the world between the Tropics of Cancer and Capricorn.
Acidity is not a feature typically associated with coffee, but it provides a refreshing quality in the same way that it does for wine. Growing coffee at high altitudes brings out the acidity and is key for successful production. However, latitude is just as important as altitude, as both influence temperature.
The coffee trees on Allesbeste are planted at 950m to 1 250m above sea level and at a latitude of 23°. This ensures a microclimate equivalent to 2 000m above sea level on the equator, the region where the world's best coffees are produced.
According to Ernst, their coffee plantations are the highest planted in South Africa at present. Newly planted coffee trees take three to four years to bear fruit, which are referred to as cherries.
These turn from green to bright or dark red, depending on the degree of ripeness. The cherries ripen faster at lower altitudes and higher temperatures.
Although growing coffee at altitude is a more expensive undertaking, the slower ripening process benefits the quality of the coffee, as the sugar in the cherries can develop more slowly and there is less chance of the fruit becoming overripe.
The major disease threat faced by coffee producers is coffee leaf rust, which is caused by the fungus Hemileia vastatrix. The first signs of the disease are yellow-orange spots or patches on the underside of leaves.
"Harvesting is expensive, so I have to ensure that other costs don't escalate dramatically," says Ernst.
"We follow a minimalistic approach and are fortunate in not having a high prevalence of pests and diseases. We haven't had any borer damage, and rust has been spotted only occasionally on the yellow cherry varieties over the past four years.
"I've found that coffee plants are hardier than, say, avocados. I also don't chase yield, as the general belief is that lower production results in better quality. This trade-off is something we must manage, and as our experience and knowledge increase, this will become easier."
Mountainside cultivation is not easy, so Ernst followed two approaches. The first was to lay out terraces with excavators to make it easier for workers to carry out the planting. The second was to utilise the existing orchards amongst the plantations, where he did not want to disturb the soil unnecessarily.
The plantations grow in Oakleaf soil, which is fertile, high in organic matter, and offers good drainage. When planting the trees, Ernst and his team applied a controlled-release fertiliser, and as the trees grew, they established a base of organic matter comprising decomposed wood.
Approximately half of the plantings are under drip irrigation, and watered at about 1ℓ/tree/hour; the rest are grown under dryland conditions.
"We're in a high-rainfall area, and so far I haven't been able to pick up any real differences in yield or quality [between the plantings]," says Ernst.
Complex, drawn-out harvesting
Coffee trees simultaneously bear flowers, green cherries and ripe cherries, which greatly complicates harvesting. The fruit must be picked by hand to ensure that only the ripe cherries are selected.
This is a difficult and labour-intensive process that involves carefully checking the cherries for ripeness. To add to the difficulty, cherries ripen over a six- to seven-month period.
Picking is carried out at 10-day intervals. "While 1ha of coffee can yield about 3,5t of cherries, you don't get everything in one day," admits Ernst.
He adds that the high cost of harvesting combined with the low selling price of raw coffee beans makes it difficult to compete with countries that have lower production costs.
However, on the plus side, coffee production can provide employment for many people.
Another advantage of coffee is that it is one of only a few tropical horticultural crops that can be stored for fairly long periods without perishing.
Manufacturing and marketing
"The taste of coffee is extremely important," stresses Ernst. "It's rather like wine; if people don't like your coffee, they won't buy it."
The coffee is set to be marketed under the name 'Krabbefontein', as the farm forms part of the original Krabbefontein farm, where an agricultural research station was established in the late 1800s. In its early years, Allesbeste sold citrus under the Krabbefontein brand, and the mill that operated from the farm also used this name.
"We decided to use Krabbefontein to honour that time in the history of our farm," explains Ernst.
Each step on the journey towards a cup of coffee plays an important role. "There are many variables in the overall [production] process. You can deliver quality beans, but if something goes wrong during drying, processing, roasting or blending, the final product will not attract the consumer.
"If you can't commit to detailed management of the entire process, you shouldn't undertake coffee production. You have to take ownership of the whole thing," cautions Ernst.
Coffee beans are subjected to roasting, grinding, and brewing by processors who are far removed from the tree on which the beans originated. Different batches of coffee from the same crop and estate may therefore taste dissimilar after being processed by different roasters and a variety of grinding and brewing methods.
"I see a future where coffee producers will be involved in the entire value chain. We should be able to tell [consumers] which variety they're buying and also where that coffee was produced (in which country or production area), on which farm or estate, and even in which plantation. We should also consider informing them of the production year."
Ernst thinks that the coffee sector in South Africa has potential for growth, but access to new genetics remains a challenge.
"In Allesbeste's current phase, we plan to expand to 50 000 coffee trees. Their susceptibility to frost in some areas of the world may create more opportunities for local producers due to the beneficial climatic conditions we have for production."
Email Allesbeste Boerdery at [email protected].