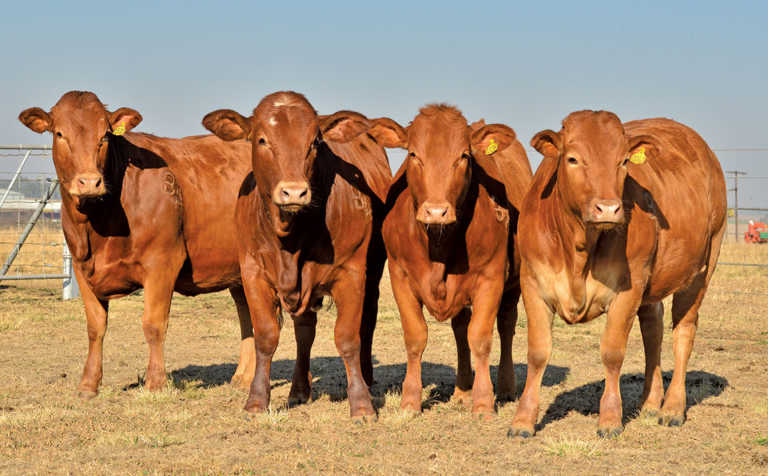 Optimally productive beef cattle herds are crucial in South Africa's current economic environment.
The golden rule is that, at any time, 20% of the herd must consist of replacement heifers.
This means that a herd of 100 breeding females must include 20 heifers that will be serviced for the first time. This should occur when they are between 12 and 24 months of age.
A carefully selected heifer will develop into a highly productive breeding cow that will, in turn, yield excellent heifers.
To select the best heifers, weigh all the heifers at seven months, 12 months, and finally, 18 months. Keeping a record of their birth weights will help identify poor performers at the seven-month weighing. In a commercial herd, poorly performing heifers are usually sent to the feedlot with the bull calf weaners.
What to look for
Stud breeders who have calculated breeding values can use indices and breeding values based on a heifer's weight as selection tools.
However, they should be less strict when judging the animal's appearance. A borderline heifer may still develop a beautiful feminine appearance once she conceives. However, a deep forequarter, weak udder and teat development, and small genitalia usually indicate poor fertility.
Another sign of a less fertile heifer is longer hair around the neck and head. Cull long-legged, late-blooming, deep-in-the-forequarter and masculine heifers.
Adaptability is crucial in heifer selection. A well-adapted heifer will maintain a positive reproduction rate and effective feed conversion ratio, and continue to produce calves throughout her lifetime.
A well-adapted cow can produce as much as 2 400kg of beef (weaners) in a 12-year lifespan.
A heifer with a thin coat and dull hair is not well adjusted to SA's high summer temperatures. A sloping rump is beneficial in relation to the pelvic opening for ease of calving.
The thurls (hip joints connecting the hip to the upper leg) should be lower and located closer to the ischium, while the hind legs should be evenly placed for comfortable walking.
Mating tips
Put the heifers to the bull three weeks before the cows; this will ensure better use of the bull. Leave the bull with the cows for 75 days and with the heifers for an additional three weeks.
A 75-day breeding season will ensure that all calves are born before the start of the next breeding season, and that cows with a gestation period longer than 290 days can be identified.
Heifers serviced three weeks earlier must also be serviced three weeks earlier in the next season to prevent them from going into anoestrus (a period of sexual inactivity between two periods of oestrus).
Phone Danie Bosman on 083 637 0189.