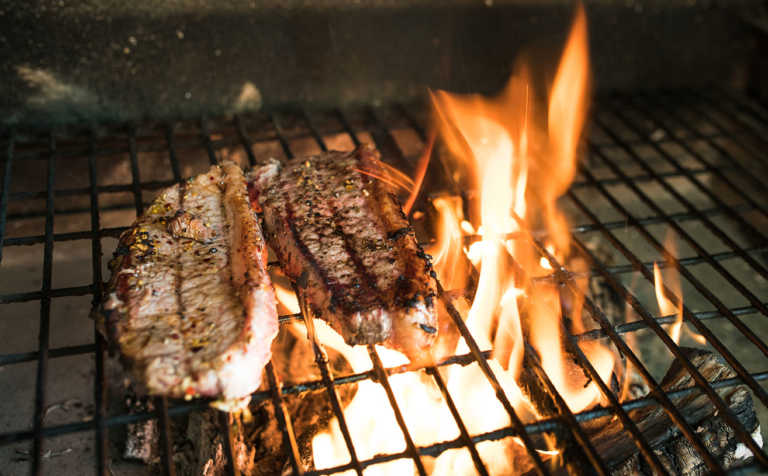 To feed six diners on a potent grilled steak, you will need:
6 thick sirloin steaks,
250g each
1 generous tomato
1 small to medium onion
1 large, green sweet pepper
6 cloves of garlic
1 bunch of fresh coriander
Juice of 1 orange
Juice of 2 limes
60ml of Old Brown Sherry
330ml of Windhoek Lager
30ml of extra-virgin olive oil
6 shakes of a bottle of red Tabasco
1 big red chilli
2 teaspoons of coarse salt
1 tablespoon of coarsely ground black pepper
1 This is quite a fiddly recipe, but well worth the effort. Start by preparing the marinade. Top and tail the sweet pepper. Discard the seeds, and then stir-fry without oil in a hot
frying pan for 90 seconds. If you have a butane torch handy, scorch the skin until it begins to blacken.
When cool enough to handle, scrape off the black bits and tip the sweet pepper into your food processor.
2. Deseed the chilli and chop it coarsely. Quarter the tomato, and peel and quarter the onion. Crush and peel the garlic, before washing the coriander. Add these to the food processor, along with about six splashes of Tabasco, as well as the salt and pepper.
3. Run the machine for a second or two, then add the sherry and the room-temperature lager. Turn the machine on again, until the contents become a smooth, lump-free liquid.
4. Pour the marinade into a glass bowl, and add the steaks to the marinade. Cover with cling film and allow to marinade in the fridge for about four hours.
5. You can braai the steaks, or, alternatively, you can grill them in a heavy-based frying pan or cast-iron skillet on the hob.
To do this, brush the steaks with a little extra-virgin olive oil, and cook them at a medium to high heat, turning them every 30 seconds until they are done to your satisfaction. Let them rest for six minutes under a sheet of aluminium foil before serving.
6. A crisp green salad with a vinaigrette dressing makes a fine side dish to this meal. For those who cannot contemplate steak without potatoes, a butter-enhanced mash combined with a teaspoon of coarse-grained mustard gives this meal the perfect accompaniment to soak up the juices.
David Basckin is a freelance journalist and videographer.
BRAAI DAY SUGGESTIONS: