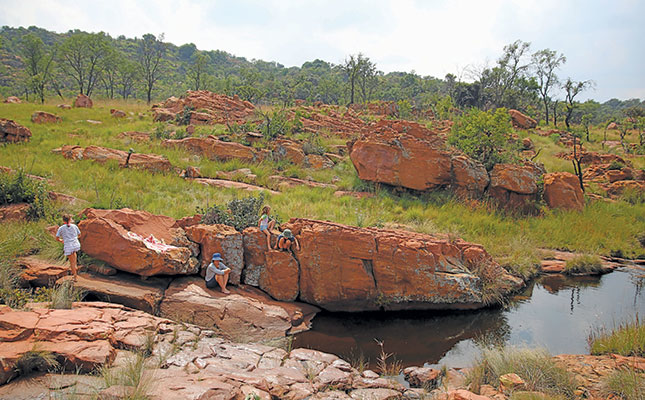 Less than 90 minutes from Pretoria, between the N1 and Botswana, lies the Waterberg, one of South Africa's best-kept secrets. The area, virtually on Gauteng's doorstep, now enjoys global recognition via UNESCO as the Waterberg Biosphere Reserve.
Wouter Schreuders, owner of the Bateleur Nature Reserve in the area, says hiking and rock climbing have always been his family's preferred pastimes. "Since 1984, we and our neighbours have managed to consolidate a number of farms that jointly form a crater, or escarpment.
Visitors are awestruck." Bateleur as an outdoor destination took form in 1992. Guests started getting lost while hiking through the varied terrain, so Schreuders enlisted the help of Leon Hugo, a former geography professor at the University of Pretoria, to plan a network of primary hiking trails. Stamvrug Hiking Trails was born.
Today, the reserve encompasses about 2 000ha, and Stamvrug offers a choice of eight trails. According to Schreuders, it has developed into one of South Africa's most popular
hiking destinations in private hands.
"Our accommodation is aimed at nature lovers, not holidaymakers seeking luxurious accommodation," he says. Accommodation at Bateleur Nature Reserve consists of four old farmhouses, two cottages and two rustic hikers' base camps tucked out of sight among the kloofs.
The houses and cottages sleep from three to 12 people. Each base camp can accommodate
24 hikers in three eight-bed dormitories. These rustic camps provide bunk beds with mattresses and slipcovers, equipped braai lapas, and some pots and pans.
There is no electricity, water is supplied from a borehole, and there is a donkey boiler. Hikers must bring their own equipment, says Schreuders. "You're welcome to pitch your tent or 4×4 trailer for privacy and use the camps' ablutions.
We accommodate school groups of up to 80 pupils, who pitch their tents, do their cooking, and participate in their planned outdoor activities.
We also regularly host astrophotographers from Poland. They come twice a year, armed with selfmade and programmed equipment to observe and photograph the unpolluted skies above Bateleur."
The self-catering houses and cottages are basic, but cosy and clean. All houses have prepaid electricity meters installed.
THE HIKES
A menu of eight hiking trails (four day trails and four circular routes) is available. Their grading is classified as moderate, but Sunset Trail, at about 11km, should be regarded as difficult and quite technical for trail runners.
Game Trail, at 4km, is the ideal introduction for aspiring hikers. The Escarpment and Moepel trails are the most popular day trails. The Kloof and Leopard trails are each around 12km in length, while Zebra and Quagga, at about 7km each, may seem short, but in the mountains distance isn't all that matters!
According to Schreuders, all the trails are shown on GPS, which makes hiking safer and more enjoyable. The trails take visitors past the Kaalgat Dam, Rock Pools or Krans Dam, depending on where they walk.
"All surface water at Bateleur originates from its own unpolluted catchment area and is exceptionally clean. It's perfectly safe to take a plunge. You'll enjoy spectacular Waterberg Mountain views and cross paths with unique fauna
and flora," he says.
THE RESERVE
Bateleur lies in a crater surrounded by mountains and has only one entry and exit point. "The reserve is isolated, secluded and private, and therefore very safe," says Schreuders.
Hikers may come across giraffe, impala, blesbok, kudu, zebra, blue wildebeest, sable, eland, bushbuck, nyala, klipspringer and steenbok.
The scarce brown hyena, many other small predators, and a variety of birds of prey are also present. "Don't forget about the 'little guys'. Please drive responsibly," cautions Schreuders. Bateleur features a wide variety of habitats, each of which attracts different
animal species.
Two perennial rivers flow through the reserve, and an upper and lower wetland are connected via a deep gorge. Kloof base camp sits on the lip of the gorge, while
Stamvrug base camp is tucked away in the folds of the upper wetland.
"We have about 30km of track available for mountain bike enthusiasts, so please bring your bicycle with you. We don't have dedicated tracks yet, but will show you the best farm roads to use," says Schreuders.
Besides hiking, cycling and viewing the animals, nature lovers will find a great deal at Bateleur to keep themselves busy. BirdLife South Africa has recommended the reserve as a birderfriendly establishment, and over 160 bird species have been listed.
The website has downloadable bird, butterfly and tree lists, and even a downloadable mammal spoor list. In March 2013, lepidopterist Prof Mark Williams rediscovered the critically endangered Waterberg copper butterfly (Erikssonia edgei).
It had been thought to be extinct for more than 30 years, says Schreuders. "Bateleur is now its only known habitat worldwide. We must be doing something right!" he says.
Attractions nearby for those days when visitors don't want to put on their hiking boots include Adventures with Elephants, the Forever Resort in Bela-Bela, Waterberg Zipline Adventures, and the Thaba Kwena Crocodile Farm.
RATES
Day hikers pay R125 per day and backpackers can sleep over at R150 to R175 per night. Accommodation in a house or cottage varies from R1 000 per night for a three-bed unit (two adults and one child) to R2 850 per night for a 12-bed unit. All units provide access to all trails.
Phone Wouter Schreuders on 083 677 6999,
or Susan Kruger on 072 565 7070.
Visit waterberg.co.za.