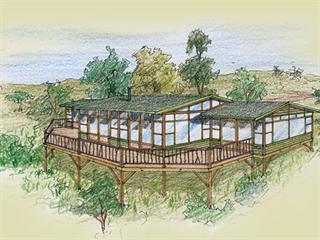 Dear Jonno
My husband and I have been so inspired by your designs over the years that we think you can help us with something out of the ordinary. We are semi-retiring soon, and leaving the farming operation to our son, together with our old farm house. The farm is in northern KZN, close to Swaziland. The climate is mild to warm most of the year. So we are looking for a design of a two-bedroom cottage with as many glass windows and panels around the outer walls as possible.
The site we have chosen is on a sloping site near a stream, with beautiful trees surrounding it. The bird life is prolific and we want to be surrounded by nature. We think the house will need to be stilted so that we can at least look over some of the tree tops to the views beyond. We are thinking of using wood for the cottage, as we have many mature exotic trees on the farm.
We would like one en suite bathroom for ourselves and a second bedroom, with a shower and toilet only, for our grandchildren whenever they visit. We're really looking forward to seeing what you come up with, and cannot wait.
Helga
Well, Helga
This request is really something different. What I've conceptualised here is something unique as farm cottages go. You said as much glass as possible, so here it is: a combination of sawn-squared timber logs as stilting and window framing. This is not a brick building method and will take some specifics for thought and planning. Jonno to the rescue!
What is of some concern is all that glass. Much of it would need to be 5mm safety glass – somewhat expensive. You'll have to think about it and let me know, but certainly it demands very little upkeep and excellent durability. This is something I would really want to build for myself, so I can go back to the bush and roost with the birdies!
Jonno