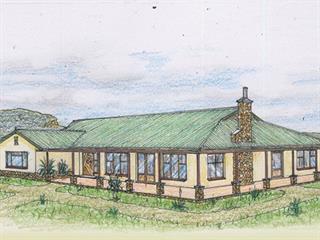 Dear Jonno
I recently purchased an 8ha smallholding on which I plan to grow macadamias. The building on the property is not worth repairing, so I would prefer to build a small retirement house from scratch. I have attached a plan on a spreadsheet. This is not to scale but is similar to your plan in the 19 September 2014 issue of Farmer's Weekly. I have given approximate sizes. I would prefer the main roof to include the verandas and I would use chromadek sheeting with a 1m overhang all round. Attached is a photograph of the cottage that I spoke to you about.
I look forward to seeing what you come up with.
Regards
Brian
Hi Brian,
Thanks for your rough sketch. It certainly helps with what you have in mind. I have improvised here and there on the layout to make it more user-friendly. I have also styled it to be in harmony with the small cottage already there. I'm a little concerned though, about the size of what you described as a small retirement cottage. The plan in Farmer's Weekly of 19 September 2014 is 195m², while this one, based on your given room sizes, comes to 234m². This can be remedied on the living area side. As you said, you will be owner-building and the extra areas will not cost you that much more. Farmhouses can never be too large, and almost all get added to over the years.
Also, the 1m roof overhang can be as you asked for, in combination with an open pergola over the 3m-wide veranda; or it can cover the entire 3m width. Let me have your further thoughts.
Kind regards
Jonno