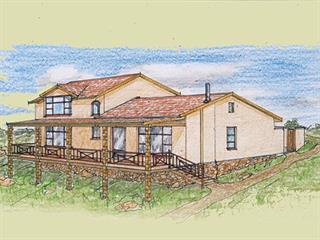 Dear Jonno
I recently bought an elevated plot on a sloping gradient which drops sharply. It has fantastic river and valley views. I basically know what I want, because I like simplicity, but would like to call on your creative use of space for inspiration.
The plot is 23m x 33m in size (width and length), and I want a rectangular house with a floor space of about 14m x 6m. The living area must face north to capitalise on the valley views. I would also like a deck about 2,5m wide that extends along the entire length of the north-facing side of the house.
The bedroom should face north and have an en suite bathroom with a shower only. I would like an open-plan loft space above the bedroom/bathroom with stairs leading up to it. It should have a large north-facing dormer window. The roof must be high enough to allow for a mezzanine floor in the loft, which extends across the area above the bedroom/bathroom. The rest of the house must be double-volume. I would also like a fireplace.
This is how far I managed to get with my planning. Could you please suggest a layout for the house? Any creative ideas for extra features would be welcomed.
Regards
Pamela
Dear Pamela
Thank you for your detailed request. I wish more people who write to me would be this explicit! Taken your preferences into account, I have tried to design a house that is simple yet nonetheless has character. I have kept the roof low-pitched and heightened the attic walls to 1,8m. This will provide extra space and give you a bedroom and a bathroom similar to those below.
I have also widened the cottage by 1m and reduced it in length by 2m. This will make the rooms more functional. I would imagine that you will be able to find rocks on this sloping site that can be used for the foundations, thereby reducing costs. If you have any styling preferences, especially when it comes to the roof, windows or walls, please let me know and I will adjust the design to suit your needs.
Regards
Jonno