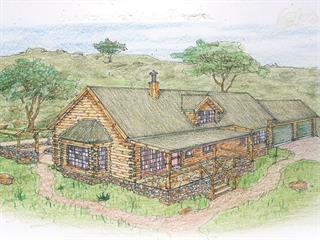 Dear John and Sue
Thank you for the feedback on your retirement home. You said previously that you required the dimensions of the home to be on a 10m x 14m footprint. Most homes are generally about 8m x 9m inside, but all could be accommodated in the suggested 10m width.
I looked through my compendium of articles and came across the one shown here. This is constructed according to the popular horizontal whole-log styling. It requires skilled craftsmanship to put together but with a few trials and errors, the log joinery should become repetitive and correct. I will send you details of the construction process, from the methodologies employed in the US.
As for the layout of the sketch herewith, it is practical and functional, but can be made wider than the 7,6m width that it now is. The bay windows will provide it with some essential character.
There is also the further possibility of creating that attic room and bathroom in the roof area. We can never have enough space. Please feel free to adjust the layout where necessary and position the French doors where you would prefer.
Kind regards
Jonno