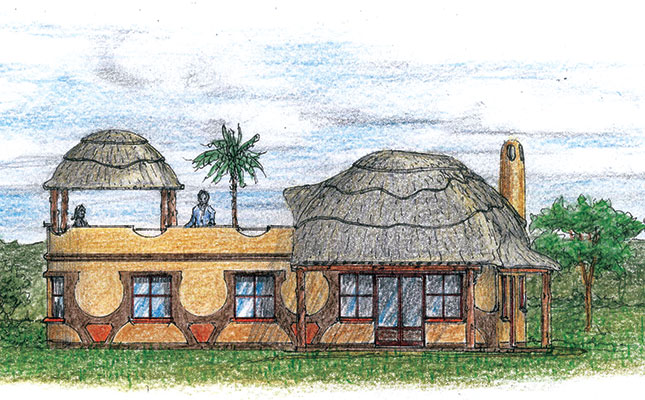 Dear Jonno,
I live in Kobe, Zambia, an old mining and farming town. I would like you to design a Zulu-style farmhouse for me. It must have a kitchen, living room and three bedrooms.
I would like the master bedroom to be en-suite, and would like an additional two bathrooms: one with a shower and toilet, and the other with a bathtub and toilet.
I would also like a study that could double up as an office, and a rooftop veranda.
I have attached some articles of yours that feature designs I like.
Kind regards,
Joseph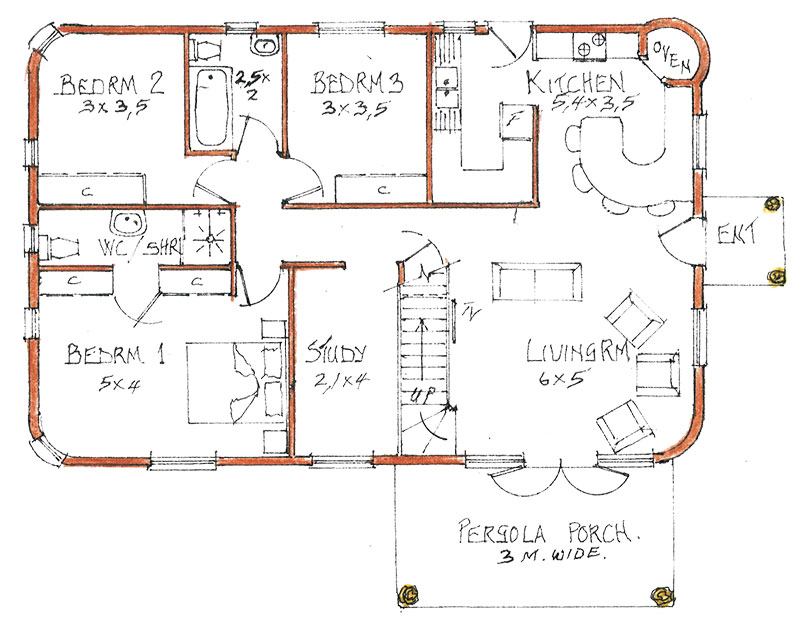 Dear Joseph,
The articles you've sent me range from a Zulu design to a Pilgrim's Rest-style house. So, with all this in mind, I've created a combination of these styles, but staying mostly within the Zulu-design framework.
The walling is a combination of earthy colours derived from the natural surroundings, using a mixture of earth (for colouration) and silicon powder.
This produces a highly waterproof external surface.
The flattish apex surface of the domed 'beehive' thatched roofing can be similarly coated with a cement plaster coat and silicon powder mix, thereby creating a waterproof mock-thatch appearance.
The leisure deck can be constructed by pouring a concrete slab on the flat roof area above the bedrooms. Further rooms could then be added here if more accommodation were required in future.
Please let me have your thoughts on this design.
Kind regards,
Jonno
Jonno Smith is a registered architect. He can be contacted at Hillbilly Homes: tel 036 352 3178, fax 088 036 352 3178, cell 082 412 4459 or email [email protected]. Please provide details of the proposed development. Visit hillbillyhomes.co.za.