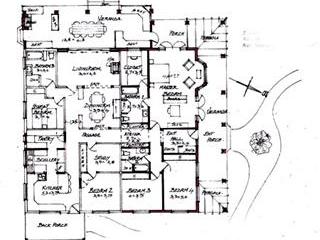 Greetings Louis and Michele

Thanks for the invitation to view your old farm house acquisition. It's certainly the best option when anticipating major renovations.
In the layout sketch, you'll note all additions and alterations have been shown in red. With the new bathrooms being located internally along the passage, I've widened the passage to accommodate the waste pipes and created a boxed-in area under the windows, forming an attractive plant area/atrium, which will be glassed over. It will also incorporate ventilation ducts.
The existing low-pitched 15° roof needed some serious modifying, with it spanning more than 17m. So to add aesthetic character, I've created a 30° 'piggy-back' roof over the existing and new sections. This won't disturb any of the existing ceilings and services installations, as only the centre section of the roof-sheets will need to be removed, while additional rafters are added onto the existing ones.
As you're close to Swartruggens, where all that beautiful slate is mined, I've shown a plinth to the house of slate cladded onto the existing and new walls. Your verandas can likewise be slate tiles.
Let me have your further thoughts, and thanks for the hospitality.
Keep well,
Jonno
Author John Smith, better known as Jonno, can be contacted at Hillbilly Homes, PO Box 255, Estcourt 3310, tel 036 352 3178, fax 088 036 352 3178, cell 082 412 4459 or email [email protected]. Please provide details of the proposed development and
any building material you have access to.