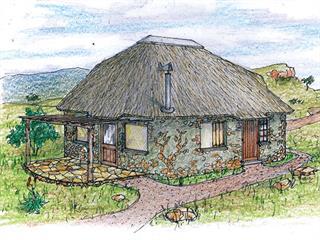 Dear Jonno
As per our telephonic discussion, here are some of the finer points that I would like you to incorporate in the cottage. Please bear in mind that this accommodation is for visiting family and friends. They will be entertained at the main house.
Stone-covered floors where possible;
All lighting and hot water to be solar-powered;
As much local on-site material for the main construction as possible;
Windows to be screened – no glass.
Best wishes
Judy
Dear Judy
Thanks for the chat yesterday and the quick sketch of your helpful thoughts. I've tried to interpret them as closely as possible, but have improvised here and there. While I glean from your listing that you want the cottage to be eco-friendly and self-sustaining in terms of energy, I need to mention that in a normal home with glazed windows, the loss of internal heat though the glass is, on average, 40%.
You've asked for the window areas to be screened – I presume by this you mean fly-screen material. If this is installed, the loss of energy (warmth) would be about 80% or more. If you incorporate the patent heat system, the screens will negate the heating effect.
There are other methods of enclosing the window apertures, which I can discuss with you. In the sketch, I've included as much local materials as possible. The thatched roof is pitched at 60% from the walls, up to 2,2m in height and then at 30%
to the roof apex. This provides you with a 'bonus area' for a sleeper deck as shown.
The stairs are what I refer to as 'stagger stairs', which take up half the space of conventional stairs. The attic area can be added when required.
Best regards
Jonno