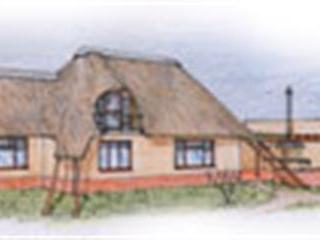 What I'm looking for is an en suite master bedroom. As it is I'm sharing a shower. The following mustplease be added onto the plan: scullery, laundry, pantry, guest toilet, double garage, and covered entertainment area with braai facility. I would like to have a storeroom attached to the garage. The material I'll use is cement, bricks and stone, and thatch. The proposed plan of the extension must please be thatch.
Your sincerely, Tokozile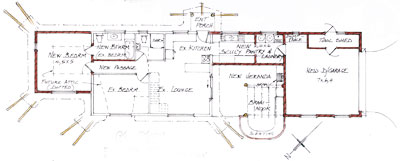 Dear Tokozile,
Here is the layout and sketch of your revamped house. As can be seen, I've kept all the plumbing along the south-east wall and the outside area to the north-west. This is the sunny side where entertaining can be done. With the lounge being rather small, the new outside verandah will ease any congestion. It can have blinds and a full covered roof if necessary. Thatching is only over the existing house and the added bedroom. The existing tin roof can be re-used over the garage, scullery and verandah. As all the house corners are square, the thatching should have rounded corners. The timber log posts on the corners create that essential 135° corner, as well as adding character to the house.
Kind regards,
Jonno