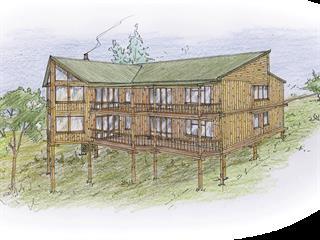 Bev and Dave have bought into a gated housing development, overlooking the Gonubie River and the ocean beyond.
However, while views always take precedence, that southwest aspect also has its downside.
The blustering southwesterly can be very unpleasant and icy cold. The sun also wouldn't filter into the main living and sleeping rooms, which would be located on the cold side. So Dave and I put our heads together and came up with some innovations. For starters, the main roof is to be dual pitched, in such a way that the sun could filter in through vertical glazing between the two created pitches.
The roof similarly has to be open-beamed to allow the passive sunshine in.
As for those winds, we created a deck over the garage on the northwest, where Bev and Dave could escape and hopefully thaw out.
Dave has a stand of nature pine trees that will be felled to build the new home. He also has all the necessary saw-milling equipment to tackle the job. The vertical log-building style is known as 'Canadian' log assembly.
With double glazing to the windows, thermal insulation in the ceilings and wooden floors, you should have a very comfortable home.
Good luck Dave!
Jonno