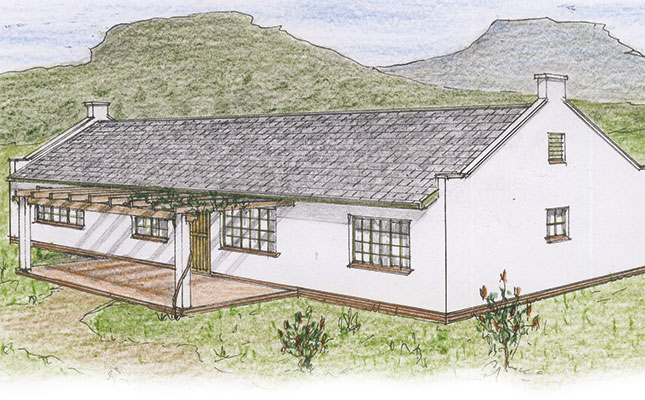 Dear Jonno
I have been a regular reader of your column ever since I inherited a portion of my parents' farm in the Overberg. This section of the farm comprises 32ha of mainly fynbos as well as a small blue gum plantation. At present, there are only two dwellings on the land: a prefabricated mobile home (also known as a 'Plettenberg') and a 12m x 6m double garage/ storeroom with a carport.
I have two full-time labourers who live in the garage, and would like to build a simple dwelling for them so that I can use my garage to work in. The site I have chosen is level and north-facing, and there should be no difficulty in getting materials to the building site. Ideally, the floor plan should be between 100m2 and 125m2. The house should have an open plan kitchen/dining room, with one bedroom and ablution facilities, and allow for the addition of a second bedroom and bathroom.
I have access to firewood, so provision should be made for a hot water heater such as the traditional 'donkey'.
I look forward to hearing from you.
Kind regards
Patrick

Floor Plan
Dear Patrick
Thank you for the detailed letter of your requirements for staff accommodation. However, while you asked for a possible two-bedroom cottage of about 125m², it is more than possible to fit in the four bedrooms shown. This leaves you with the option to omit bedrooms three and four, or enlarging the room sizes. However, the sizes shown are more than adequate to accommodate your farm workers.
The styling is typical of the Western Cape's south and west coast, but has been simplified to fit the budget. Some of these adjustments include a shallower roof pitch than the usual 45°, tiles rather than thatch, steel cottage pane windows for security, and no traditional trimmings.
In fact, if the traditional trimmings were added, this cottage could serve as a holiday retreat or a starter home. This could be done by extending bedrooms three and four, and increasing the sitting room to include the pergola porch when more space is needed and funds allow.
Regards
Jonno