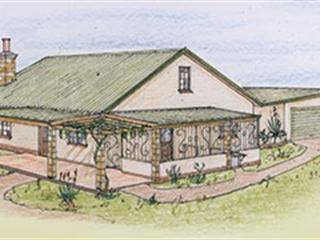 Hi Jonno
I have read your articles in Farmer's Weekly for 13 years with great interest. I intend to move to a farm and build a cottage, so need your help designing it. Because I will be keeping myself occupied with home crafts and gardening, I need space. I would like my cottage to have a bedroom with a sewing desk. The bedroom needs to be 3,5m x 3m and the spare room
2,5m x 2,5m. The kitchen has to be 10m2 and the lounge/dining room 3m x 3m. The kitchen and lounge can be open plan. The bathroom must have a shower, bathtub, toilet and basin, and does not have to be en-suite. I need as much cupboard space in it as possible.
I would like a veranda off the kitchen where I can work; ideally it should be able to be closed up at night. I also want a small laundry area in the veranda and a single garage. The roof needs to collect all the rainwater into tanks. I do not have any access to building material and my budget is tight. Please design in such a way that in future the cottage will be suitable to be rented out.
Thanks, Pat
Hello Pat
Thanks for the compliments and your very descriptive requirements for the cottage. I've kept the rooms to your recommended sizes except for the lounge/dining room, as a dining table alone can take up that space. If and when this cottage is rented out, the living room area/kitchen will be enough to accommodate a normal set of lounge furniture.
I've slipped in a fireplace if required. The private porch is hemmed in with a steel security framework, as well as a small dog enclosure. It can accommodate roll-down blinds inside the framework to keep the birds and wind out, becoming a dual-purpose area. I've kept the roof structure simple to reduce costs, and it can further accommodate two bedrooms in the attic area if required.
I need your comments on my recommendations and whether you have to submit plans to a local authority.
All the best, Jonno