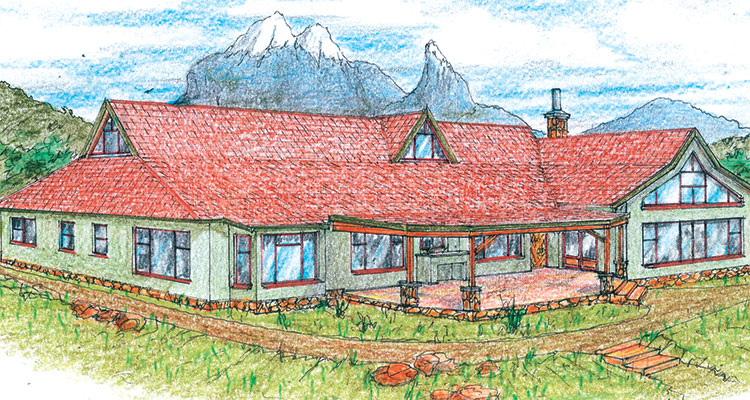 Dear Jonno
I own a farm in Kenya, and am looking to build a farmhouse with modern interiors. The building site is on a slight slope, and the main views are to the north and east, facing beautiful mountains.
I would like an open-plan kitchen and walk-in pantry with dining area, and a sunken living area with a fireplace. I require four bedrooms, including a spacious master bedroom, and three bathrooms. I would also like a guest bathroom.
Regular building materials will be used for construction. I hope you can design a practical home for me.
Thank you in advance.
Regards
Leila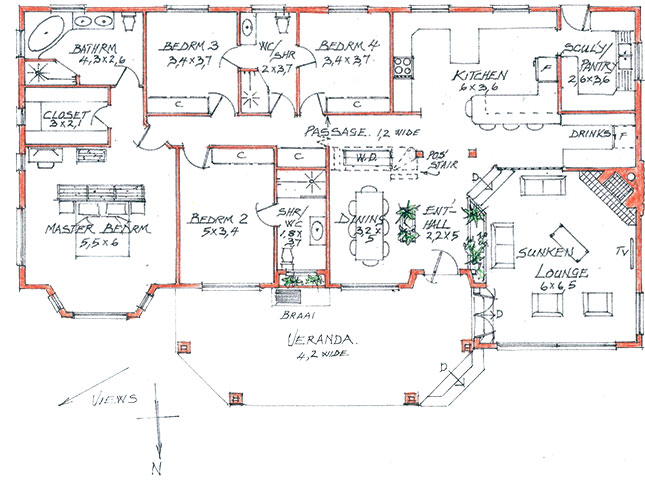 Dear Leila
Thank you for the home design request for this beautiful site.
The sketch depicts the front facade of the house, with the mountains in the background. However, when constructed, the house will face front- to-back for a better view of the mountains. The house can also be built left-to-right to suit the orientation of the views, sun and slope of the land.
The house is long, and all prime living areas have been designed to face the mountains.
To complement the setting and environment, I suggest an aesthetically pleasing roof that mimics the look of the mountains.
Shown dotted in the layout sketch is a possible stairway to a usable attic-roof area. The roof over the kitchen, dining and lounge areas can be open-beam, which creates space for the attic over the remaining areas.
Contact me if you require any further amendments.
Kind regards
Jonno