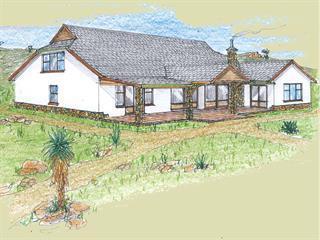 Dear Aubrey
Thank you for calling and discussing the requirements for your new home outside Pietermaritzburg. Looking through my file of more than 700 sketches drawn for Farmer's Weekly so far, I selected the layout and looks that caught your eye, and have improvised on that sketch.
I've increased the floor area to a bit more than the 150m² you suggested. That extra 15m² is equivalent to the thickness of the outer walls of the house, so it will make a difference as far as space goes but will not add significantly to the cost/ As time goes on, we find we never have enough space. So the higher pitched roof that can accommodate those two extra attic rooms is a bonus development for the future.
I would also suggest that the central living/kitchen area be left open-beamed with only a catwalk – shown dotted – providing access to the attic rooms.
As you are in a rural area, I have specified a roof of fibre-cement mock-thatch slate that will serve to collect rainwater. You liked the roof styling in the original sketch, so I have incorporated it.
Regards
Jonno