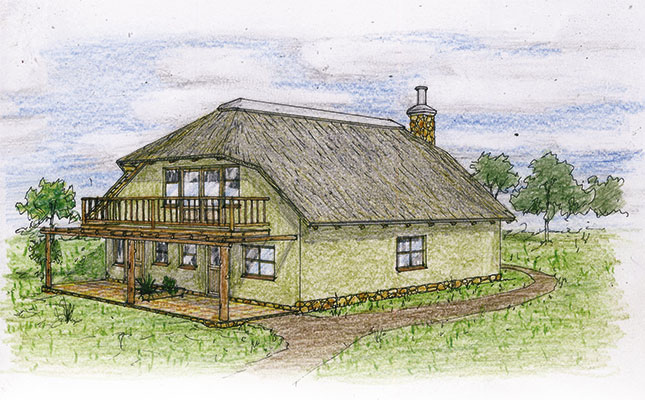 Dear Jonno
We are looking to build a two-bedroom manager's cottage on our farm, and would appreciate your help. We would like the cottage to be double-storey, with the living area below and the two bedrooms in the attic roof area. A balcony off the main bedroom would be ideal, as the cottage will be in the bush and have a view over the trees to the mountains beyond.
We'll leave it up to you to come up with something unique, as always.
Best regards, Tyron
Dear Tyron
I had a look through my sketches of two-bedroom units and could only find one with the bedrooms in the attic area. They all had a bedroom below and one on top. So I have drawn a quick sketch for you with both bedrooms on top and more living space below.
For the attic area, I've lifted the outer walls by an additional 1m above the ceiling height of the ground floor rooms. This provides a larger attic area.
The roof is shown with thatching, which gives good thermal containment and saves on a ceiling. It is also aesthetically pleasing. The roof could, however, be of any other material cladding in the same basic style. The floor of the attic room area will be of wood. This also serves as a ceiling to the ground floor area. The walling of the attic rooms is also of lightweight timber framing, with cladding to suit.
The design and materials are all highly functional and cost-effective.
All the best, Jonno