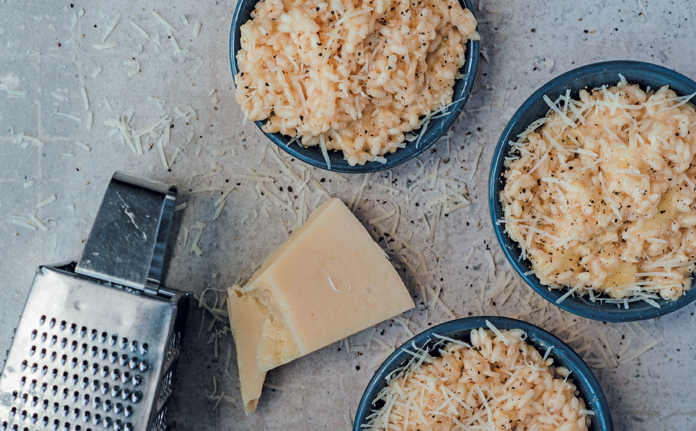 To make risotto with smoked mozzarella for four hungry diners, you will need:
400g Arborio rice
900ml chicken stock
150g smoked mozzarella cheese
120ml dry white wine
60ml extra virgin olive oil
2 tablespoons of butter
25g grated Parmesan cheese
Half a medium-sized onion
Freshly ground black pepper and salt to taste
For the stock
2 chicken backs
4 wings
2 sticks of celery
1 onion, quartered
2 cloves of garlic
1 bay leaf
2 carrots, coarsely chopped
A bunch of parsley, chopped
1,2ℓ water
For this kitchen mechanic, a man for whom vegetables had long been a marginal decoration to the serious nutritional input of beef, lamb and, infrequently, pork, the first encounter with risotto verged on a religious experience.
Perhaps, I mused, this was the original basis for manna from heaven. I was wrong, of course; rice is rice even when it's the acclaimed Arborio cultivar.
1. Cooking risotto is not like preparing other forms of rice; it is labour-intensive and demands serious concentration. Preparation is simple: peel and finely chop the onion, carefully measure all ingredients, dice the mozzarella cheese, and then … big moment coming … decide about the chicken stock. May I suggest that you make your own for this fragrant and flavoursome meal? Unless you have a couple of litres in the deep freeze, this stint of minor effort should take 50 minutes maximum. Here's how to do it:
2. Combine all the ingredients on the stock list in a saucepan with a lid. Bring to the boil. Reduce to a simmer, with the lid partially in place. When the timer rings, drain the contents, discard the solids, and measure out the 900ml you need for the risotto.
3. Risotto time has arrived. Cook the chopped onion in the butter in a saucepan. Pour in the Arborio rice. Weird, I grant you, but this is not a misprint. Let it cook for 60 seconds, stirring carefully all the while, then add the wine. Stir again for a couple of minutes, until the rice soaks up the wine.
4. Bring the 900ml of chicken stock to a simmer, then add it to the wine/onion/butter/rice mixture. Choose a medium-high heat and stir continuously for about 10 minutes.
Add the diced mozzarella plus the extra virgin olive oil. Keeping your stirring arm at peak revs, cook the mixture for 60 seconds, then add the Parmesan. Give the risotto another five minutes of powerful stirring action, then serve either on its own, or with a delicate serving of rare beef. A little taste of heaven.
David Basckin is a freelance journalist and videographer.