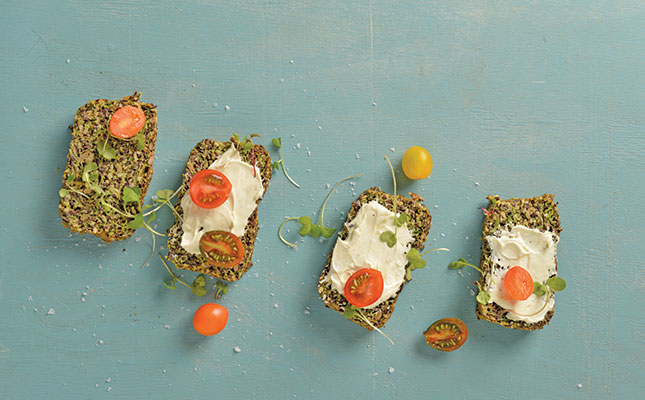 To make gluten-free seeded bread, you will need:
190g whole flaxseeds or linseeds
60g ground almonds
3 extra-large eggs
30ml canola or olive oil, and extra for greasing
7,5ml bicarbonate of soda
Juice of 1 lemon
7,5ml fennel or caraway seeds (optional)
85ml water
2,5ml fine salt
80ml sesame seeds
60ml sunflower seeds
270g baby marrow, finely grated
1 garlic clove, peeled and minced
1 large handful of chives, finely chopped
1 Preheat the oven to 180°C. Grease a 25cm x 11cm loaf tin and line its base and sides
with baking paper.
2 Place the flaxseeds or linseeds in a blender and blitz for about one minute. Depending on the strength of your blender, the seeds may or may not become fine. Slightly chunky seeds
work just as well.
3 Place the almonds, eggs, canola or olive oil, bicarbonate of soda, lemon juice, fennel or caraway seeds (if desired), water and salt in a blender. Combine well and leave for about 10 minutes to allow the mixture to thicken.
4 Add the remaining ingredients, stirring thoroughly, then pour the mixture into the loaf
tin. Smooth the top of the batter with a spatula. 5 Bake for 50 to 60 minutes or until firm, but springy, to the touch.
Allow to cool in the tin before removing. Enjoy!
Nomvuselelo Mncube is the cooking assistant for Food & Home Entertaining.