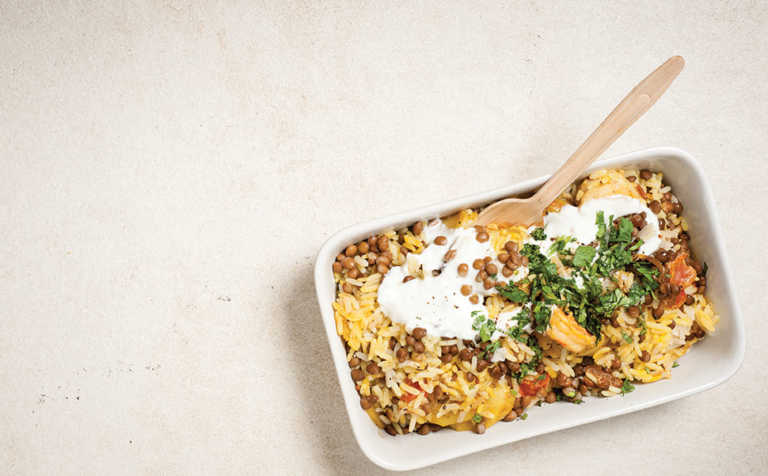 To make prawn breyani for four, you will need:
200g prawns
2 cups plain rice
2 cups lentils
2 medium onions or 4 shallots
5 small potatoes
2 tomatoes
½ cup canola or sunflower oil
3 cloves garlic
40mm fresh root ginger
½ teaspoon ground tumeric
2 strips cinnamon (100mm each in length)
4 white cardamom pods (elachi)4-6 green chillies
1 tablespoon Osman's roasted masala
1 cup plain yoghurt
1 bunch fresh coriander leaves (dhania)
Breyani is a staple and prawns are not. If you want to make a standard breyani, leave out the prawns. To save time, choose readily peeled and cleaned prawns. Next, the lentils. Ideally, you should soak them overnight before cooking. If time is an issue and you are happy to take a small loss in overall flavour, buy a can of brown lentils and use them instead.
Now for the roasted masala. You can make your own but a packet of fresh roasted masala is quick and affordable. Buy the smallest pack available; once opened, its shelf life is brief. Peel, then grate the ginger and finely chop the peeled garlic. Fry these in a little oil for 90 seconds. In the same pan, swiftly fry the thawed prawns in combination with the ginger and garlic.
Since this is part one of a two-part cooking process, be careful not to overcook the prawns; 45 seconds a side, turning once, is all you need. Remove them from the heat and reserve for later. Boil the rice and lentils separately in lightly salted water until nearly done. Decant, drain and reserve the rice and lentils under cover.
Meanwhile, peel then thinly slice the onions and potatoes. Make your chilli decisions regarding the overall number and whether or not to remove the seeds. If your diners are not used to the curious joys of oral veld fires, use four chillies with pips removed. Pour sufficient oil into a heavy-based frying pan and add all the spices, including the masala.
Stir well, then add the onions, potatoes and chillies. Cook until the potatoes are soft and the onions translucent. Add lentils and let them cook for a few minutes. Pour in the yoghurt and coarsely chopped tomatoes and let them simmer for a few minutes. Select a large saucepan and arrange the partially cooked rice within it.
Pour other ingredients over the rice and stir lightly. Add a cup of water and let the pot simmer for 30 minutes.
Add the prawns and stir for the last five minutes. Prior to serving, garnish with fresh sprigs of dhania and maybe even some chopped spring onion greens.
Serve with a couple of chilled Windhoeks!